When Alibaba and the United Nations Conference on Trade and Development announced that it was seeking founders of startups from Asia for a two-week program at Alibaba's headquarters in Hangzhou, I pounced at the opportunity. Like many, I had been following Alibaba in the news and had been the Chief Executive Officer (CEO) of a company that they acquired, but knew little about the company in any way. In fact, I had never been to China before my visit this November.

"Why do you think you are here? This costs a lot of time and money" asked Jack Ma.

"You are here because it's part of our mission", he said.
What I learnt over the next 20 days in China was that every employee at Alibaba is on a mission, to make business easier for all and to train, mentor and encourage a new set of leaders for this dream to perpetuate. Our trip started in Shanghai, on the eve of double 11 (singles day) in what ends up being, almost every year in the past five years, the largest shopping day in terms of gross merchandise sales globally, overshadowing Black Friday by many multiples.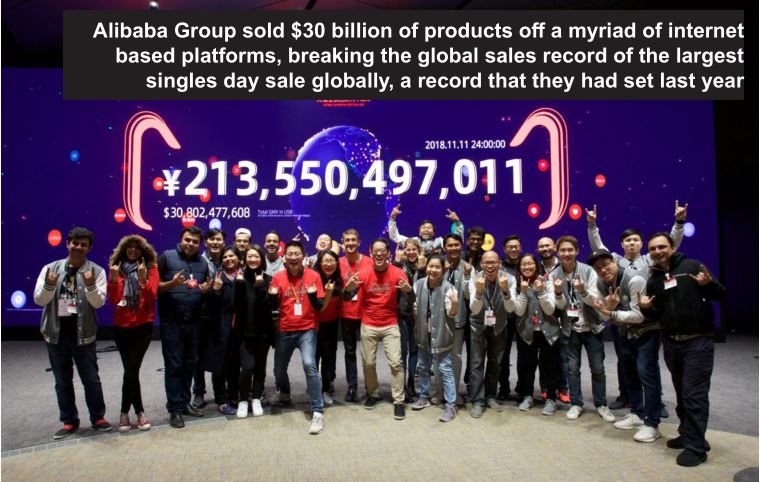 Thirty-nine founders of startups, both early stage and those that have raised a few million dollars make it out chaperoned by organizers speaking perfect English who help navigate the labyrinth that is Alibaba. We round up at the Mercedes Benz Arena, adjacent to the Shanghai Import Expo, that was kicking off one of the most magnificent shows I have seen put together by an eCommerce platform.
For four hours, leading up to double 11, a series of star singers and actors, pop star performers from Asia, magicians, KOLs (Key Opinion Leaders, or influencers who promote a product online), a Victoria's Secret model and even Mariah Carey show up to entertain shoppers while they wait for the countdown to midnight. In between entertainment, there are game shows, TV channels stream stars that pose QVC style questions to audiences, the performers make TV viewers vote on their smartphones for a chance to win coupons, all for the event kicking off at midnight, double 11. Fan club members of KOLs are cheering at the area in the hundreds, screaming, chanting slogans in a stadium style packed arena. Every other minute, there is silence from the audience as it clicks away on smartphones, scoring more points in games embedded in Alibaba's application for a chance to win yet again, more coupons for double11.

In a spectacular mix of performance, gamification and shopping, Cirque Du Soleil acrobats mesmerize the audience, but some in the audience are still too busy, trying to accumulate more points on their Ant Forest, another accumulation of loyalty points users have sown using Alibaba's payment application Alipay the past one year.

We are then escorted to a media room where a live ticker plays on a cinema-sized screen as journalists from around the world see the magnificence unfold. In the next 48 hours, Alibaba Group sold $30 billion of products off a myriad of internet-based platforms, breaking the global sales record of the largest single-day sale globally, a record that they had already set last year.

All the organizers wore red fleeces that read 'this is just the beginning' and as we discover over the next 2 weeks, people who work at Alibaba actually believe their performance is just the beginning of their destiny in a globally relevant Alibaba, the company that helps businesses trade worldwide.

Alibaba and its associated companies have nearly 70,000 employees. Its business started off with their business-to-business (B2B) portal, Alibaba.com, which connects Chinese, and now global manufacturers with sales leads against an annual subscription, Taobao, a customer-to-customer (C2C) platform charges no listing fees or commissions and constitutes the biggest proportion of its sales and dominates e-commerce in China, and Cainaio, a SaaS product for logistics companies tracks airway bills and offers warehouse management software and services.

Then there is TMall, basically a business-to-consumer (B2C) platform for brands to sell in China, against a shop management fee. TMall Mart allows fast-moving consumer goods brands and grocers to sell to Chinese customers, while Ling Shou Tong (LST), helps distribute FMCG products across one million mom and pop grocery stores in China.

Xian Yu, a used product marketplace prods Taobao customers to upgrade by selling their used merchandise on its app, and unlike eBay, charges no fees and allows customers to voice or video chat with sellers.

Hellobike allows you to scan your phone to unlock bicycles sprawling across pavements in major cities in China, allowing you to ride a bicycle for short distances. Dingtalk is a chat service that allows companies to offer chat, calls, cloud storage drives, email and attendance management. Fliggy is an online travel portal for Chinese travellers to book packages, hotels, cars or flights anywhere in the world. Hema is an offline supermarket with an application that enables you to order anything for free delivery within a 3-kilometre radius. Interestingly it does not charge sellers at each aisle rent but shares a profit with each vendor, hence you see each vendor pushing a sale, unlike vendors you see at most supermarkets who are salaried clerks. Ele.me is another application for food delivery while InTime is an offline electronics retail store that simultaneously sells online and offline, and can be spotted all over major Chinese cities.

Then there is Alimama, the holy grail of advertising revenue for the group that solicits fees for placements on Taobao and contributes nearly half of Alibaba's bottom line. Content promotion is at Alimama's core, be it on the e-commerce platforms or the likes of Youku, Alibaba's answer to YouTube and Tencent Video. The advertising business, which is a core contributor to Alibaba's bottom line, was inspired from learnings from the Yahoo China acquisition, which on the face of it with its write-offs looked like a failure but built the foundation for the advertising business.

The entire infrastructure works on Alicloud, a cloud server structure that the business had to build on its own to save cost and ensure reliability during peak loads such as double 11 when IBM infrastructure couldn't hold anymore. Today this cloud infrastructure is a backbone for not just Alibaba but private and state enterprises in China ranging from Louis Vuitton to the 170 million cameras in China that capture license plates and face recognition, similar to how Facebook recognizes you amid a crowd of 50 in someone else's photo upload.

Then there is Alipay, which runs as the rails of payments in China. Think of Alipay as your Visa/MasterCard on your smartphone, but with a take rate of 0.5 per cent and not two to three per cent that Visa and MasterCard charge. There are nearly seven bank accounts for every person in China and what Alipay has allowed people in China is the ability to pull, with a password prompt, money from their bank account to pay at a store, online or to a friend. All you do is scan the recipient's QR code or have them scan yours (also on your application). Since Ant Financial, Alipay's parent company holds a parallel deposit account with banks, pulling money from a customer's account is really only putting money back into the banking ecosystem with their deposit account.


Ant Financial also has a product called Zhima Credit which acts as the defacto credit system for most Chinese in a country where credit scoring was near missing for most citizens as banks seldom offered uncollateralized credit like they do via credit cards in the US. When Ant introduced Zhima, it tracked financial transactions mostly for small sellers on Taobao and as more vendors used their SaaS products, they got better scoring for using this platform, which enabled microcredit to these SMEs to improve their working capital from 3rd party banks. The micro-credit is at first something small like 500 RMB and then up to 10,000 RMB, never really exceeding to start offering very large lending amounts, almost always deferring that out to banks again.

What the engineers at Alibaba knew was that they despite attaining a banking license due to regulatory requirements would never have the capital to help every small business in China. But if they used their technology capabilities to help financial institutions gain access to more customers, they would win the trust of the ecosystem. Even when they prodded Alipay users to hold money in their wallet, it was in lieu of offering them daily earnings on money market funds from third party financial institutions versus keeping money in either their current account or the Alipay Wallet. And this sums up Alibaba's strategy. If you help the small businesses with free software, and you help them grow, they will take incremental earnings and share more with you for marketing and the more data you collect on this customer, the more leads you can generate for 3rd parties whose core business it is to offer that product.

Chinese businesses love Alibaba, a company whose story is captivating. Jack Ma was an English teacher who collated one of the first yellow pages for factories in China and sold this directory to the state. He then, invested all that money to create a platform with 18 other co-founders, that helped list large-scale businesses in China be discovered online for overseas buyers.

Listen to Jack for 5 minutes in person and you'll start trusting him. He has a knack for inspiring, motivating and believing in and relaying a mission. And the mission and vision for Alibaba is ingrained in every employee at the company. It seems everyone at the firm believes that they are building a greater good. They are helping businesses and in that, since most of them have some level of employee stock ownership, there is a sense of ownership unlike I've seen in any organization.

At the Taobao campus in Hangzhou, the cafeteria is packed at 7 PM over dinner. I ask around if the few thousand around me are here because the food is cheaper at the cafeteria. "Yes, perhaps, but most wanna finish up some work first" is what I'm told. The day starts anywhere between 8 am and 9 am but when I walk out of training at 8 pm, there are still thousands cranking away at work.

I'd seen this culture from my days in investment banking in New York City but the motivation in the financial services sector is typically greed or fear. I know of engineering teams and startups working 7 days a week, but at Alibaba, it seems, the inspiration comes from something larger.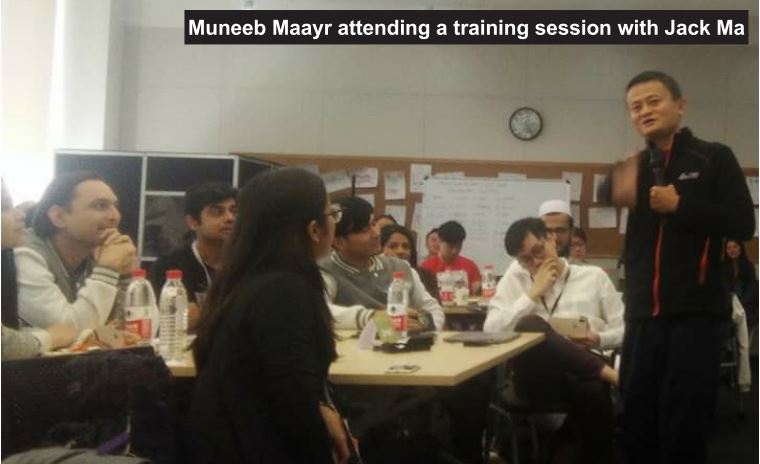 Over half of Alibaba's employees are engineers. The most senior people in their logistics wing was a former professor at a leading United States (US) university. I don't recall ever seeing what I would think of operational wings of a company lead by professors, PhDs and engineers. At some point, Jack Ma instilled in his workforce to always hire for skills they didn't have, or people smarter than them, and his 70,000 army has taken that as a standard.

The 20 senior leadership personnel who taught us over the 2-week course included billionaires and many worth a few hundred million dollars. Yet, I was astounded by the humbleness. Leadership at Alibaba, unlike anywhere I have seen is down to earth. The patience to listen to stupid questions, the maturity to think deeply before responding, the kindness to take time out to help, train and mentor is unlike anything I've seen or experienced at a major corporation. My professional career has been with European and American financial services and consulting professionals, really, the cream of what is perceived in society as successful professionals. There is always, a sly cockiness, an arrogance of pedigree in education or career. What I saw and felt in China was a completely different culture. One where success does not translate into arrogance and impatience, where capitalism is constantly deputed as a responsibility for giving back. Ying and Yang. There is a belief in karma.

In many ways, Alibaba has taken the best of the east and the west. In performance management, their weekly employee self-review and monthly manager assessment in the 3,6,1 formula (30% exceeds, 60% meets, 10% does not meet expectations) is taken right out of the playbook of the best multinationals in the US. So is in giving all employees, stock options, to get everyone skin in the game and treat the business as their own. But in upholding employees to a values assessment, to ensure they are in line with Alibaba's mission, vision and values, they have an Eastern touch to their organization. Employees are mandated to document out-of-office hours social work, carve out time to teach a training class to mentor. Alibaba gives a pin on an employee's 1st year anniversary, a Jade pendent on 3 years, an engraved mission ring on 5 years and encourages all employees to have a fictional martial arts character name printed on their employee access cards with employees mostly known within the organization with their fictional character names. Employees choose a character that they are inspired by and tout it around proudly.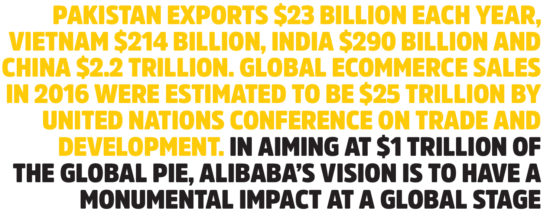 Alibaba management speaks of competitors with respect, signalling much to learn from them too. People outside of China assume Alibaba owns e-commerce in China. It sort of does, but there are strong competitors as well in a multitude of categories. There is the Tencent group, itself a universe of platforms including Wechat, Meituan, Dianping, Mobike, JD.com and gaming and digital content platforms that own China. My last day of training, an Alibaba employee recommended I read up on the Tencent group and I am beginning to discover that in China, well-funded copycats are more common than in the West, competition is intense and this has driven product teams to work on user interfaces and experiences that are today perhaps, much better than their western counterparts. Take maps as an example. Amap, or Baidu's Du map are far more superior than Bing or Google Maps in UI and functionalities (traffic lights, cameras, 3D imaging of cities as an example). The same holds for Taobao vs eBay or Amazon. Image search, QR or barcode search, the ability to watch live streaming showcasing a product you are interested in reviewed by a key opinion leader on Taobao makes the user experience and stickiness leaps and bounds ahead of its Western counterparts.

Vending machines in China allow you to scan a QR code off your phone to buy a Coke, a pack of cigarettes, hot coffee, rent a power bank or slot a time in a booth for some karaoke or a massage chair. Bus stops have LEDs with minutes to the next bus, elevators have projections on the glass doors that make you watch a video ad while you wait. There are QR code triggered rental bikes everywhere with a growing number of electric bicycles and cars, and almost all scooters are electric. Every document, parcel or pallet moving in the country can be tracked live on a smartphone because the state mandated that all trucks have trackers whose tracking is available via a live API from a state-run website. Villages and factories, once remote now identify their unique selling points, hire key opinion leaders to create content for them and sell not only on Alibaba's platforms in China but also through Lazada to countries in South East Asia, Jumia in Africa and Paytm in India.

Alibaba's goal is to deliver anything in China in 24 hours and anything anywhere in the world in three days. Small items can be shipped across geographies with automated customs duty levied with an integration of their Cainaio SaaS with country-level customs databases and bulky items that are frequently purchased via bonded warehouses in the terminal country, with duty paid when the product is sold. A network of local eCommerce stores, warehouses, logistics companies, all leveraging Alibaba's tech platforms would allow fulfilment to be seamless and everyone would be accountable for their SLA. So think not only a portable speaker moving from China to Kenya but also a leather jacket moving from Pakistan to South Korea. Alibaba aims to be the network used for commerce globally, not just in China.

It's a matter of when all this will happen, not if it will happen. Today, China's affluent middle class makes the country the second largest importer of goods in the world. Chinese cities are flooded with German and American cars, Western fashion labels and loads and loads of imported food, from Africa to Asia. Imported milk, post a scare of Chinese milk tainted with melamine in 2014 was the single biggest revenue driver in Shanghai over double 11. The Chinese are getting rich and Alibaba is gearing up to help global brands sell into China through bonded warehouses in China. But Chinese consumers are more sophisticated in their research before an online or offline purchase, so global brands would need more sophisticated content, that too in Chinese to win trust in a society that is getting used to scanning a QR code or searching the product photo off an aisle before buying it. Plus Chinese consumers sway when a KOL they follow evangelizes a product, making now thousands of online content celebrities pretty rich in China.
This company founded in 1999 has a vision to be around across three centuries, a lifespan of 102 years, with 10 million profitable SMEs selling to 2 billion customers. It may have started with an army of direct salesman going factory to factory selling a platform subscription, but today many of its platforms are near free, enabling sellers and couriers to use its tools to grow their business, and hopefully, at some point, pay for some value-added services. It's partners, now in the millions, buy into this relationship and migrate most commerce, even offline commerce, through Alibaba's platforms. Take Alipay as an example. Since the take rate is so low, almost every small mom and pop shop, interpreter or taxi driver, will rather accept payment via Alipay or Tencent pay.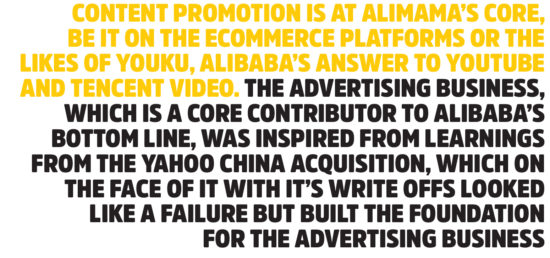 The question is why? Because it's convenient and it doesn't cost anything really. I pull out my phone, and either click scan to scan the other party's QR code or give them mine on my smartphone that their store POS barcode scanner or POS machines can scan to run through middleware to offer a seamless experience. As a seller, it's convenient as a one-stop shop that will allow me to publish content, advertise, sell, print an airway bill that any courier can scan and receive money after a week of escrow from any customer's mobile phone account number directly.
This software was not built by industry veterans. The eCommerce portals were built by engineers, not retailers. The payment platforms were built by an engineer, not bankers or telecom personnel. The logistics platforms are built and managed by engineers not couriers. Alibaba tasked disruption to those who knew little but had the grit to build a new future, an inclusive one, build open and collaborative platforms that would ultimately have a network effect once users found utility. In abandoning possession of the platform and micromanagement and fixed positioning, Alibaba set a new era in China of inclusiveness, not cut-throat copycat competition. This was the harbinger of change in China 's economy.

Alibaba's growth from $5.7 million annual sales, 4 years after it was founded, to a $500 billion revenue enterprise in 2016, now aiming to be $1 trillion by 2020, is a story of luck, timing, but mostly a mission of resilience and grit to build a product that drove seller utility.
Pakistan exports $23 billion each year, Vietnam $214 billion, India $290 billion and China $2.2 trillion. Global eCommerce sales in 2016 were estimated to be $25 trillion by United Nations Conference on Trade and Development. In aiming at $1 trillion of the global pie, Alibaba's vision is to have a monumental impact at a global stage.

To accomplish this goal, Alibaba needs to ensure that businesses around the world discover the value offered by Alibaba's technology, just like they did in China. In Alibaba's philosophy, when businesses win, Alibaba wins and this is how it aims to live in 3 centuries since its inception in 1999 – or 102 years.