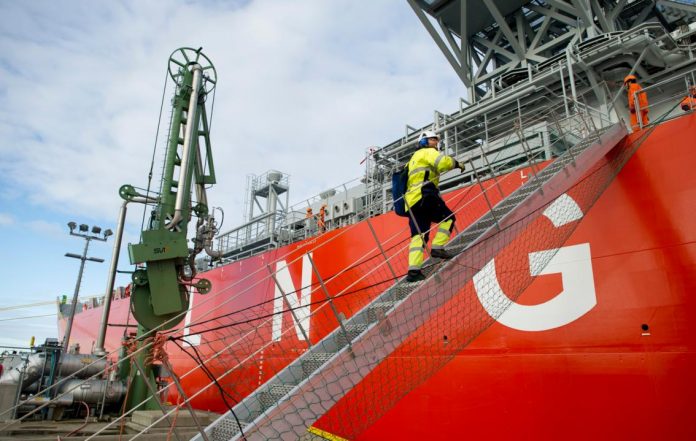 ISLAMABAD: Pakistan LNG Limited (PLL) has called for invitations to bid for supply of additional three cargos of liquefied natural gas (LNG) to the country for January and February 2019.
Also, PLL has also managed to convince commodities trader-Gunvor- to provide a rescheduled LNG cargo this month, it was learnt reliably.
Sources in petroleum division informed Pakistan Today that PLL has succeeded to convince the Gunvor to supply a rescheduled cargo of LNG in December 2018.
This cargo of LNG was to be imported in December but PLL cancelled the import of one LNG cargo owing to cut in demand by power division.
They said that PLL had earlier successfully got rescheduled the supply of LNG cargo to June 2019 with Gunvor and saved the country from a $20 million penalty.
However, in a bid to meet increased gas demands of an extreme winter season, PLL has also called tenders for supply of additional LNG cargo's to the country during January and February 2019, said sources.
The sources added that if PLL was earlier informed to ensure additional supply of LNG in extreme winter to meet the increased demand for gas, then the import of LNG could have been made on low prices.
However, this time, commodity traders might offer high rates in comparison to the previous market price of LNG buying in the international market.
"PLL management with its best negotiation skills has so far many times saved the country from million dollars penalty as since last five months it (PLL) had been cancelling the import of agreed cargos of LNG with commodity traders like Gunvor," said sources.
A copy of documents available with Pakistan Today further reveals that PLL has extended an invitation to bid for supply of three cargos of LNG during two months of the extreme winter season (January & February 2019).
According to the documents, bids are invited from reputed international suppliers for the supply of three cargos on a delivered Ex-ship (DES) basis at Port Qasim, Karachi.
One cargo of LNG is to be supplied on 21-22 January 2019 while the supply of two cargos is scheduled for 21-22 February 2019.
Pakistan LNG Limited reserves the right at its sole discretion to reject any or all bids prior to the acceptance of a bid or proposal, as per rule 33 of Public Procurement Rules, 2004, the document said.
It is pertinent to mention that PLL was earlier asked to supply two cargos of LNG in December. So, PLL managed its supply from Gunvor at cheap rates.
However, later, PLL cancelled its buying of two cargos from Gunvor due to less demand of LNG from the power division and asked Gunvor to supply only one cargo in December.
But, now after federal cabinet's decision to supply gas to the export-oriented industrial sector, PLL has convinced Gunvor to supply remaining one LNG cargo in December instead of next June 2019.
Similarly, PLL was to ensure import of six cargos of LNG to the country every month, but it has been supplying only two cargos a month from last seven months.
At present, six LNG cargos are also being imported by Pakistan State Oil (PSO), while only two cargoes are being imported by PLL to meet the gas demand.
It has been observed that the import of LNG to the country will help reduce the shortage while additional LNG cargoes would be made available only in January and February next year to satisfy the gas demand and avoid likely gas crisis.