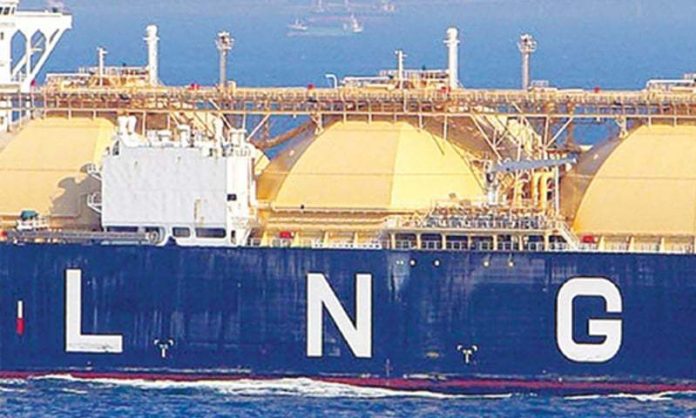 LAHORE: A report released by Fitch Solutions on Friday revealed that Liquefied Natural Gas (LNG) spot prices in Asia have remained depressed, plummeting by over 50 per cent since the beginning of the year to touch $2.5 per mmBTU in July, from $4.0 per mmBTU in January
Entering 2020, LNG prices were hardly rosy even before the onset of the coronavirus pandemic and they continue to hover at historical lows as Covid-19 continues impacting economic activity and demand, said Fitch Solutions.
"Amid a negative backdrop of slowing coal-to-gas switching in China and a milder winter, although looks to have deteriorated further as energy demand sinks across the region," it explained.
It observed that the return to normality in large emerging markets like Pakistan and India including other smaller markets in South and Southeast Asia look set to take longer than most, as these markets continue to struggle to fully control the spread of first wave infections.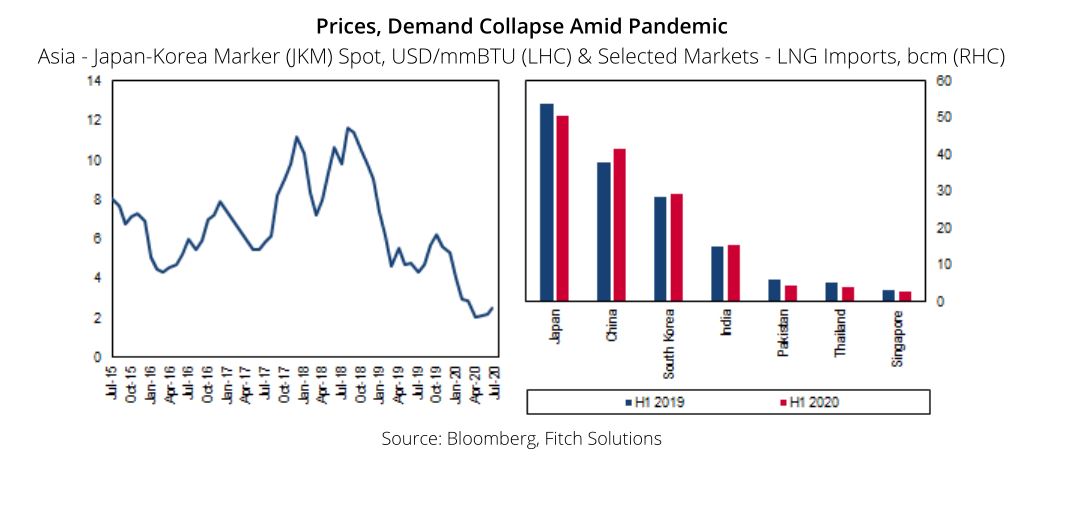 According to Peter Lee, Oil & Gas analyst, Fitch Solutions, "Indeed, Pakistan is certainly on its way to becoming an even larger LNG market then it is now in the coming years. 2020 outlook has definitely taken a hit due to Covid-19, but pent-up domestic gas demand is large and growing.
He added," Infrastructure needed to get gas to suppliers in the need – pipelines for one – is still in the midst of being expanded and will be key to unlocking stronger demand growth going forward.
LNG prices have historically been more expensive for the domestic consumers compared to prices of indigenous gas, as Pakistan's current supply of LNG are contracted off oil."
Meanwhile, he said, "This appears to be changing with the large decline in spot LNG prices, but for Pakistan to benefit from record low spot prices to a more significant extent, its contracting models may need to move away from oil-indexation and/or purchases orient towards more spot volumes."
A chart showing Fitch Solutions LNG import forecasts for Pakistan shared with Profit are shown below:
While speaking to Profit, on how Pakistan could take advantage of the low spot prices of LNG Khadim Ali Shah Bukhari Securities Managing Director Arsalan Soomro said, "The government must focus on procuring more RLNG on a spot basis.
Given the economic resumption and need for energy, we need more LNG terminals in the country on war footing to cater to industrial, power, residential, fertiliser and CNG demand."
"The low international prices are a brilliant opportunity for government nowadays to regain energy competitiveness, provide affordable electricity/gas & catalyze the decaying industrialization," said Mr Soomro.
He shared, "The government has already ordered cargoes coming in a few weeks. The private sector should be allowed to import RLNG on the spot and a mechanism must be evolved to reduce weighted cost & provide level playing field to all consumer."
Moreover, year to date (YTD) prices have exhibited an average of $2.7 per mmBTU halving from $5.4 mmBTU in 2019 and less than a third of the $9.7 per mmBTU averaged in 2018, it highlighted.
Fitch Solutions stated that LNG imports into key importing in markets in Asia aside China have registered large year-on-year (YoY) declines across the board as gas consumption across industry and commercial sectors slowed to a crawl as strict Covid-19 containment measures were observed.
However, due to the state of Covid-19 infections in major Asia's LNG markets point that the road to a meaningful rebound in demand will be a slow one, it said.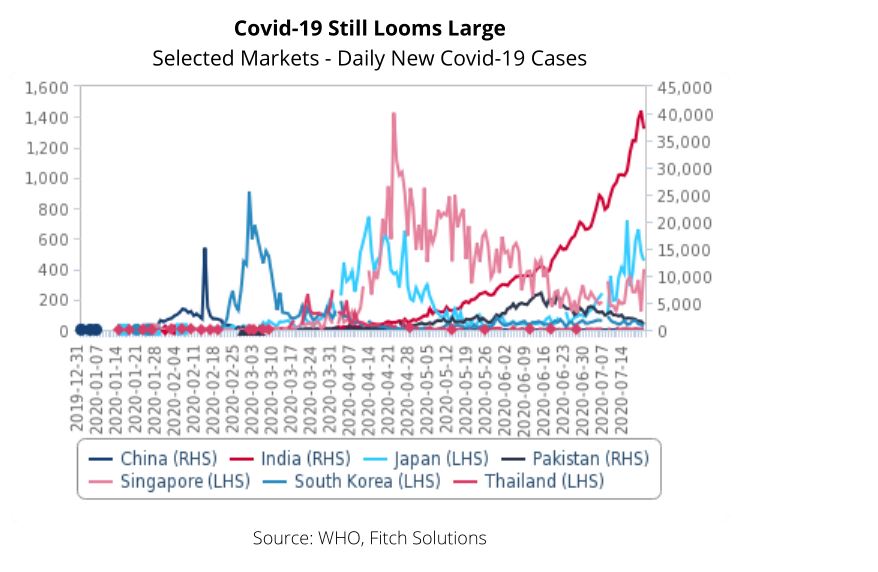 It highlighted that the recovery underway in China looks like the only silver lining for the sector as most markets continue to be in partial lockdowns or still jeopardized by elevated infection rates.
"South Korea and Japan are notable examples of the latter as re-escalating local outbreaks have brought about a relapse into stricter restrictions after rules were relaxed in the preceding months, while the number of daily new cases in India remain among the highest in the world," said the report.
Meanwhile, it expects a bounce back from the first half of the year nadir over the second half due to base effects and as governments shun blanket lockdown to avoid economic ramifications.
But it warned that there are plentiful downside risks and growing as rising risks of second wave infections imperil to undermine the momentum from the nascent global recovery.
According to Fitch Solutions, the demand decline across Asia does not bode well for global LNG producers who are already beset by a protracted period of low prices and market glut.
It noted that Asia's impact over the global LNG market is immense and the region is home to the world's four largest net LNG importing markets in Japan, China, South Korea and India and inspite of the recent slowdown in demand, is still responsible for absorbing about two-thirds of the total annual global LNG export volumes.
Mounting the woes of the producers', Asia's fall in demand has coincided with a comparable demand decline across Europe, the global LNG sink that has struggled to live up to its billing amid the pandemic and brimming gas inventories, it observed.
"Among those exposed to Asia demand risks, LNG exporters based in the US appear most vulnerable as low prices in Asia and even Europe make shipments uneconomic. In addition, relatively fewer long-term contracts in place also renders US cargoes vulnerable to cargo cancellations," said Fitch Solutions.
Also, LNG exports to Asia held up favourably during the first half of 2020, this could prove difficult to sustain over the coming months as cancellations of US LNG spot cargoes for July-September loadings continue to mount, as buyers attempt to cut back on imports where possible.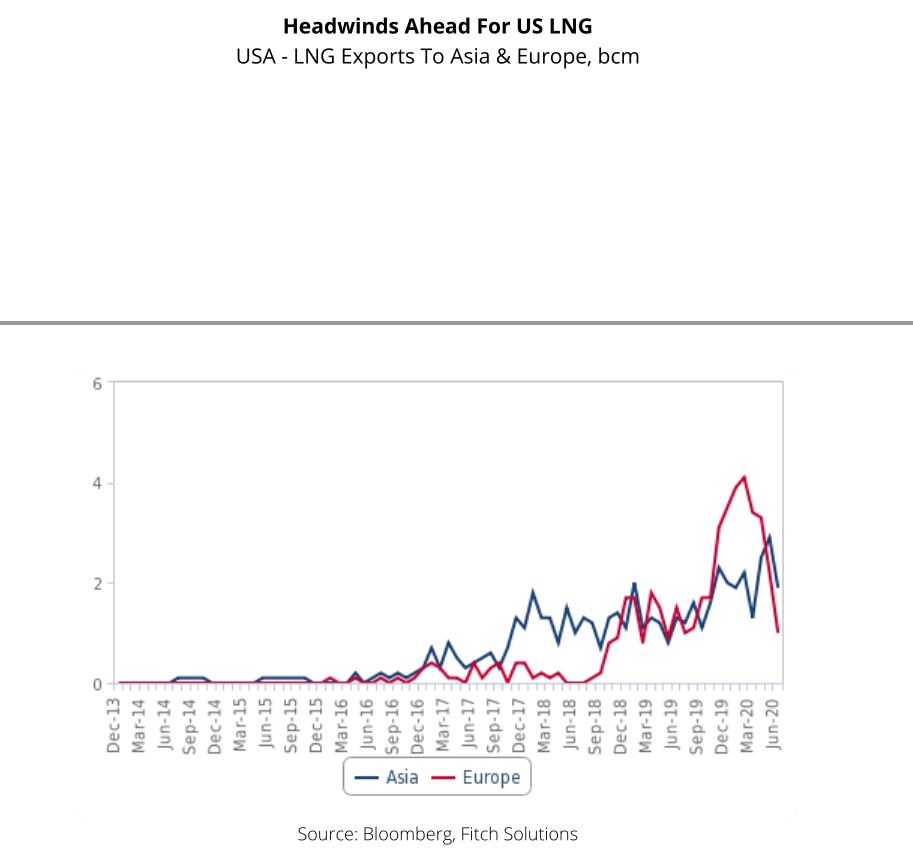 "In comparison, the heavy majority of cargoes from the likes of Australia, Malaysia and Qatar are secured on 10 to 20-year deals and are likely to see respective export volumes kept intact even during weak to modest demand conditions," it concluded.