LAHORE: Google Business Group (GBG) on Saturday held the #Bizfest18 where experts from various industries participated in panel discussions about the state of technology, startups, entrepreneurship, and innovation in Pakistan,
BizFest 2018 is an annual conference that offers Google product training, startup workshops and entrepreneurship talks. Participants get the chance to learn how to use Google products and technologies to start and scale their businesses and develop themselves through capacity building workshops from top experts and entrepreneurs.
Powered by Fatima Ventures, the event included various sessions including Digital Transformation, Video in Pakistan, Business Incubation, Future of Work, Moonshot Thinking, and Startup Ecosystem.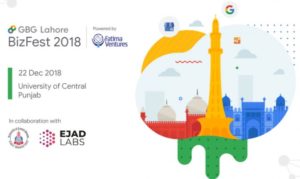 Entrepreneurs, as well as Industry leaders from various local and multinational organisations such as Google, CocaCola, Q-Mobile, JS Bank, Telenor Pakistan, Cognizant, Careem, Plan X, Punjab Information Technology Board (PITB) and National Incubation Centre (NIC), attended the event.
"Technology has made our lives easier. The speed of change, however, is the main issue", said Telenor Pakistan's Head of Digital Partnerships and Business Development Saad Kiani, adding that in a recently launched survey, it was found that there are three reasons why countries have had to digitally transform including reducing inequalities in societies, financial economics, and the need to remain globally competitive in a fast-paced technology-driven world".
JS Bank EVP Branchless Banking Noman Azhar spoke about technology adaptation in Pakistan, stating that "We cannot simply import and adopt technology from other places. Technology has to be localized. Otherwise, we won't be able to transform as a technology adept society. For banking, POS technology is extremely important", he emphasized, adding that tech adaptation at the scale used by tech giants such as Amazon is not relevant in Pakistan because people are still using cash. "We have a 200 million people country. It's hard to scale technology with such a large group of people who do not use the internet," he said.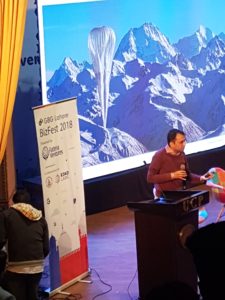 Google's Faraz Azhar in his keynote speech on moonshot thinking spoke about the concept of moonshot thinking and how people and organisations need to aim for the moon and always strive to keep expectations higher than before.
CocaCola Pakistan Head of Integrated Marketing Communications and Q-Mobile Group Marketing Director Zeeshan talked about the changing dynamics of marketing, and the challenges faced by organisations in the age of disruptive technology,
The event focused on guiding aspiring entrepreneurs to make decisions based on data and technology utilization.
"Despite being the tech hub of Pakistan, Lahore doesn't have a signature technology conference which would represent the achievements of the local community. BizFest 2018 is just the first step in a series of collaborative initiatives that we are planning in the coming years to mark Lahore as a technology capital of the country," said GBG's manager.