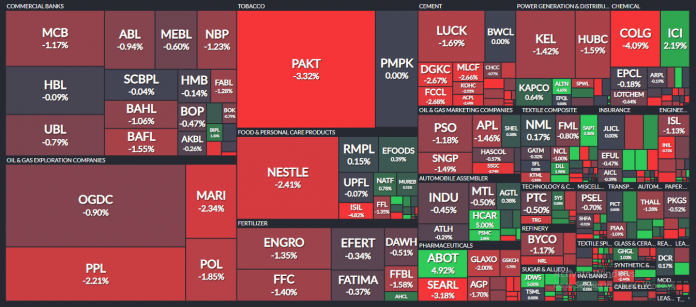 KARACHI: Breaking the momentum of the previous two sessions, the Pakistan Stock Exchange (PSX) turned red on Wednesday, as indices dripped and volumes declined. Foreign investors also ended as net sellers on Tuesday with a net outflow of $0.86 million.
As investors chose to wait for the upcoming mini-budget, KSE 100 index benchmark declined by 388.77 points to reach its intraday low of 39,225.41. The index finally settled lower by 342.24 points at 39,271.94. The KMI 30 index lost 882.19 points or 1.33pc to close at 66,252.84 points, while the KSE All Share index dropped by 187.55 points, ending at 28,819.17. The advancers to decliners ratio stood at 99 to 201.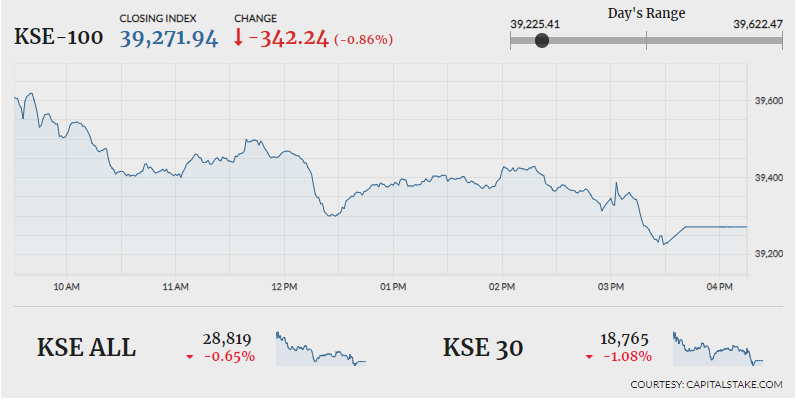 The overall trading volumes remained thin and were recorded at 92.78 million. K-Electric Limited (KEL -1.42pc), The Bank of Punjab (BOP -0.47pc) and Pak Elektron Limited (PAEL -2.57pc) were top traded stocks of the day. The scripts had traded 13.22 million shares, 10.70 million shares and 6.87 million shares respectively. Pakistan International Bulk Terminal Limited (PIBTL +1.62pc) and TRG Pakistan Limited (TRG -2.10%pc also managed to score positions among the volume leaders.
The close-end mutual sector (-3.53pc), vanaspati and allied sector (-2.80pc), tobacco sector (-2.57pc), woolen sector (-1.95pc) and chemical sector (-1.74pc) were the major losers of the session, while the modaraba sector (+1.74pc), sugar and allied industries sector (+1.08pc) and leather and tanneries sector (+0.72pc) closed as gainers.
The banking sector lost -0.72pc from its cumulative market capitalization. MCB Bank Limited (MCB) declined by -1.17pc, Bank AlFalah Limited (BAFL) by -1.55pc, Bank AL Habib Limited (BAHL) by -1.06pc, National Bank of Pakistan (NBP) by -1.23pc. Habib Bank Limited (HBL -0.09pc), United Bank Limited (UBL -0.79pc) and Meezan Bank Limited (MEBL -0.60) all ended negative.
Although the market trend was negative, the transport sector gained 0.15pc in its total market capitalization. Pakistan International Bulk Terminal Limited (PIBTL +1.62pc) and Pakistan National Shipping Corporation (PNSC +0.50pc) ended in green, whereas Pakistan International Airlines Corporation Limited (PIAA -1.09pc) closed in red.