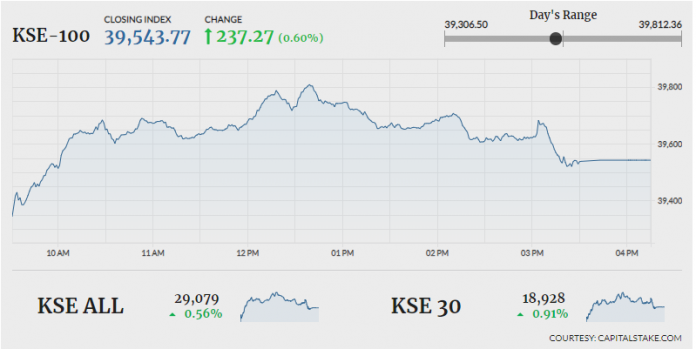 KARACHI: Bulls of the Pakistan Stock Exchange (PSX) strengthened their dominance on Monday, as the indices opted upward trajectory right from the from word go.
Foreign investors ended as net-sellers in the outgoing week with a total outflow of $9.42 million. The oil and gas marketing and exploration sectors felt the major hit with a net outflow of $1.59 million and $2.80 million respectively.
On the political front, the prime minister embarked on a two-day visit to Qatar, while on the economic front, Pakistan and International Monetary Fund are currently discussing terms and conditions for a bailout package.
Crossing the 39,500-mark, KSE 100 index benchmark reached its intraday high of 39,812.36 after gaining 505.86 points by midday. It finally settled on the upper side at 39,543.77 (up by 237.27 points). The KMI 30 index gathered 229.65 points to end at 66,463.03, while the KSE All Share index closed at 29,078.86 after accumulating 161.03 points.
Trading volumes were recorded at 124.49 million. K-Electric Limited (KEL +1.86pc), Fauji Foods Limited (FFL -5.00pc) and The Bank of Punjab (BOP +0.55pc) led the volume chart. The scripts had traded 19.09 million shares, 10.13 million shares and 5.20 million shares respectively.
Top gainers included the woolen sector (+4.22pc), automobile assembler sector (+3.34pc), tobacco sector (+2.81pc), modaraba sector (+2.78pc) and leather and tanneries sector (+2.06pc). On the other hand, refinery sector (-2.75pc), vanaspati and allied industries sector (-2.62pc) and jute sector (-1.70pc) ended the session as losers.
Attock Cement (Pakistan) Limited (ACPL -3.24pc) declared its financial performance for the second quarter of Financial Year 2018-19. Sales were up by 27pc, while the earnings per share declined from Rs3.99 in the same period last year to Rs2.87 in the current year.
Attock Refinery Limited (ATRL -4.99pc) announced its financial results for the second quarter of FY19. The company touched its lower lock after publication of its results. Sales appreciated by 57pc YoY, while earnings per share declined from Rs4.99 in the same period last year to Rs-27.25 in the current year.