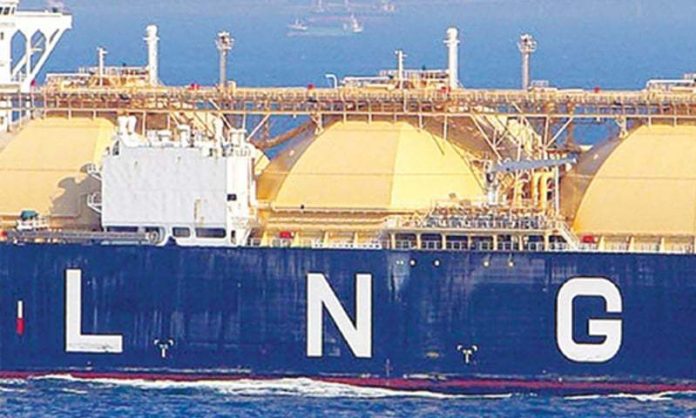 ISLAMABAD: Pakistan LNG Limited (PLL) has invited bids for the supply of six cargoes of liquefied natural gas to the country apparently to meet gas demand of 4800-megawatt RLNG-run power plants in upcoming months of May and June, said sources.
Sources in the petroleum division informed Pakistan Today that PLL has initiated the tender process for the supply of LNG to the country in the month of May and June 2019.
They said that the PLL has been looking for the supply of liquefied natural gas (LNG) to the country during the peak summer season and invited bids from international commodity suppliers till 11-03-2019.
The sources shared PLL's invitation to bid is for the supply of six LNG cargos to meet fuel demand of gas-run power plants.
They shared demand of LNG is expected to soar in the peak summer season mainly because the incumbent regime has imposed a ban on power generation with furnace oil while 4,800-megawatt RLNG-run power plants have been commissioned to meet electricity demands.
Four LNG cargos will be supplied in May, while the remaining two are likely to be imported in June, said sources.
"Bids are invited from reputed international suppliers for the supply of six LNG cargos on a Delivered Ex-Ship (DES) basis at Port Qasim, Karachi, Pakistan," said the sources, adding that quantity per cargo will be 140,000m3 (cubic meter).
Sharing details about the expected import of LNG after the due tender process, sources said that first LNG cargo is expected to arrive at Port Qasim, Karachi on 01-02 May 2019, second is to reach on 11-12 May 2019, third is to arrive on 16-17 May 2019 and fourth LNG cargo is likely to arrive at the port on 27-28 May 2019. Similarly, fifth LNG cargo will be supplied on 14-15 June 2019 and second cargo will be delivered on 29-30 June 2019, said sources.
An official at petroleum division said that the bid prepared in accordance with the instructions in the bid documents must reach the office of PLL on March 11, 2019. He said the bids will be opened the same day at 1100 hours PST as per PPRA rules.
PLL reserves the right at its sole discretion to reject any or all bids prior to the acceptance of a bid or proposal as per rule 33 of Public Procurement Rules, 2004, said official.
PLL has so far successfully ensured the supply of LNG cargos at lower rates in comparison to the LNG price (13.37 per cent crude price) of Qatar being offered to Pakistan State Oil (PSO) for LNG supply, said official.
Pakistan LNG Limited is a subsidiary of Government Holdings (Private) Limited which is owned by the Government of Pakistan. PLL has the mandate to procure LNG to meet the country's gas requirements.
It is pertinent to mention here that PLL management with its best negotiation skills has so far managed LNG import as per demand and has many times saved the country from million dollars penalty, as it had to cancel the import of agreed LNG cargos due to less demand of LNG by the Power Division.
However, so far, PLL has made necessary arrangements to meet gas demands of the next summer season and to fully utilize the LNG terminal capacity of Pakistan Gas Port Consortium.