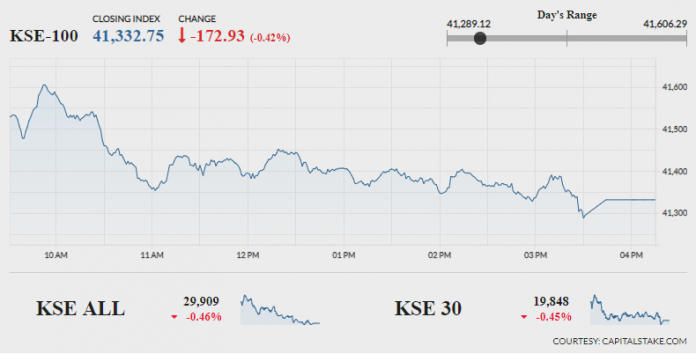 Trading volumes decreased significantly from 205m in the preceding session to 137m
KARACHI: The Pakistan Stock Exchange (PSX) witnessed another volatile session on Thursday, as indices swung in both directions to finally close in red. Foreign investors ended as net buyers on Wednesday with a net inflow of $6.40 million.
The KSE 100 index reached its intraday high of 41,606.29 after gathering 100.61 points. It then drove in reverse direction to reach its intraday low of 41,289.12 (down by 216.56 points). The index finally settled lower by 172.93 points at 41,332.75. The KMI 30 index depreciated by 251.34 points closing at 69,374.67, while the KSE All Share index fell short by 138.30 points, ending at 29,908.57. The advancers to decliners ratio stood at 107 to 219.
Trading volumes decreased significantly from 205.16 million in the preceding session to 137.67 million (a decline of 46pc). Lotte Chemical Pakistan Limited (LOTCHEM +3.31pc), Pak Elektron Limited (PAEL +2.17pc) and The Bank of Punjab (BOP +0.29pc) topped the volume chart. The scripts had 16 million shares, 12.2 million shares and 4.5 million shares traded.
According to the latest data released by All Pakistan Cement Manufacturers Association (APCMA), the cement sector posted a decline of 10.7pc in January as compared to the corresponding period. Local dispatches declined by 17.94pc from the same period last year with the northern region suffering badly. Exports on the other hand increased by a massive 67.27pc.
The cement sector lost 1.26pc from its cumulative market capitalization. Cement giants Lucky Cement Limited (LUCK) and D G Khan Cement Company Limited (DGKC) declined by -1.44pc and -1.32pc. Maple Leaf Cement Factory Limited (MLCF) was down by -2.15pc, Fauji Cement Company Limited (FCCL) by -1.10pc and Power Cement Limited (POWER) by -1.90pc.
The woolen sector (-3.59pc), modaraba sector (-2.73pc), tobacco sector (-2.37pc), jute sector (-1.70pc) and close-end mutual fund sector (-1.63pc) closed the session as losers, while the transport sector (2.20pc), cable and electrical goods sector (+1.89pc) and engineering sector (+1.75pc) ended as gainers.