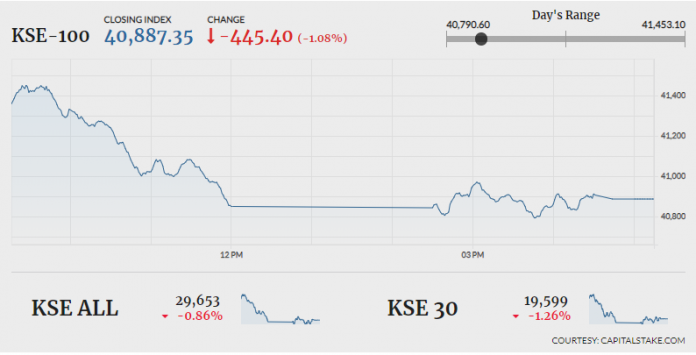 KARACHI: Bears continued to dominate the Pakistan Stock Exchange (PSX) for the third successive session, as indices, which started the day in green, rebounded in the second half to close in red. Foreign investors ended as net buyers for the second consecutive session with a net inflow of $3.36 million on Thursday.
On the economic front, foreign exchange reserves surged by 0.47pc on a weekly basis as reported by State Bank of Pakistan. The reserves that had previously fallen below $6.64 billion now stand at $8.2 billion. Bailout packages provided by UAE and Saudi Arabia provided much-needed relief to the fast depleting reserves.
Moreover, the International Monetary Fund (IMF) mission chief, in a recent video conference with the finance minister, termed the recent increase in electricity tariffs, raise in taxes and tightening of monetary policy as insufficient.
The KSE 100 index benchmark touched its intraday high of 47,144.12 (up by 120.35 points) shortly after the commencement of the session. It then drove in the opposite direction to reach its day's low of 36,274.25 (down by 542.15 points or -1.33pc). The index finally closed lower by 445.40 points at 40,887.35.
The KMI 30 index plunged 948.92 points (-1.37pc) to close at 68,425.75, while the KSE All Share index declined by 255.77 points, closing at 29,652.80.
The overall trading volumes improved slightly from 137.67 million in the previous session to 169.10 million. K-Electric Limited (KEL -1.69pc) led the volume chart with 23.24 million shares exchanging hands, followed by Pakistan International Bulk Terminal Limited (PIBTL +2.35pc) and Pak Elektron Limited (PAEL -3.50pc). The scripts had 13.41 million shares and 10.47 million shares traded respectively.
Engro Fertilizer Limited (EFERT-2.52pc) declared its financial results for Financial Year 2018. The company announced a final cash dividend of Rs3.00 in addition to an interim dividend of Rs8. Sales were up by nearly 5pc YoY, while earnings per share appreciated from Rs7.60 in the previous year to Rs12.48.
Engro Foods Limited (EFOODS -0.05pc) also announced its financial performance for FY18. The company's sales declined by 6.4pc YoY, whereas earnings per share depreciated by 84pc YoY (FY17 Rs0.49, FY18 Rs0.08).