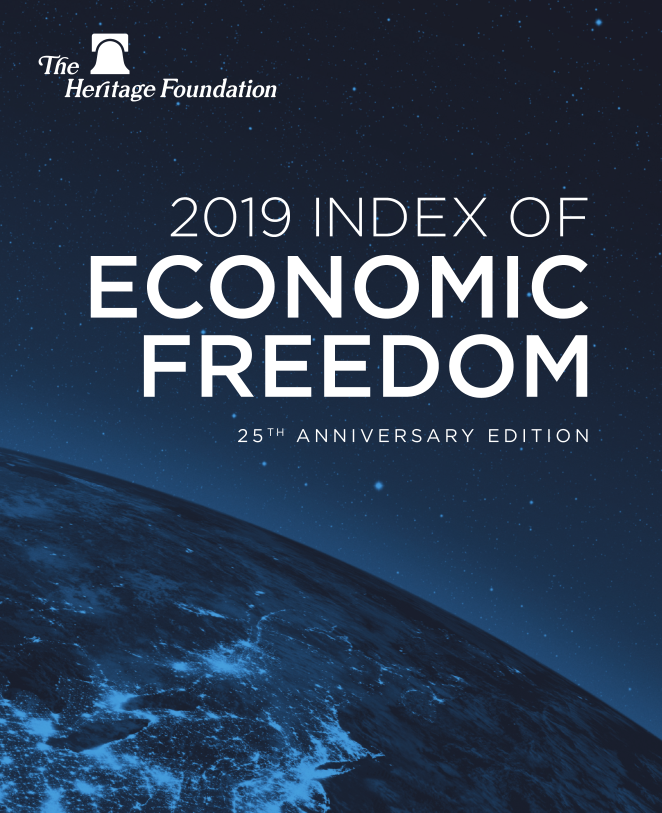 LAHORE: A 2019 Index of Economic Freedom report has given Pakistan an economic freedom score of 55.6, up by 0.5 points and ranking it as the 131st freest in the index released this year.
According to the report, the country's overall score has risen by 0.6 points, with increased scores for judicial effectiveness and property rights outmatching declines in monetary freedom and fiscal health.
It added Pakistan was ranked 32nd amongst 43 countries in the Asia-Pacific region and its overall score was below regional and world averages of 60.6 and 60.8 respectively.
Albeit some elements of economic freedom have proceeded modestly in Pakistan in recent years, however, decades of internal political discords and low levels of foreign investment have contributed to erratic growth and underdevelopment.
The report highlighted the excessive state intervention in the economy and inept but predominant regulatory agencies restrict private business formation.
And the absence of access to bank credit impacts entrepreneurship and the financial sectors' sidelining from the outside world slows innovation, said the report.
Moreover, the judicial system is impacted by serious backlog and poor security and corruption continue to stigmatize the judiciary and civil service.
The economic freedom score is assessed by categorizing it into four sections; namely rule of law, government size, regulatory efficiency and open markets.
Rule of Law
In this section, the report states the protection of property rights is weak. It highlights the judiciary is technically independent but is influenced by high-ranking political officials.
As per the report, courts are slow, outdated and inefficient. It states corruption is at the core of politics, government and law enforcement which includes bribery, extortion, nepotism, patronage, graft and embezzlement which is regarded as normal by the public.
In terms of property rights, Pakistan's ranking was 41.5, increasing 5.5 points from last year. Judicial effectiveness was assessed at 40.2 points, rising 6.2 points and government integrity received a ranking of 30.6, rising 3.3 points.
Government Size
This was sub-divided into tax burden, government spending and fiscal health to ascertain the overall score. Tax burden score stood at 80.5 points, increasing 2.0 points, government spending stood at 87.6 points, down 0.6 points and fiscal health registered 4.8 points fall to 49.2 points.
As per the report, Pakistan's tax system is complex, despite reforms to reduce rates and widen the tax base.
The top personal income tax rate is 30% and the top corporate tax rate has been reduced to 30%. In the past three years, government spending has amounted to 20.3% of Pakistan's output (GDP) and budget deficits have averaged 5.1% of GDP.
Also, public debt has increased to 67.2% of the GDP.
Regulatory efficiency
This section ascertains the score by subdividing it into business freedom, labour freedom and monetary freedom score.
As per the evaluation, business freedom score was assessed at 56.1 points, up 0.8 points. Labour freedom score was ranked at 41.8 points, increasing 1.2 points and monetary freedom registered a plunge of 5.1 points to 72.6 points.
The report noted that progress in improving the entrepreneurial environment has been moderate and the cost of completing licensing requirements is still burdensome.
"A large portion of the workforce is underemployed in the informal sector. The government's 2018–2019 budget increased spending on subsidies for the construction sector and for such items as food (especially sugar), power, water, and textiles by 36%," it added.
Open Markets
This section ascertains the score according to trade freedom, investment freedom and financial freedom.
The scores for these aforementioned sections were assessed at 64.8 points, a decline of 1.1 points in trade freedom, 55.0 points for investment freedom and investment freedom at 40.0 points and both registered no changes.
Cumulative value of imports and exports is equivalent to 25.8% of Pakistan's GDP, said the report.
Moreover, the average applied tariff is 10.1% and as per the World Trading Organisation (WTO), till the end of June 2018, Pakistan had sixty-six non-tariff measures in force.
According to the report, around 25% of Pakistan's adult population has access to an account with a formal banking institution.
Furthermore, unrestrained state interference in the economy and restrictions on foreign investment are serious burdens on economic dynamism, said the report.