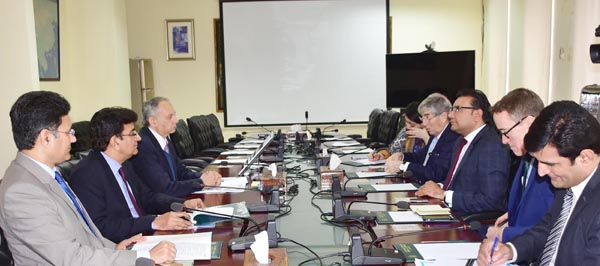 ISLAMABAD: A delegation of the Commonwealth Parliamentary Association called on Advisor to Prime Minister on Commerce Abdul Razak Dawood in Islamabad on Thursday.
The delegation is in Pakistan to identify, discuss and realise common areas of cooperation between the Commonwealth countries. The delegation had strong representation from the British parliament.
Both sides on the occasion discussed the benefit of European Union's GSP Plus for Pakistan's economy. The advisor recognised that EU is among Pakistan's most important trade partners.
In 2017, bilateral trade between the EU and Pakistan was around $13 billion with balance of trade in favour of Pakistan.
Lord Regan, Deputy Speaker of the House of Lords, praised the current government's efforts in bringing down imports in order to address the current account deficit.
The advisor apprised the delegation about the reforms introduced to improve 'ease of doing business' in Pakistan. He stated that investors are returning to Pakistan while the country's foreign direct investment inflows are being diversified. He indicated the areas where Pakistan is attracting FDI.
The PM's advisor shared the economic vision of the current regime and highlighted the initiatives that are being taken as part of the economic reform process. He thanked the UK parliamentarians for their unconditional support of Pakistan on issues of trade, particularly GSP Plus.
The advisor informed the delegates that Pakistan has a vibrant banking sector with the presence of international players, adding that the country is reforming its insurance sector and it will be aligned with the international practices.
The delegates expressed their optimism about the outcome of economic reforms of the current regime.