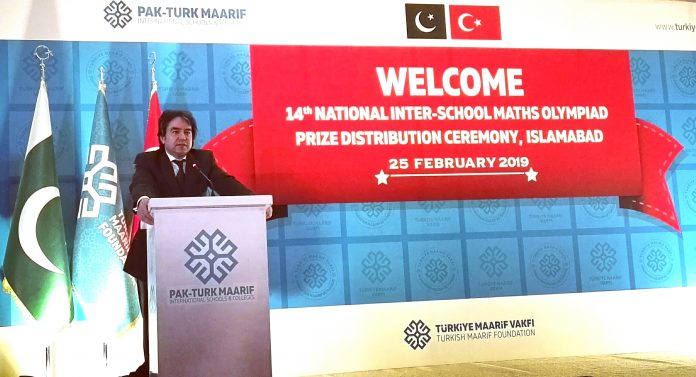 Envoy says Turkish President Recep Tayyip Erdogan will be visiting Pakistan on a convenient date after March this year
ISLAMABAD: Ambassador of Turkey Mustafa Yurdakul said on Monday that Pakistan and Turkey were engaged in discussions to chalk out a strategic economic framework for future Turkish investments in Pakistan, adding that key areas of Turkish investments have been identified, including low-cost public housing, tourism, technical education etc.
Addressing a press conference after a prize distribution ceremony hosted by Pak Turk Maarif Schools & Colleges, the envoy said that Turkey has never wavered its support to Pakistan and its stands by Pakistan against any challenge it faced.
"Soon after Pulwama attack, our foreign minister telephoned Foreign Minister Shah Mahmood Qureshi and extended support to Pakistan. We were active in OIC contact group on Kashmir too. Whenever there is an issue which is related to Turkey or Pakistan, the support has always been reciprocal and history is witness to it," the envoy asserted.
He said Turkish President Recep Tayyip Erdogan would be visiting Pakistan on a convenient date after March this year.
"President Erdogan and others leaders are engaged in hectic electioneering process going on in Turkey these days. Once the electoral process is over, both the countries would finalise a convenient date for the visit of the Turkish President," the ambassador said.
Flanked by Maarif Foundation President Dr Birol Akgun, PakTurk Maarif Foundation Pakistan Director Selahattin Batur and others, Ambassador Mustafa Yurdakul said that the ongoing discussion between Pakistan and Turkey also include cooperation in education sector, including hi-tech and higher education segments.
"This would be an ever-increasing process. We have a good cooperation with the Higher Education Commission (HEC) and we plan to increase the number of scholarships from the existing 100. In a couple of days, we would announce another initiative on vocational training," he added.
Commenting over Pakistan-India tensions over Pulwama attack, the envoy said dialogue should be the way forward to settle all issues, including Kashmir dispute, which should be resolved per the UN resolutions.
Commenting over terrorism threats posed by Fethullah Terrorist Organisation (FETO), the envoy said that Pakistan and Turkey both had fought a brave war against terrorism and both the countries were determined to wipe out the menace of terrorism in all its forms and manifestations.
"Failed coup attempt by FETO terrorists was a direct attack on our country. My message to those terrorists is that both Pakistan and Turkey are united to fight out terrorism," he added.
About PakTurk Maarif Foundation, the ambassador said that transfer of Maarif Schools & Colleges was a good move which would further cement bilateral relations between Pakistan and Turkey.