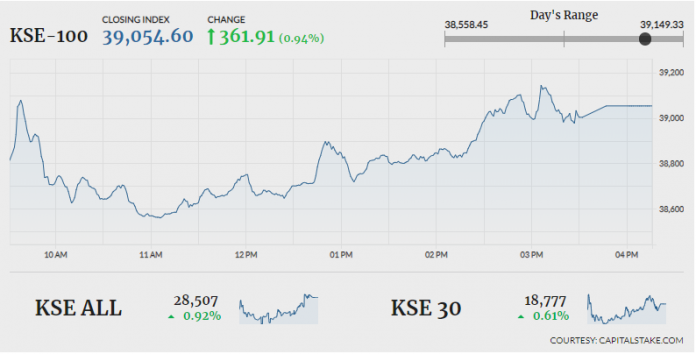 After a negative start to the day, the index changed its direction to end 361 points higher
KARACHI: The Pakistan Stock Exchange (PSX) managed to close a jittery session in green, as the indices swayed in both directions until they finally chose the upward path to end in green.
Foreign investors broke their buying trend on Wednesday and ended as net sellers with a net outflow of $0.614 million.
After a negative start to the morning, the index rebounded in the afternoon session following Prime Minister Imran Khan's invitation to India for dialogue and Pakistan's attempts at ensuring lasting peace in the region. In this regard and as a gesture of good faith, PM Khan indicated that Pakistan will be releasing the Indian pilot for the sake of peace on March 1st.
The KSE 100 index lost 134.24 points to reach its intraday low of 38,558.45. It then rebounded and after gaining 456.64 points touched its intraday high of 39,149.33. It finally managed to close above the 39,000 mark, accumulating 361.91 points. The KMI 30 index gathered 542.85 points to settle at 65,510.03, while the KSE All Share index captured 261.23 points to end at 28,506.64.
The overall trading volumes declined from 273.69 million in the previous session to 159.39 million. The Bank of Punjab (BOP +3.68pc) was the volume leader of the day for the second consecutive session with 13.37 million shares exchanging hands, followed by Worldcall Telecom (WTL +2.94pc) and K-Electric Limited (KEL +2.90pc) with 9.81 million and 9.48 million shares respectively.
Amreli Steels Limited (ASTL -4.98pc) released its financial results for the second quarter of 2018-19 (2QFY19). The company's sales jumped by a massive 81pc YoY, whereas the earnings per share declined from Rs1.11 in the same period last year to Rs0.36 in the current period. Distribution and administrative costs increased by 61pc and 53pc YoY respectively.
Unilever Pakistan Foods Limited (UPFL +0.66pc) declared its financial performance for FY18. In addition to financials, a final cash dividend of Rs76 was also announced. The company managed to improve its sales by 11pc YoY, while its earnings per share also enhanced by 26pc YoY (FY17 Rs218.55, FY18 Rs274.48).
The Searle Company Limited (SEARL +3.81pc) announced its result for 2QFY19. The company's sales appreciated by 15pc YoY, whereas earnings per share deteriorated from Rs4.87 in the same period last year to Rs3.42 in the current year.
Flying Cement Company Limited (FLYNG +3.47pc) posted earnings per share of Rs0.27 for 2QFY19 (up by 12.5pc YoY). Khyber Tobacco Company Limited (KHTC +2.00pc) declared earnings per share of Rs-9.42 (Rs23.18 in the corresponding year). Siddiqsons Tin Plate Limited (STPL +2.49pc) published an EPS of Rs0.08 (down from Rs0.09 in the same period last year).