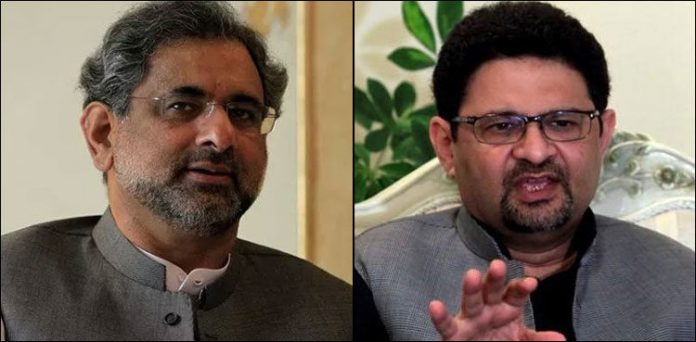 NAB likely to make arrests soon: sources
ISLAMABAD: Names of seven persons including former prime minister Shahid Khaqan Abbasi and former finance minister Miftah Ismail were placed on the Exit Control List (ECL) on Friday for their alleged involvement in LNG case, Pakistan Today has learnt reliably.
According to a memorandum issued by the Interior Ministry, the ministry on the recommendations of National accountability Bureau (NAB) has placed the names of seven persons on ECL under Section 2 of Exit from Pakistan (Control) Ordinance, 1981. "These persons are charged with misuse of authority or willfully failing to exercise their authority as mentioned under section 9(a)(vi) of NAO, 1999," the memorandum read.
"The amount involved in the case is Rs36.969 billion," it said.
Former prime minister Shahid Khaqan Abbasi , former finance minister Miftah Ismail, Oil and Gas Regulatory Authority (OGRA) Chairman Uzma Adil, former Pakistan State Oil (PSO) Managing Director Emranul Haq, Inter-State Gas Systems Pvt Ltd (ISGS) Managing Director Mobin Saulat, Shahid Islam, and Aamir Naseem have been barred from travelling abroad.
Earlier, NAB Rawalpindi summoned all major accused related to LNG inquiry to record their statements in 'illegal' award of the LNG contract with Qatar. Shahid Khaqan Abbasi, Miftah Ismail and Uzma Adil Khan had appeared before NAB probe team and the bureau had handed over questionnaires to them and sought a written reply.
According to sources, former PM Abbasi, in his response submitted with bureau, had refuted all accusations against him and maintained that all contracts were signed in accordance with Pakistan's constitution and the international law. Abbasi stated that LNG was bought from Qatar due to energy crisis in Pakistan and the rate at which it was purchased was at a lower price as compared to other countries, said sources.
They added that NAB is likely to make arrests in near future.