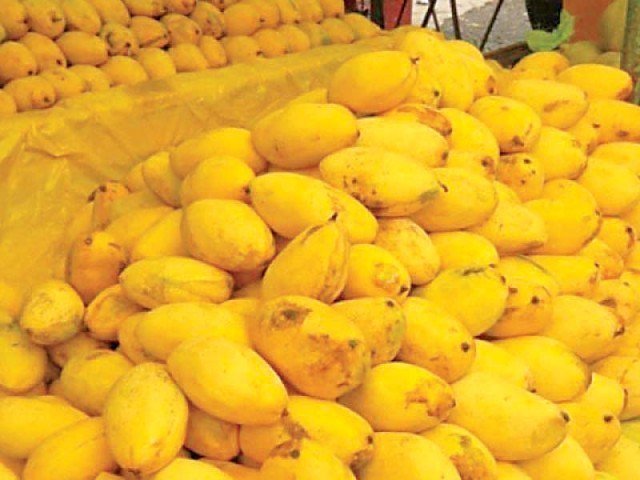 Climatic changes posed serious challenge leading to 30 percent reduction in mango production this year
ISLAMABAD: Export season of mango would commence from May 20, 2019 and 100,000 metric ton has been fixed as export target for this year.
The expected total production of mango, known as king of fruit in Pakistan is 1,800,000 MT this year, however due to severe impact of climatic changes , 30 per cent reduction has been witnessed by the season leading to anticipated total production of 1,200,000 MT.
According to estimates of All Pakistan Fruit & Vegetable Exporters Importers and Merchants Association (PFVA) the damage caused to the mango crops by severe storms, unexpected heavy rains, and hail storms is about 10% in Sindh and about 35% in Punjab. Hence taking these unfavorable factors in to account the total production of mango stands around 120,000 ton.
According to Patron-in-Chief of PFVA Waheed Ahmed, to achieve the export target it is imperative that besides favorable season, support and co-operation from Shipping and Airline companies, Quarantine department, A.N.F., customs and other related departments is imminent. With increase in prices of petroleum products, the cost of domestic transportation and logistics have also been revised upward , while devolution of Pak Rupees, the freight charges have also been raised by Airlines & Shipping companies making it further difficult for the exporters to remain competitive in the International markets.
Last year 75,000 MT mango was exported while the country is anticipated to earn foreign exchange of US$ 80 million by exporting 100,000 MT mango during the current season. China &USA, in particular would be focus of attention for an additional export volume during this year while special mango promotions campaigns would also be conducted in EU countries.
Large volume of mango is exported by sea from Pakistan – 15% is exported by land routes, 15% by Air while export by sea is in proportion of 70%. With reduction in frequency of flights this year from Pakistan announced by the Emirates Airline, it would further multiply the problems of mango exporters – Waheed deplored.
Talking about the climatic change, which has emerged as the biggest challenge for the produce of Agriculture and Horticulture Sectors, he said 30 percent reduction in production of mango crops during the current season reinforces the concerns about serious potential threat of the climatic changes.  However, no clear and well defined policy has so far developed to safeguard Agriculture & Horticulture sectors from this severe threat, he added.
According to the horticulture exporters, Pakistan being an agriculture country, the export sector has substantial part in total national production in Agriculture & Horticulture sector but no policy for improvement and uplift of the Agriculture has so far been formulated. While pressure of inflation is mounting due to reduction in production of crops leading to financial losses, on one hand possibility of acute shortage of food cannot be ruled out which is likely to have severe impact on food security and any country engulfed with food shortage, inflation and the downfall of the sector being back bone of  a country can lead to serious threat to its existence as well which subsequently poses serious threat to   national security of the country.