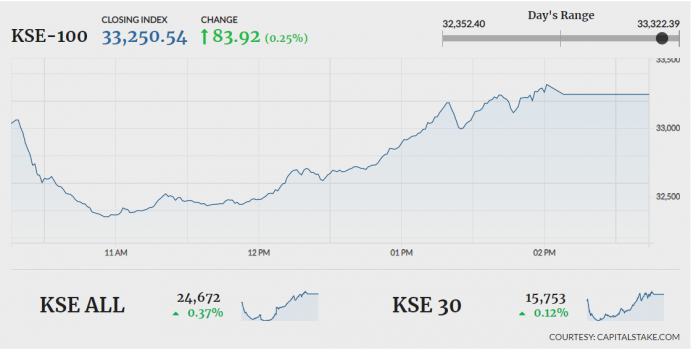 KARACHI: Investors of the Pakistan Stock Exchange (PSX) endured a volatile session on the first trading day of the week, as indices that declined by over 800 points intraday managed to recover the losses to end the day in green.
Investors resorted to selling on the expectation of a further hike in interest rate under the International Monetary Fund (IMF) loan programme.
State Bank of Pakistan Governor Reza Baqir in a meeting with the prime minister assured that the free fall of the exchange rate would not be allowed. Moreover, Prime Minister Imran Khan said that problems faced by the economy would be resolved soon.
Depleting by 814.22 points or 2.52pc, the KSE 100 index benchmark touched its intraday low of 32,352.40, breaking the 33,000 mark intraday. The index then made a recovery and reached its day's high of 33,322.39 after gaining 155.77 points. It finally closed higher by 83.92 points at 33,250.54. The KMI 30 index ended slightly positive by 96.20 points at 52,059.35, while the KSE All Share index gained 89.76 points, settling at 24,672.24.
The overall trading volumes were recorded at 165.49 million. K-Electric Limited (KEL +6.27pc), TRG Pakistan Limited (TRG -1.99pc) and Unity Foods Limited (UNITY +12.12pc) were the top traded stocks of the day. The scripts had traded 12.32 million shares, 9.87 million shares and 9.53 million shares respectively.
The oil and gas exploration sector lost 2.10pc from its cumulative market capitalization. According to news reports over the weekend, the 18th attempt to find hydrocarbons off the shore of Karachi remained futile as no oil and gas reserves have been found.
Pak Petroleum Limited (PPL) and Oil and Gas Development Company Limited (OGDC) lost 4.83pc and 1.22pc from their market capitalization. Pakistan Oilfields Limited (POL -0.63pc) also ended slightly negative, while Mari Petroleum Company Limited (MARI +1.07pc) closed positive.
Honda Atlas Cars (Pakistan) Limited (HCAR +4.99pc) declared its financials for the year 2019. Sales remained almost flat while increased costs pulled down profits by 41pc. Earnings per share stood at Rs26.97 from Rs45.48 in FY18. A final cash dividend of Rs12.15 was also declared by the company.