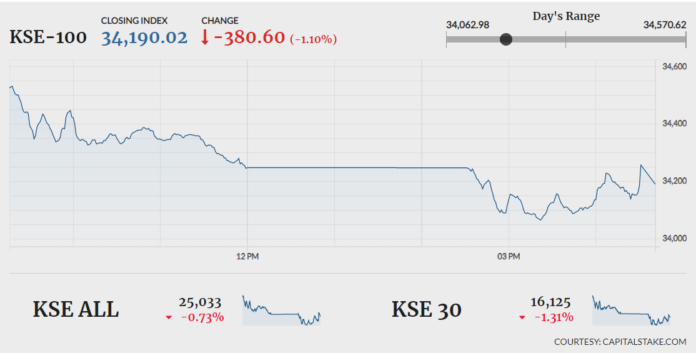 KARACHI: Bearish sentiments surrounded the Pakistan Stock Exchange (PSX) on the last trading session of the week, as indices bled all day long amid low market turnover. Foreign investors, on the other hand, turned out as net buyers on Thursday with a net inflow of $2.95 million.
According to the latest data released by the State Bank of Pakistan, foreign exchange reserves held by central bank declined by 0.13pc on a weekly basis despite receiving $500 million in inflows from Qatar.
Moreover, Pakistan is expected to receive $38 billion in new foreign loans from international partners under the International Monetary Fund's umbrella to meet its external financing. Furthermore, the IMF has projected inflation rate at 13pc by the end of the current fiscal year.
The government has decided to increase profit rates on its series of savings plans commonly known as National Savings Certificates. After the latest announcement, the certificates will have an interest rate of 14.76pc.
The KSE-100 Index dropped by 507.64 points or -1.49pc to mark its intraday low. After recovering a little, the index closed lower by 380.60 points at 34,190.02. The KMI-30 Index was down by 780.44 points to close at 54,341.63, while the KSE All Share Index declined by 183.43 points, ending at 25,032.78.
The overall market volumes remained thin and were recorded at 51.16 million. Lotte Chemical Pakistan Limited (LOTCHEM +1.93pc), Dolmen City REIT (DCR -0.20pc) and Maple Leaf Cement Factory Limited (MLCF -2.50pc) were the top picks of the day. The scripts had traded 6.94 million shares, 5.99 million shares and 3.27 million shares respectively.
The oil and gas marketing sector was down by 1.74pc. Hascol Petroleum Limited (HASCOL -3.60pc), Sui Southern Gas Company Limited (SSGC -2.52pc), Sui Northern Gas Pipeline Limited (SNGP -1.43pc) and Pakistan State Oil Company Limited (PSO -1.45pc) all closed in the red.