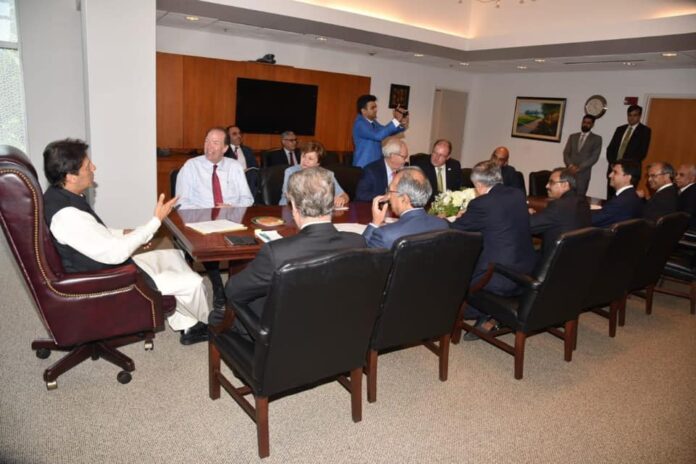 IMF's David Lipton urges PM to mobilise domestic tax revenue in order to ensure available funds for social programmes
Prime Minister Imran Khan on Sunday held meetings with World Bank President David Malpass and International Monetary Fund (IMF) Acting Managing Director David Lipton in Washington.
The PM was assisted by Foreign Minister Shah Mahmood Qureshi, commerce adviser Abdul Razak Dawood and finance adviser Abdul Hafeez Sheikh.
According to a statement issued after the meetings, PM Imran Khan and IMF chief David Lipton discussed various areas of economic developments and implementation of IMF-supported economic reform package, which aims to stabilise the economy, strengthen the institutions and to put Pakistan on the path of sustainable and balanced growth.
During the meeting, David Lipton urged Prime Minister Imran Khan to mobilise domestic tax revenue so as to ensure the available funds for social development programmes. He maintained that it is crucial for Pakistan to increase its tax revenue in order to ensure real progress.
David Lipton said that the IMF and other international partners are working with Pakistan to implement the economic reforms programme with an aim to stabilise Pakistan in a short span of time.
It is pertinent to mention that IMF, in its latest report, said Pakistan is well on its way to economic recovery and the next five years will be crucial for economic reforms in the country.
The IMF projected Pakistan's exports to increase to $36.7 billion by the financial year 2023-24. The report also claims that the trade deficit will temporarily decline to $24.9 billion in the current fiscal year from $29.46 billion last year, however, it will further go up to $26.8 billion mainly on the back of growing import needs in the coming years.
Meanwhile, in his meeting with World Bank President David Malpass, the PM shed light on the government's commitment towards economic reforms and job creation.
"Just concluded constructive meeting with Pakistan PM Khan where we discussed his important ideas on transformational policies to accelerate equitable growth and job creation for Pakistanis," Malpass tweeted.
PM Meets Investors
A delegation of businessmen and investors also held a meeting with PM Imran Khan at the Pakistani embassy in Washington on Sunday, Radio Pakistan reported.
The delegation expressed its interest in investing in the information technology, education, manufacturing, and steel sectors of Pakistan.
The premier assured the businessmen of an investment-friendly environment in Pakistan, highlighting the steps taken by his government to increase ease of doing business in the country.
He also informed the delegation about plans for the promotion of the industrial sector and socio-economic development in the country.
The delegation members, who included former ambassador Munir Akram and renowned businessman Shahal Khan, shared their concerns regarding trade and investment in Pakistan but appreciated the prime minister's vision for the country.