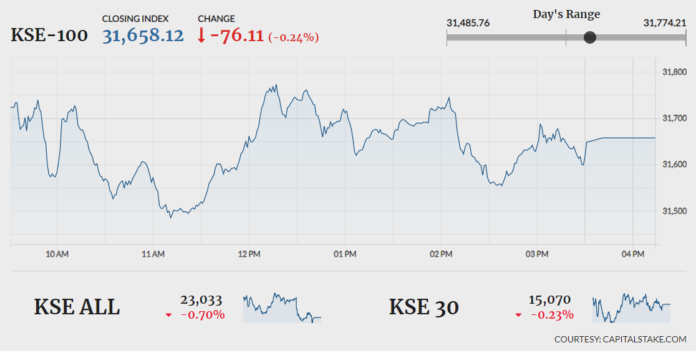 KARACHI: Amidst range-bound and thin trading activity, the KSE-100 Index closed a volatile session on Tuesday in the red.
Foreign investors ceased buying after eight consecutive sessions and closed as net sellers on Monday with a net outflow of $0.667 million.
Losing 248.47 points, the KSE-100 Index recorded its intraday low at 31,485.76, breaking its previous 52-week low. The index then diverted from its path to mark an intraday high of 31,774.21 (+39.98 points). Failing to sustain the gains, the index closed negative by 76.11 points at 31,658.12. The KMI-30 Index appreciated by 5.44 points to end at 49,798.02, while the KSE All Share Index fell short by 162.04 points, closing at 23,032.79. The advancers to decliners ratio stood at 136 to 121.
The sectors that dragged the KSE-100 lower included commercial bank (-40.77 points), tobacco (-26.73 points) and cement (-16.72 points). On the other, the sectors that contributed positivity included pharmaceutical (+11.81 points), fertilizer (9.17 points) and oil and gas marketing (+8.69 points).
Among the companies, the top three contributors included Pakistan Oilfields Limited (POL +17.73 points), Engro Corporation Limited (ENGRO +11.62 points) and Bank AlFalah Limited (BAFL +8.28 points). Meanwhile, the top three companies that led the index to the red zone comprised Pakistan Tobacco Company Limited (PAKT -26.73 points), Habib Bank Limited (HBL -21.36 points) and Pak Petroleum Limited (PPL -19.26 points).
Mari Petroleum Company Limited (MARI +1.38pc) declared its financial performance for the financial year ending 30th June 2019. The company also announced a final cash dividend of Rs2 and 10pc bonus shares. The company's revenue increased by 46pc YoY, while earnings per share improved from Rs126.77 in the same period last year to Rs200.59 in the current year.
Atlas Honda Limited (ATLH +5.00pc) announced an earning per share of Rs6.79 for 1QFY20, Colgate-Palmolive (Pakistan) Limited (COLG 0.00pc) registered an EPS of Rs61.01 (along with Rs20 cash dividend for FY19), Shakarganj Limited (SML 0.00pc) posted an EPS of Rs-2.17 while Exide Pakistan Limited (EXIDE 0.00pc) declared an EPS of Rs-29.26.