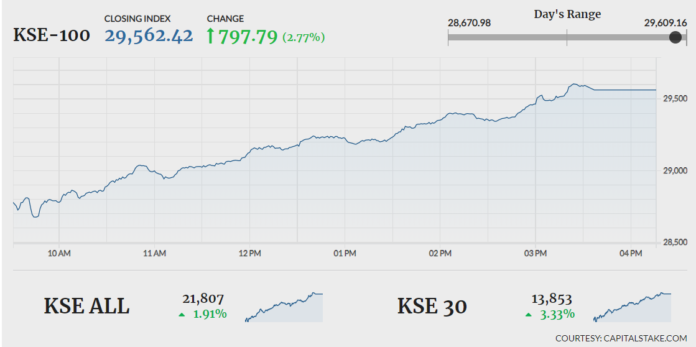 KARACHI: Investors of the Pakistan Stock Exchange (PSX) breathed a sigh of relief as their trade screens turned green on Monday.
Indices started moving north right from the word go and ended positively for the first time this month. Foreign investors closed the outgoing week as net buyers with a net inflow of $1.70 million.
Accumulating 844.53 points, the KSE-100 Index benchmark marked an intraday high of 29,609.16. It closed higher by 797.79 points at 29,562.42. The KMI-30 Index gained 1,448.83 points to settle at 46,378.27, while the KSE All Share Index gathered 409.48 points, closing the session at 21,806.82. Out of the total traded scripts, 235 advanced and 62 declined.
The overall market volumes improved from the last session and were recorded at 102.47 million. TRG Pakistan Limited (TRG +8.18pc), Summit Bank Limited (SMBL -18.37pc) and Maple Leaf Cement Factory Limited (MLCF +5.23pc) remained the top picks of the day. The scripts had exchanged 7.47 million shares, 6.04 million shares and 5.93 million shares respectively.
The banking sector (+256.95 points), oil and gas exploration sector (+141.83 points) and fertiliser sector (+98.00 Points) helped the KSE-100 Index close in the positive territory. Habib Bank Limited (HBL +83.87 points), Oil and Gas Development Company Limited (OGDC +72.66 points) and MCB Bank Limited (MCB +69.63 points) remained the top positive contributors among the companies.
In a notification to the exchange, the management of Hub Power Company Limited (HUBC +2.97pc) announced successful commencement of commercial operations of its 1320-megawatt imported coal-fired power plant. The project is a joint venture between HUBC and M/s China Power International Holding Ltd (CPIH).
Meanwhile, Bank AlFalah Limited (BAFL +4.79pc) announced its financial performance for the second quarter of FY19 along with an interim cash dividend of Rs2 per share. The company's revenue improved by nearly 60pc YoY while its earnings per share surged from Rs1.57 in the same period last year to Rs1.74.
Rafhan Maize Products Limited (RMPL 0.00pc) also declared its financials for the second quarter of FY19 along with a cash dividend of Rs100. Sales surged by 21pc YoY while earnings per share increased from Rs230.89 in the same period last year to Rs254.08.
Moreover, International Steels Limited (ISL +3.55pc) released its financials for the year ending 30th June 2019. A final cash dividend of Rs1.50 was announced in addition to an interim dividend of Rs1.50 already paid. Sales improved by 16pc YoY whereas earnings per share declined from Rs10.03 in FY18 to Rs6.12 in FY19.