When Sapphire moved into retail, the market noticed. The textile giant – one of the largest in the country and part of one of the largest industrial conglomerates in Pakistan – began its investments into the retail business in 2014, and aggressively poached talent from companies it saw as its competitors. But now, after five years of that relentless growth phase, the company has finally hit pause on its expansion plans and begun what appears to be a phase of consolidation, with a focus on margin improvement and increasing its own e-commerce sales.
The move comes after a period of strong growth that has flagged over the past 18 months as consumer spending power has struggled under the weight of an economic slowdown and rising inflation. Sapphire Retail, the wholly-owned subsidiary of the publicly listed Sapphire Textile Mills, is finally slowing down after five years of relentless growth.
For the nine months ending March 31, 2019 (the latest for which financial statements are available), Sapphire's processing, printing, home textile, and textile retail division – which houses Sapphire Retail – saw its revenues reach Rs13,417 million, up 20.2% from the same period in the previous year, but nonetheless representing a slower growth rate than previous years. Between financial years 2014 and 2018, for instance, the company's revenues grew at an average rate of 42.2% per year. Sapphire's financial year ends June 30 every year.
 Growing the retail business
The story of how Sapphire has grown its retail business is quite a remarkable one. Sapphire is one of the largest industrial conglomerates in the country with consolidated revenues of greater than $800 million across businesses in textiles, power generation, retail clothing, and dairy products.
Sapphire Retail is the brainchild of Nabeel Abdullah, a 33-year-old graduate of the London School of Economics, and a member of the family that owns a majority share in the Sapphire group. Nabeel is the CEO of Sapphire Retail and a member of the board of directors of Sapphire Textile Mills. The company started off in 2014, with a Rs10 million investment in a single store in Dolmen Mall Karachi, which opened in December of that year.
Sapphire Retail is mainly a clothing brand, but also sells bedding, linens, and other home décor products. In fiscal year 2018, the processing, printing, home textile, and textile retail division of the publicly listed Sapphire Textile Mills Ltd – which houses Sapphire Retail – had revenues of Rs11,164 million. Of that, a little over Rs8,000 million was Sapphire Retail itself.
When it launched, Sapphire poached a significant number of employees from Pakistan's largest clothing and home décor retailer Khaadi. The company remains significantly smaller than its rival, but Sapphire has been able to close some of the gap between itself and Khaadi in terms of revenue.

From that initial Rs10 million investment in a single store, Sapphire Retail has grown substantially over the past five years. Sapphire has thus far pumped in Rs1 billion in total into the company and opened up 21 stores in eight cities across Pakistan: Karachi, Lahore and Islamabad, Faisalabad, Sialkot, Gujranwala, Multan, and Bahawalpur. In addition to those physical stores, the company also sells its products online on its own e-commerce store as well as through the DarazMall online marketplace operated by Daraz.pk, the Alibaba-owned e-commerce company.
Nabeel Abdullah says that capital injections from the parent company have financed the heavy expansion of the business as they have made heavy investments securing prime outlet locations in some of the newest high-end malls. In addition, the company has also invested in product expansions as well as securing some working capital requirements in the initial phase. Abdullah points out that, for each store, the company needs to begin incurring expenses at least nine months before it starts to realise revenues.
That expansion phase, however, has wound down as the company seeks to consolidate its business amidst an economic downturn. 
"Going forward, given the economic conditions, our focus is less on growth. Our focus is on efficiency, consolidation and margin increase," said Nabeel, in an interview with Profit. "At the moment, the challenge is that our expenses are all going up. We are focusing more on increasing our margins as much as possible without having to pass it on to the consumer."
 Innovating their way through a recession
The problem facing Sapphire at a time when it is seeking to protect and even expand its profit margins, is the fact that they are seeking to do so at a time when consumers increasingly have a smaller appetite for their products which, at least in the context of the Pakistani markets, are still seen as largely discretionary purchases.
As a result, the company faces an unappealing choice: either reduce its prices – which would impact its margins – or else be willing to live with slower growth and weaker cash flows. 
"When we plan to sell, let's say, 100 units on full price but we are not able to do so and only sell 50 units because the economy is in a slowdown, we have to put more [products on] discounts. As a result, the discount trend has increased a lot in Pakistan. Each month, there are clearances at each brand. But this is hitting all of us. Obviously, the consumer will wait for the discounts to make their purchases," says Nabeel Abdullah.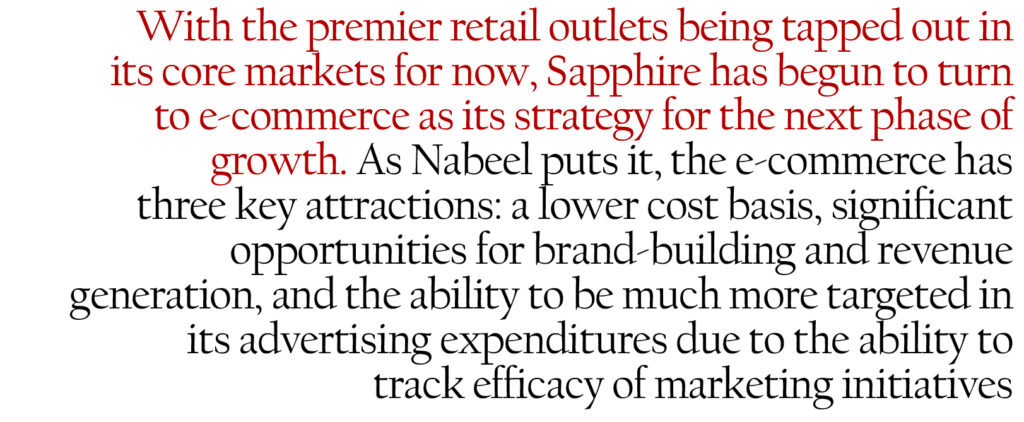 It sort of becomes a marketing gimmick: you put high prices on the products when you put them on display, and then put on sales each month and sell the product at what would be the actual 'sale' price of the product to cover the margins.
"Putting on sale offers to an extent is a need of the business. You have to sell the products you have at the end of the season to manage cash flows. When you make it a business model that you're going to sell only on sales, that is what we are trying to avoid," says Nabeel. 
Sapphire has a plan to stay competitive and profitable. That is by reengineering its products to keep costs stable despite increases and consolidating efficiency as a company. The edge Sapphire has is that its parent company, Sapphire Textile Mills, is a vertically integrated textile manufacturing unit that allows it to control all stages of the manufacturing process.
In vertically integrated textile mills, the production of each product is controlled in-house. Sapphire produces the yarn itself, followed by the production of cloth, all the way up to printing and stitching and controls everything that is involved in between. None of the production processes are outsourced. By virtue of being vertically integrated, for Sapphire, the scope of innovation and increasing efficiency exists at all the levels of the production process. 
"Prices of almost everything has increased. Our cotton is linked to the US dollar, our yarn is linked to the US dollar. All the commodity prices increase with the US dollar. As a result, our cost of fabric has gone up. And the taxation measures have also increased our manufacturing cost," he says.
Nabeel is referring to the fact that cotton and yarn prices in Pakistan are benchmarked to the dollar. This is because when global cotton prices go up, cotton growers can simply export their product rather than selling to local ginning mills. The same goes with yarn, where local spinning mills can simply export their yarn if global prices rise. That means that local mills effectively have to follow – and pay – global prices, denominated in US dollars, even though all local transactions are taking place in Pakistani rupees.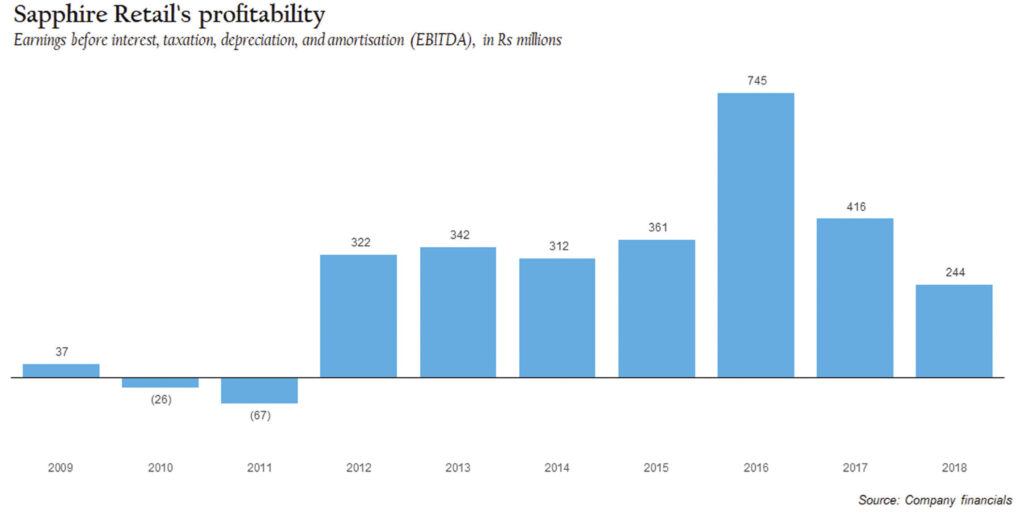 "But since we are not able to increase our prices, the end result is the pressure on our margins because of which we have to work on our efficiency because we cannot pass it [price increases] on to our customers. We have to improve our product quality, but [we also have to] reduce the cost as well. We can bring efficiencies in the yarn, in the cloth, in the printing process," says Nabeel. 
Consequently, Sapphire invests an amount equal to 1% of its sales each year on research and development (R&D) to achieve those efficiencies. "We work on product development. Textiles are our strength. Our parent company has invested heavily in digital printing. The upside of digital printing is that you can print more designs. That means that in a single collection, we can offer a wide variety. The colour restriction is nowhere close to our competitors, who utilise traditional printing methods." 
All that helps Sapphire achieve its philosophy of being able to sell high-quality products at a relatively affordable price for middle class consumers. That initial lower prices means that Sapphire is able to sell its products at regular prices rather than having to offer discounts. And, as Nabeel tells Profit, as a brand, they try not to put up more than three sales in a year by offering attractive initial prices to pull in customers. 
 Physical retail vs e-commerce
Meanwhile, even as consumer spending is slowing down, the economics of setting up additional retail outlets in malls is becoming more challenging.
Several malls that were conceived of and planned during the long consumer boom between 2009 and 2018 are coming online and several companies that had launched their retail strategies before the recession hit are proceeding with their plans to open stores. As a result, rents at malls continue to remain high even as expected revenue per square foot has fallen significantly.

"There is always a teething phase. To increase foot traffic initially and increase conversion, it takes time. We cannot say that if the sales are less in malls, it's not only the malls [that are responsible]. It is the responsibility of both parties," he says.
"When you get an anchor store in a mall, the thousands of people that come in, they see your brand, they see your stores," says Nabeel, talking about how malls benefit retailers besides increasing sales. 
"Today Packages [Mall in Lahore] is doing well, Emporium [Mall in Lahore] is doing well, Dolmen [Mall Clifton Karachi] has been around for a long time. I think malls are definitely making a lot of contributions to most of the retailers because the weather we have here, people want to take their kids to places where they can play in the play area, watch movies and shop as well," he says, adding that the management of the mall plays a big role. 
"If the management regularly organises events, for instance on special occasions, that increases the foot traffic in malls greatly," he says. "So we as a strategy invested heavily in malls going for larger stores and get prime locations to tap market footfall."

With the premier retail outlets being tapped out in its core markets for now, Sapphire has begun to turn to e-commerce as its strategy for the next phase of growth. As Nabeel puts it, the e-commerce has three key attractions: a lower cost basis, significant opportunities for brand-building and revenue generation, and the ability to be much more targeted in its advertising expenditures due to the ability to track efficacy of marketing initiatives.
Sapphire currently makes approximately 15% of its revenues from e-commerce, a number that it would like to take up to 30% of revenues within the next few years, says Nabeel.
At approximately Rs1.2 billion in online revenues, Sapphire is one of the mid-tier online retailers in the country. Taking on the e-commerce giant Daraz would require significant amounts of investment, somewhat comparable to the type of investment the company has thus far put into its physical retail operations. But, from what Nabeel describes, it appears that the company's strategy is not to compete with Daraz at all. Indeed, Sapphire products are available on DarazMall, the online marketplace operated by Daraz.pk.

Given the more targeted e-commerce strategy, Sapphire can afford to be more nimble in its approach, which in turn requires less investment on its part to grow its revenues.
"A store would cost you Rs200-250 per square foot. For e-commerce, you need a fulfilment center, which is actually a warehouse, and would cost Rs15 per square foot. And there are no rental increases either. In the long run, e-commerce becomes more lucrative," says Nabeel.  
"We are enhancing our branding and expertise in this line," says Nabeel. "We are working a lot on digital marketing. We are using Google, Facebook, and Instagram. We are working with them and with some consultants, and we are looking to optimise our spending. The best thing about this [digital marketing] is that you can measure your returns. So, if we spend $10 on digital marketing to get a revenue of $100, we can monitor that," he adds. 
The second challenge, says Nabeel, in the online space comes on the fulfilment side. "Our business is seasonal; there are peak seasons, there are highs and lows. When we put up sales, we might even sell 200,000 units in a single day, while on normal days, 20,000-25,000 units might get sold. It really depends. In rupee terms, Rs200 million to Rs250 million is easily achieved on sales. But the challenge obviously comes when you have to fulfil that on time. Because obviously we have a certain dispatch capacity, so we are working on that. We are trying to make sure that we are able to fulfill to the customer at the right time," he says.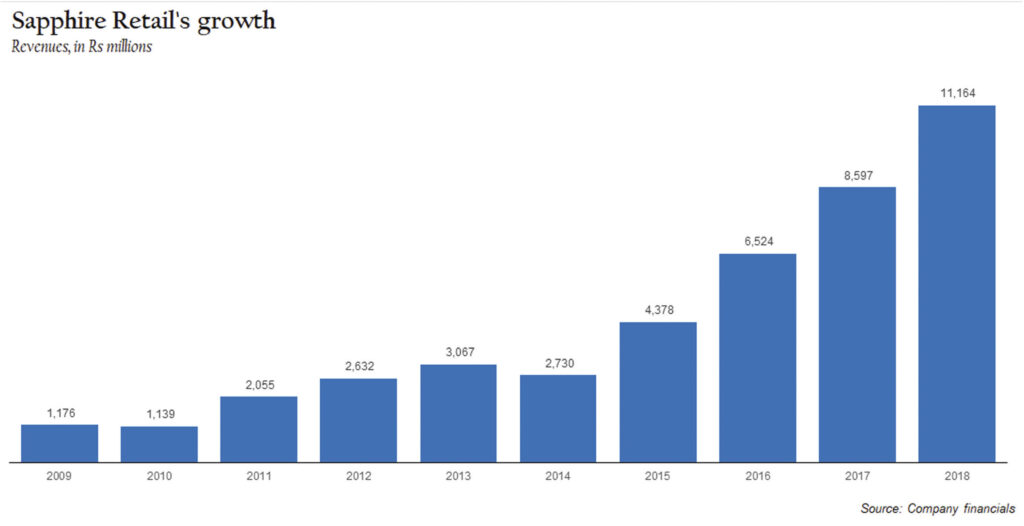 "Thirdly, returns and exchanges are very sensitive in e-commerce. You have ordered something, it wasn't the right size, you want to change it. We are trying to make that as seamless as possible. Your product should get exchanged without any delays. It should be flexible for the customer and they should get the similar sort of customer care that they would get in a store," he adds.
To improve their e-commerce operations, Nabeel says they are working with their courier companies to shorten delivery times and making the process of returns and exchanges swifter and more seamless. 
"We manage the fulfilment center on our own. We had previously outsourced customer care. We take care of that by ourselves now. We are working on the service levels so that the customer does not face problems," Nabeel tells Profit. 
Though Sapphire Retail does not have any stores internationally, it has arrangements for international orders online, but that is a very small component of their total online sales. 
"It is 2-2.5% of our total ecommerce sales but that is also not treated as export. We show it as local sales because the government does not have a framework for export on e-commerce at the moment," he says.