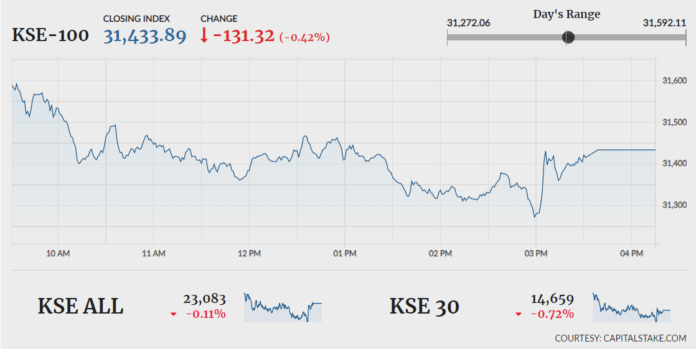 KARACHI: Downward trend continued at the Pakistan Stock Exchange (PSX) on Thursday, as lower risk appetite kept a tight lid on northbound moves.
Foreign investors offloaded stocks worth $2.60 million on Wednesday.
As per news reports, the government has approved a proposal for acquiring a $1 billion crisis response loan from the Asian Development Bank to build country's foreign exchange reserves, paving the way for its approval by the lending agency in November.
The KSE-100 Index benchmark touched its intraday low of 31,272.06 after losing 293.15 points. The index settled lower by 131.32 points at 31,433.89. The KMI-30 Index dropped 214.40 points or 0.43pc to close at 49,906.87, while the KSE All Share Index lost 25.11 points, ending the day at 23,083.25.
Maximum selloff in the KSE-100 Index came from the banking sector (-54.60 points), fertilizer sector (-47.36 points) and Oil and Gas Marketing sector (-20.23 points).
Among the companies, Habib Bank Limited (HBL -46.43 points), Engro Corporation Limited (ENGRO -39.84 points) and Hub Power Company Limited (HUBC -36.44pc) remained the top negative contributors to the index.
The overall trading volumes improved by 19pc on a daily basis and were recorded at 124.24 million. K-Electric Limited (KEL +6.34pc), Worldcall Telecom (WTL +2.78pc) and Maple Leaf Cement Factory Limited (MLCF +4.35pc) remained the volume leaders of the day. The scripts had traded 31.43 million shares, 11.86 million shares and 10.27 million shares respectively.
Shezan International (SHEZ 0.00pc) declared earnings per share of Rs12.87 for FY19 (Rs44.94 in FY18) along with cash dividend of Rs5.50. Pakistan National Shipping Corporation (PNSC +3.98pc) announced an EPS of Rs2.68 for FY19 as compared to Rs9.87 in FY18. The company also declared a final cash dividend of Rs2 per share.
Similarly, Murree Brewery Company Limited (MUREB 0.00pc) released its financials for FY19 along with a final cash dividend of Rs10. Sales increased by 12.65pc on a yearly basis, while earnings per share declined from Rs46.86 in FY18 to Rs44.21 in FY19 due to higher distribution cost (up by 24pc YoY).