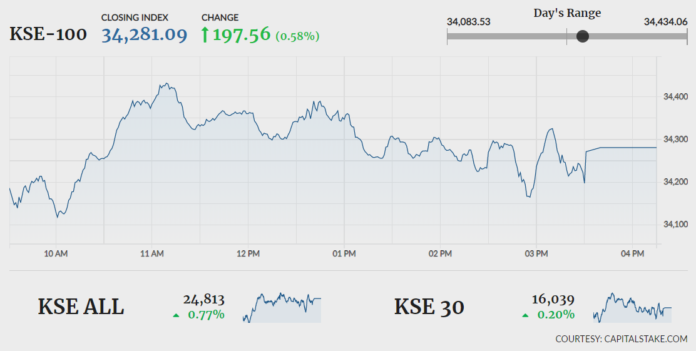 KARACHI: Positive sentiments returned to the Pakistan Stock Exchange (PSX) on Wednesday following media reports that Pakistan has not been placed on the blacklist by the Financial Action Task Force (FATF).
Foreign investors once again turned out as net sellers on Tuesday with a net outflow of $1.73 million. Major selling was observed in the banking sector ($1.52 million).
As per details, the FATF, while deciding in principle that Pakistan will remain on its grey list till next February, has directed Islamabad to take 'extra measures' for 'complete' elimination of terror financing and money laundering.
An FATF meeting in Paris on Tuesday reviewed the measures that Islamabad has already taken to control money laundering and terror financing. However, the meeting observed that Islamabad will have to take further steps in these four months.
Meanwhile, Pakistan's GDP growth forecast has been slashed by the International Monetary Fund (IMF) in a recently published report to 2.4pc in 2020, with inflation going up to 13pc and unemployment rising to 6.20pc.
The KSE-100 Index recorded an intraday high of 34,434.06 after gaining 350.53 points. The index settled higher by 197.56 points or 0.58pc at 34,281.09. The KMI-30 Index appreciated by 248 points to end at 54,857.55, while the KSE All Share Index gained 188.62 points, closing at 24,813.33. The advancers to decliners ratio stood at 213 to 116.
Sectors that helped the index close in the green zone included banking (+51.91points), oil and gas exploration (+41.9 points), fertiliser (+38.29 points) and oil and gas marketing (+28.59 points). Among the companies, Pak Petroleum Limited (PPL +34.92 points), Oil and Gas Development Company Limited (OGDC +28.73 points) and Engro Corporation Limited (ENGRO +19.52 points) added maximum points to the index.
The overall volumes remained healthy and were recorded at 151.37 million. K-Electric Limited (KEL 0.00pc) turned out as volume leader of the day, followed by Worldcall Telecom (WTL +4.67pc) and Unity Foods Limited (UNITY -1.01pc). The scripts had traded 11.83 million, 11.80 million and 10.20 million shares respectively.
Attock Petroleum Limited (APL +1.93pc) announced earnings per share of Rs12.31 for the first quarter of FY20 (Rs15.55 in 1QFY19), United Bank Limited (UBL -0.93pc) declared an EPS of Rs3.97 for the third quarter of FY19 along with an interim cash dividend of Rs3.00 (Rs2.83 in 3QFY18), while Pakistan Telecommunication Company Limited (PTC -3.62pc) posted an EPS of Rs0.33 for 3QFY19 (Rs0.21 in 3QFY18).