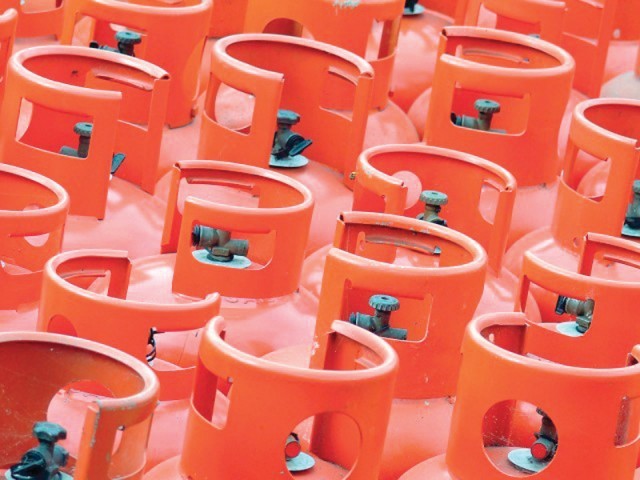 ISLAMABAD: After petroleum products, the Oil and Gas Regulatory Authority (OGRA) has notified a decrease in the price of locally produced Liquefied Petroleum Gas (LPG) by Rs39 per kilogram from April.
According to a notification, the price of an 11.8kg domestic cylinder has been decreased by Rs462.78, while the price of a commercial cylinder has been slashed by Rs1,781.
The price of a domestic cylinder weighing up to 11.8kg would now stand at Rs1,067.39 after a decrease of Rs462, while the price of a commercial cylinder would be at Rs4,107 after a decline of 1,781.
After revised prices, the cylinder would be sold in open market at Rs1,067.39 that was available at Rs1,530.17 during the month of March.
The per Metric Ton (MT) LPG rate has been fixed at Rs90,457.47 for the month of April. The commodity sale price for per MT was Rs129,675.59 during the month of March.
The reduction in LPG prices followed a decrease of up to Rs15 per litre in POL prices on March 24.
As per clause 3, 4, and 5 of the LPG Policy 2016, the commodity's price would be regulated with a maximum price at all levels of the supply chain.
However, producers, marketing companies, and distributors may sell below the maximum price determined from time to time.
LPG Distributors Association Pakistan Chairman Ifran Khokar said the LPG price had decreased by Rs90 per kg after the OGRA's announcement.
He said LPG would be available at Rs90 per kilogram across the country during the month of April.
He said previously domestic cylinder was available at Rs1,530 and commercial cylinder at Rs5,882 in the open market.
The LPG price has reached 17 years low level, Khokhar added.
He advised LPG distributors not to sell LPG above the OGRA's notified price.
Khokhar, however, demanded the government to devise the LPG policy to save the industry from losses.
He also demanded the government to save the industry from Rs2 billion losses due to the coronavirus crisis by withdrawing sales tax, levy, and advance tax imposed on LPG.
Khokhar urged the government to take a policy decision for mitigating sufferings of commodity distributors and marketing companies.
"LPG is available in abundance in the country," Khokar maintained.