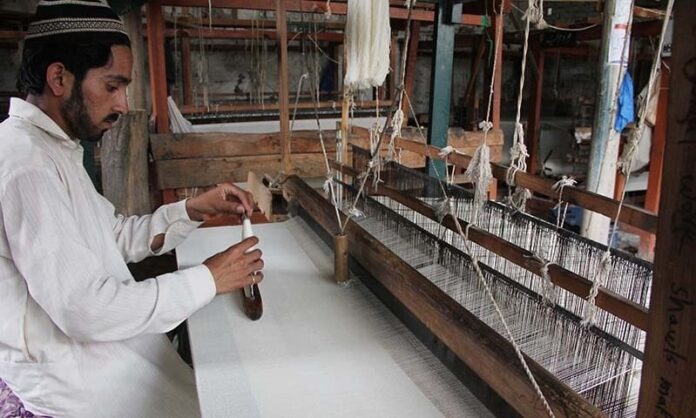 PESHAWAR: Prior to the outbreak of coronavirus in the country, the unemployment rate in Swat's Islampur village was almost zero, as its unique cottage industry had employed 25,000 villagers besides contributing significantly to the national exchequer in terms of sales and exports.
But the ongoing lockdown has altogether changed the traditional life of locals, especially owners and labourers associated with the cottage industry, as they seem worried about their future.
The cottage industry of Swat consists of more than 4,500 small units, manufacturing handmade shawls and other warm stuff. It not only caters to a huge demand in the country, but also helps in exports to USA, Europe and other countries.
The market is now giving a deserted look as workers now jobless and shop owners are struggling hard to avoid a complete collapse like other industries in the country.
They (owners) have also sought a relief package from the federal and provincial governments.
Islampur Cottage Industry Association Chairman Khazir Gul told Pakistan Today that the coronavirus-led lockdown was imposed in Pakistan at the end of March, while hundreds of workers of the Islampur industry were stranded in China two months ago due to the closure of border.
He said most of the raw materials were imported from China for the cottage industry, adding almost 80 per cent of labourers worked on daily wages.
"This is the only industry that has not been included in any economic package announced by the federal and provincial governments," he claimed.
According to Gul, shawls produced in Islampur are not only sold in large markets of Peshawar, Swat, Rawalpindi and Karachi, but these are also imported to Europe, US, Central Asia, Afghanistan and Gulf countries.
"Since the virus outbreak in Wuhan, the industry has completely shut, rendering thousands of labourers unemployed."
Around 1,800 families are part of Islampur village with a total population of up to 25,000. About 70pc population is associated with this industry, whereas remaining 30pc are employed by the government departments, such as police and education.
Apart from this, a good number of people are also associated with the agriculture. About 50pc of Islampur village women are also employed by the cottage industry.
There are some five thousand khaddi where workers who weave shawls on traditional machines. Every khaddi can weave 3 to 6 shawls a day. From this calculation it can be said that 15,000 to 16,000 different quality shawls are produced daily. The price of a single shawl ranges from Rs1,000 to 60,000.
Besides shawls, hand-made clothes like traditional caps, waistcoats, pashmina shawls and linen shawals are also made.
Abdullah, a shopkeeper, says we have a complete variety of handmade products and Swat locals and tourists love it immensely.
In Islampur, a normal shawl can be prepared in two to three hours, while women shawls, which have often hand-embroidery, take an extra four to five hours. Laborers make three to four shawls and earn Rs500 to Rs800 a day.
If the industry gets the government's patronage, it can further be developed and the national treasury can find another source of income.
These handicraft products are also sold in specialised markets in major cities of the country.
Rahmat Ali, a khaddi owner, says the entire industry is currently shut due to the coronavirus lockdown.
Rahmat Ali adds the cost of shawl produced on order sometimes can cost up to Rs 100,000.  Accordingly, Islampur village has a daily turnover of at least Rs 80 million and crosses Rs2.7 billion monthly.
Along with the village, the livelihood of around 50,000 families in Swat is also associated with this business, he adds.
The skilled labour of the village has urged the government to provide interest-free loans and free the market from the middle man's clutches.
Locals also want the government to help them procure quality raw materials, later buy their finished goods and export it at good prices.