LAHORE:Almost all leading malls of the country, including Dolmen Mall, Packages Mall, LuckyOne Mall, Centaurus and Mall of Lahore, have waived April rents for retail shopkeepers, with some even giving discounts on March and May rents.
According to details, the country's two main retail bodies — the Pakistan Retail Business Council (PRBC) and the Chain Store Association of Pakistan (CAP), which are usually never on the same page, have jointly written letters to different high-end shopping malls as well as their individual landlords, asking them to give rent relief to retail businesses during the lockdown period.
The PRBC comprises Gul Ahmed, Outfitters, Khaadi, Bata, Servis and other large retailers, whereas the CAP represents over 200 retail brands of all sizes, including Sapphire, Bareeze, Maria B and Stylo.
According to sources, individual retailers are not showing any flexibility with regard to the payment of rents, as they know they are in a better bargaining position under the current circumstances. However, they added, after the three-month rent relief, pressure on individual landlords will rise, and this can have disastrous consequences on the industry.
Sources said that the average rent in shopping malls is Rs400 per square foot, adding that large retailers, with more bargaining powers and required area, can negotiate and get better rates for rents. For instance, Khaadi pays only Rs200 per sq.ft to most malls.
But waiver from rents does not mean that the retailers do not have to pay anything, as they will still be paying an average Rs100 per square foot on account of Common Area Maintenance (CAM) charges (even if their stores are closed).
Sources informed that some malls have given up to 50pc discounts on CAM, while others have agreed to charge it on 'as-per-actual' basis; malls will only be charging the actual operating costs, given that banks, pharmacies and grocery stores are still functioning.
In reply to retailers' request regarding rental relief for the period of Covid-19 lockdown, the management of LuckyOne Mall stated, "Considering the long-term business relation with retailers and in consideration of the current situation, the LuckyOne Mall has considered the request to continue supporting retailers by completely waiving the licence fee for April, 50pc for May and 25pc for June (175pc waiver for seven weeks)."
In addition, LuckyOne Mall has also waived the charges of chilled water for the lockdown period, while CAM will be charged on actual during April lockdown, whereas utilities will be charged as per consumption.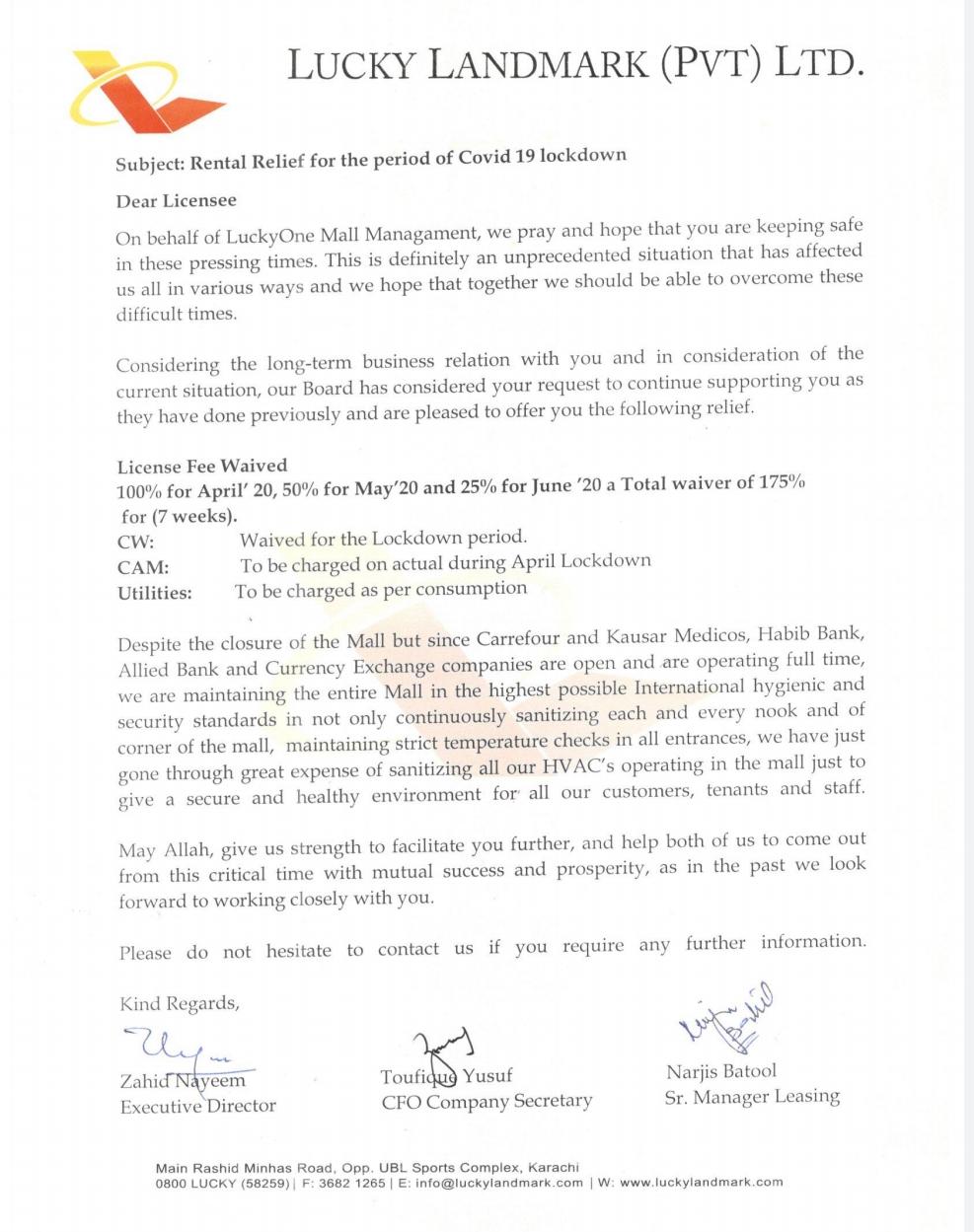 Meanwhile, the management of Centaurus Mall in Islamabad waived the rent for a period of 30 days, starting March 23. However, this amount will be adjusted towards the end of the current year.
The Centaurus management clarified that the said waiver is not applicable on restaurants, fast food outlets, grocery stores and banks. "CAM cannot be waived and will be charged as per actual since the staff expense is a fixed expense and as we all know that skilled human resource is one of the greatest assets which cannot be laid off."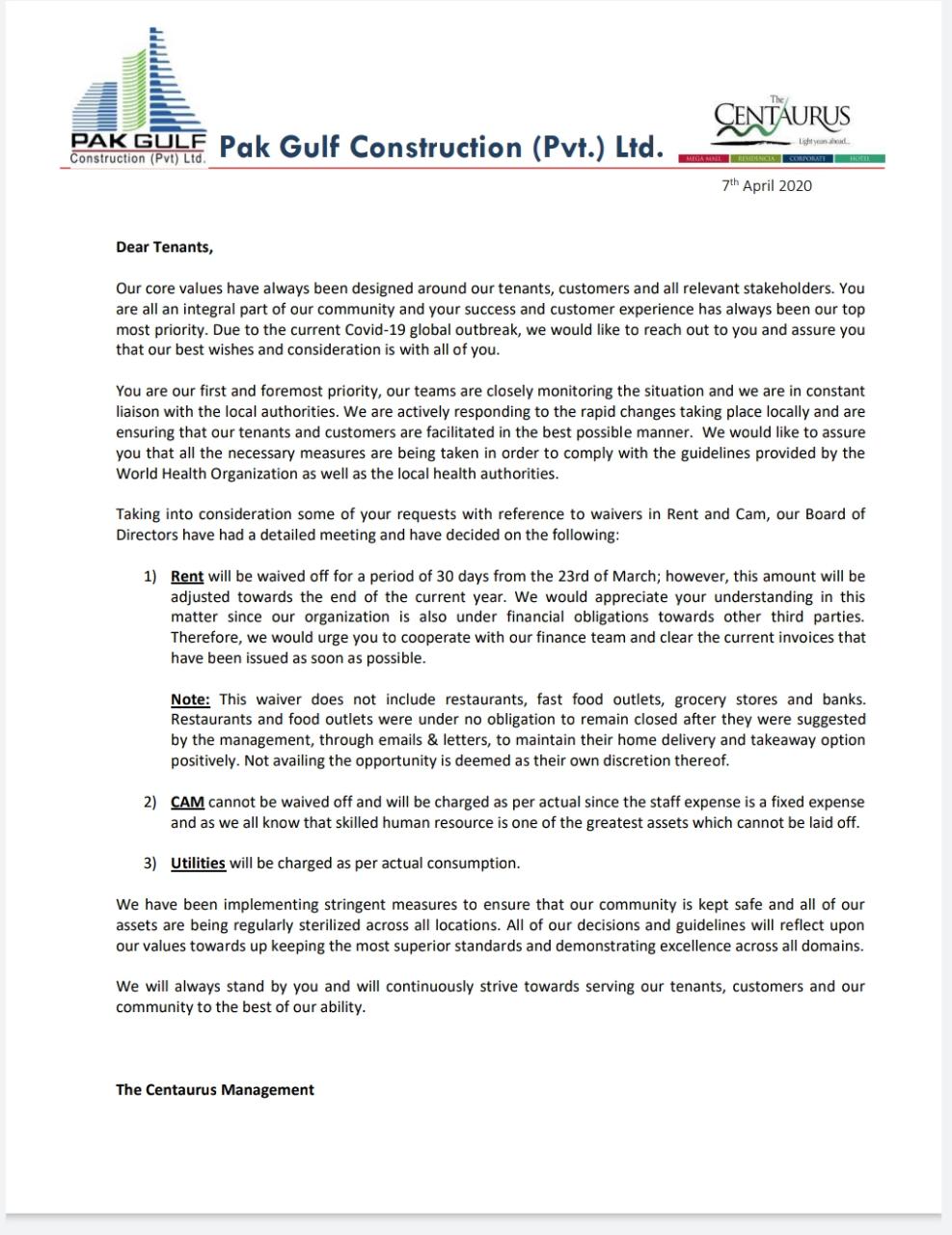 Sources said that all prominent malls have agreed to the retailers' demands except Lahore's Emporium Mall, as one of the biggest shopping malls of the country is yet to issue a notification in this regard.
People from different walks of life believe that the lockdown should continue till May 1, but the malls and schools should remain closed as a precautionary measure. However, industry players expect the malls to open from May 1 as well, as they seek to cash in on Eid festivities.
LIQUIDITY ISSUES
Owing to the closure of businesses and amid serious cash flow issues, retailers have now started offering massive discounts on their online stores.
According to sources, the retailers have decided to sell goods at 'cost of sales' price (the cost they incurred on making those goods) with zero gross profit. This they are doing to free-up liquidity which is struck in stocks.
Retail outlets are expecting a 50-60pc drop in sales during the last quarter of FY20, which means the overall sales' numbers for FY20 will remain lower than those in FY19.
As per sources, some retail brands were struggling to remain relevant even before Covid-19 outbreak, as the overall economic slowdown coupled with growing competition in the industry had crippled their sales.
"This Covid-19 pandemic was the last nail in the coffin, with many brands closing their outlets and others fighting for survival," a market insider said. "The retail sector wants the government to help resolve the liquidity issues faced by them and to safeguard to industry from a total collapse."