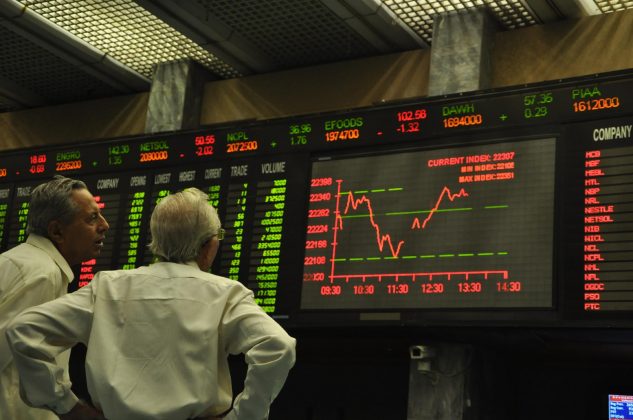 KARACHI: The Pakistan Stock Exchange (PSX) witnessed a volatile session on Thursday, as the KSE-100 Index failed to capitalise on gains accumulated in early trade and closed the day with nominal gains.
"The stock market headed north right from the word go, thanks to the rally in cement and fertilizer stocks. However, both the sectors faced profit booking in the latter part of the session," said a report issued by Arif Habib Ltd. "The banking sector gained further as investors showed renewed interest after the release of the Consumer Price Index (CPI) data." 
Gaining 287.98 points in early trade, the benchmark KSE-100 Index surged to its intraday high at 35,177.39. However, failing to maintain its flight, it settled higher by 88.77 points at 34,978.18. 
Among other indices, the KMI-30 index lost 78.98 points to end at 56,482.67, whereas the KSE All Share Index gathered 88.19 points, settling at 25,047.63. Of the total shares traded, 190 advanced and 125 declined.
The overall market volumes inflated from 315.52 million shares in the previous session to 382.41 million shares. Average traded value also increased by 17pc, from $63.9 million to $74.9 million. Worldcall Telecom (WTL +11.70pc), TRG Pakistan Limited (TRG +3.87pc) and Maple Leaf Cement Factory Limited (MLCF -0.36pc) led the volume chart, exchanging 52.67 million, 28.63 million and 21.13 million shares, respectively.
Sectors that brought positivity to the benchmark index included banking (+57.51 points), technology (+24.17 points) and food & personal care products (+15.90 points). Among the companies, Nestle Pakistan Limited (NESTLE +19.57 points), MCB Bank Limited (MCB +18.47 points) and United Bank Limited (UBL +18.10 points) remained the top contributors.
Adding 4.65pc to its cumulative market capitalization, the technology sector turned out to be the top gainer of the day, with Pakistan Telecommunication Company Ltd (PTC +8.96pc), TRG Pakistan (TRG +3.87pc), Hum Network (HUMNL +5.76pc) and Worldcall Telecom (WTL +11.70pc) posting decent gains.