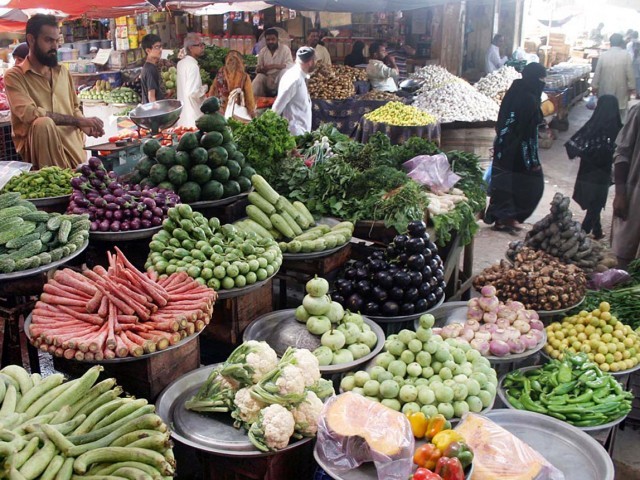 PESHAWAR: After the rise in the prices of flour and sugar in Khyber Pakhtunkhwa (KP), prices of fruits, vegetables and other general food items have recorded an increase of 40 to 50 per cent in the province over the past two weeks.
A general survey of the price level revealed that in KP price of tomatoes increased by Rs50, price of ginger increased by Rs200, price of onions increased by Rs40, price of green chillies increased by Rs80 and price of garlic also increased by Rs80 over the last month. 
Earlier on July 31, the federal government increased the rate of petrol by Rs3.86 per litre, raising it to Rs103.97 from Rs100.10 per litre. After the increase in the petroleum prices, the prices of essential commodities including ghee, flour, pulses and sugar shot up further in KP.
Asad Khan, an agriculturalist based in Mardan district, told Profit that farmers are not being paid proper prices for their produce. However, when the produce is transported to the city by the middlemen or the arthi, it is sold at a much higher price. "The arthi mafia is making huge profits," he said.
He further said that due to lack of storage facilities for fruits and vegetables in rural areas of KP, local farmers are left at the mercy of arthi's and vegetable traders. "If the provincial government arranges storage facilities at the district level, customers will be able to get cheap vegetables and farmers would be protected from losses," he said. 
On the other hand, citizens of Peshawar while talking to Profit expressed disappointment and frustration over KP governments inability to control prices.   
According to the Pakistan Bureau of Statistics (PBS), price of motor fuel increased by 27 per cent in July on a monthly basis. 
Moreover, in urban areas, price of tomatoes increased by 100 per cent, price of potatoes increased by 63 per cent, price of lentils increased by 46.25 per cent, price of eggs increased by 43.11 per cent and price of poultry increased by 36.69 per cent in July.   
Similarly, in July, prices of sugar, wheat and flour rose by 17 per cent, 28.52 per cent 18.52 per cent respectively.