A sport that appears to have weak organic interest in Pakistan is nearly six months away from its mainstream launch, much to the bemusement of onlookers. According to publicly available data on Google Trends, the top sport and activity searched in Pakistan has been cricket. No surprises there. Which further explains why advertisers and media agencies spring at the chance to plaster their products and services on any branded integrations opportunities on any professional Twenty20 cricket league.
From 2016 to 2021, Spark affiliate Blitz Advertising held the global media rights for the Pakistan Super League (PSL), a deal structure wherein the media agency is expected to guarantee a minimum sum to the Pakistan Cricket Board (PCB), which in industry jargon is referred to as an upfront. 
In light of its six years of monetizing the nearly quarter-billion worldwide viewing audience, Blitz Advertising was recently awarded the global media rights for the Kashmir Premier League, which debuts on the 6th of August.
And how much money are advertisers and media agencies launching towards sports sponsorships? Due to COVID-19, the 5th edition of the PSL held in 2020 reaped in Rs. 2,167,794,749, of which the Pakistan Cricket Board pocketed Rs.627,612,185, while the total franchises share is Rs.1,540,182,564. This would seem impressive if not for reports that this is reportedly 11% less than what the stakeholders earned the year prior in 2019.

Data for the past five years on Google Trends clearly shows that of all the mainstream face-to-face sports played in schools, parks, dedicated arenas, and more, cricket dominates over soccer, basketball, volleyball, and kabaddi. The data shows that only once, in June 2018, was soccer more popular in Pakistan than cricket, a spike that coincided with the 2018 FIFA World Cup held around that time.
Article continues after this advertisement
According to Google Trends, the organic search popularity of cricket in Pakistan reached an all-time high in June 2019 when the Pakistan cricket team won against South Africa by 48 during the 30th of 48 ODIs, which was swiftly followed up by beating New Zealand by six wickets during the 33rd of the 48 ODIs.
If data from Google Trends is anything to go by, clearly cricket has no equal. 
Yet, the COVID-19 pandemic proved that isn't necessarily the case, with critically acclaimed online multiplayer battle royale game PlayerUnknown's Battlegrounds (PUBG) surpassing cricket in popularity in mid-March 2020, right when the lockdowns went into effect and the PSL 5 was faced with last-minute rescheduling and live audience limitations.
The data shows that PUBG continued to dominate over cricket in terms of organic search popularity for roughly six months until the Pakistan cricket team toured England in August and September 2020 to play three tests and three Twenty20 International matches.
Nevertheless, the pandemic has made it clear that cricket is not pandemic proof, hence advertisers and media agencies began seeking diverse & additional content platforms and activities that organically draw mass eyeballs which can, in turn, be monetized. Thus it comes as no surprise that advertisers such as Red Bull and PepsiCo have been ready to sponsor eSports, as reported by Profit.
Thus we can see a direct link between spikes in-game or activity popularity and investments by leading media agencies in Pakistan, which research from RECMA suggests are GroupM and Z2C Limited, controlling roughly 40% and 35% of the respective $2 billion media industry.
This is not the case, however, with go-karting. 
In June this year, Z2C Limited signed a deal with Omni Motorsport whereby the Pakistani multinational communication, advertising, public relations, technology, and commerce holding company would cover the complete sponsorship and media rights of the Omni Karting Circuit and its forthcoming kart racing championships, for a period of three years.
In comparing road racing sports and activities on Google Trends, for the past five years racing itself has proven to be a popular pastime, as has the Formula 1 as a spectator sport. The organic search data pertaining to Pakistan shows a spike in interest for Formula 1 coinciding with the 2019 Brazilian Grand Prix, resurging two years later in mid-July due to the British Grand Prix 2021.
And while this data is impressive, throwing the search term of PUBG and cricket into this visualization shows that all terms pertaining to road racing sports lack the kind of organic popularity that would justify an investment into an activity without qualified interest nor experienced racing drivers (no, the rash drivers at Devil's Point in Karachi don't count).
"We traditionally tend to take a daring and visionary approach to new opportunities and see a bright future for sports marketing as a new medium to engage with for brands and the corporate sector and look forward to working with advertisers and agencies across the country to grow brand awareness and reach through the Omni Karting Circuit and its endeavors," said Farhan Khan, CEO of Starcom affiliate Brainchild Communications Pakistan, which is owned by Z2C Limited.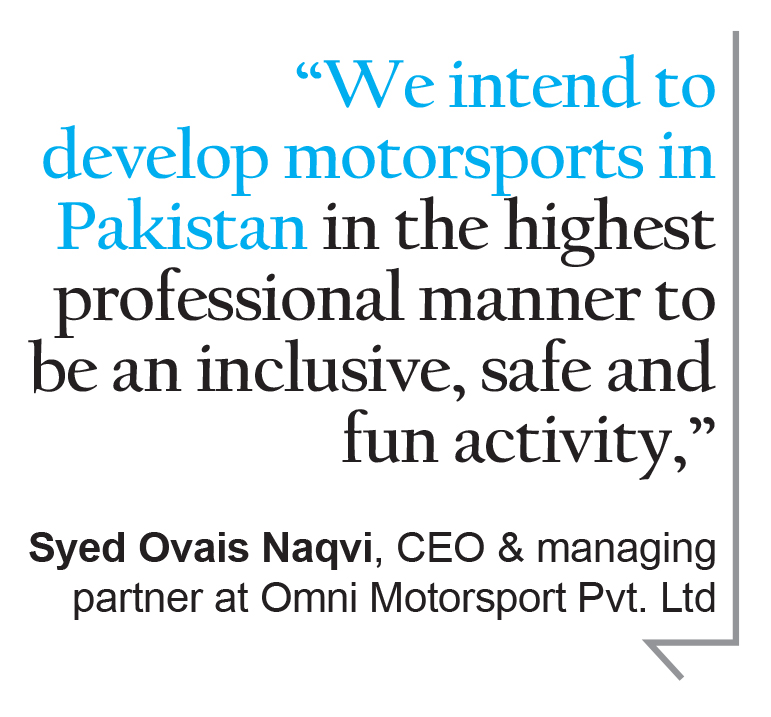 While the numbers are unclear, sources shared that the expected ceiling of the deal value for the first year is anticipated to be roughly $1 million, with revenue target slabs in between incentivizing the sports marketing teams at Z2C Limited to hit predefined minimums in order to collect a higher sales commission due to their own upfront and guaranteed commitments.
"We view motorsport as having an untapped potential that needs to be coupled with additional avenues into formalizing motorsports & karting through our broadcast media, merchandising, and experiential business units," said Khan. "As the largest vertically integrated communications holding company in Pakistan, Z2C Limited has a wealth of experiences in driving commercial outcomes for unique value propositions."
The risk lines up with an extended lineup of investments by the vertically integrated communications holding company, which told Profit in October 2020 that it was working on creating & managing sports leagues for a range of steadily popular games such as mixed martial arts, volleyball, kabaddi, and even soccer, all for which talent scouting is in progress.
It remains to be seen whether the company is making the right choice, as competitors stick to the tried and tested safe formula of replicating Coke Studio and other unoriginal advertiser-funded projects nationwide such as Candy Meray Dost Meray Yaar 2, Nescafe Basement, and Supreme Gharana and many more.
"We intend to develop motorsports in Pakistan in the highest professional manner to be an inclusive, safe and fun activity," said Syed Ovais Naqvi, CEO & managing partner at Omni Motorsport Pvt. Ltd. "We want to grow motorsport in Pakistan both from a recreational and sporting point of view, from a non-existent sport to one that is widely available and accessible for the public irrespective of age, gender or status."
There are only two karting circuits in Karachi at the moment, one that is operational and open to all at the Dreamworld Resort, Hotel & Golf Course, which is an hour's drive away from the supposedly elite residing in DHA. And then there is the partially operational Omni Karting Circuit (OKC) next to the Airmen Golf Club & Recreational Park in Korangi Creek, roughly a 30-minute drive from the same affluent class.
This matters due to the price point attached to go-karting, an activity that requires a sizable investment – with the OKC being reportedly developed with $4 million dollars in private equity funding – including health & safety measures, an on-site medical team, training for new drivers, and a race track for aspiring drag racers, as well as a means of demonstrating the full power of new vehicles.
Bearing all this in mind, the membership fee for the OKC is Rs. 400,000, a pricing decision that immediately limits access to the facility and the sport to a select wealth class in Pakistan. Couple this with the likelihood that the OKC will attempt to emulate the rules and regulations of the Kart World Championship, the minimum age to compete is 13 years of age with parental consent and the recommended weight of the race driver is at max 90kg in full racing equipment, wherein lighter drivers must carry weight in a kart to equalize them at 90kg.
The investment still doesn't make sense, unless …
The big picture for Omni Motorsports and Z2C Limited may be to find, train, groom, nurture, and groom the racing drivers that will eventually master kart racing and make the well-documented transition to compete in Formula 1 motor racing championships, similar to the career of British racing car driver Sir Lewis Carl Davidson Hamilton.
Perhaps by being the early investors and indirect talent agency behind Pakistan's first generation of Formula 1 racing drivers, Profit believes the long-term eyeballs and attention in taking local talent to the international stage will be the real return on investment for both companies, monetizing on global eyeballs around racing events that attract much larger audiences than local cricket could hope for.
This hypothesis is somewhat solidified by Google Trends data that unsurprisingly shows that while Pakistan values cricket, the bat-and-ball game pales in comparison for global audiences that gravitate towards soccer and Formula 1, in that order. Given its active and ongoing talent scouting in soccer as well, Z2C Limited appears to be playing the long game.
By January 2022, the nation will find out how soon it can create brand-safe top racing talents within kart racing, with the right attitude and representation characteristics to qualify for the big leagues. It appears that if the Pakistan Sports Board is laid back, private enterprises must once again step in to put Pakistan on the map.