Let us begin with an example. In January 2020, British American Tobacco (BAT) and the Pakistan Tobacco Company (PTC), along with BAT's head of marketing, Ali Khan, and BAT director of marketing, Ali Akbar, were sent a legal notice from the Pakistani creative agency, Giraffe. 
Giraffe alleged that BAT and its marketing team had violated their intellectual property rights. BAT, which has recently launched a nicotine pouch product called Velo, had been in the process of launching a music platform akin to Coke Studio or Nescafe Basement. 
In the world of Pakistani advertising, this was a shake-up. How could a small, insignificant advertising agency have the gall to not just accuse an MNC, but drag some of the biggest names in Pakistan's marketing sector? More importantly, they did not even accuse them in private, but took them straight to court. To say the least, this was a change.  
Readers may be wondering why the actions of Giraffe, in taking BAT to court, are worded above as an anomaly. Consider this reality of Pakistani society: rishta aunties rejecting women for being too educated. What they actually mean is that 'we fear she is feminist = we fear she will reject the status quo'. Now apply that in this case – by being the outlier creative agency that is willing to stand up for itself, Giraffe risks being blacklisted in the advertising industry as a troublemaker.
"Agencies don't pursue the legal route because they fear the wrath of the person they go against in terms of losing business," said Muhammed Ibrahim, the CEO of Giraffe. "If the marketer in question behind the theft goes to another client organization, he or she will never consider the justice seeking agency for any campaigns or work. If the marketer has enough market clout, he or she can dissuade the network of fellow marketing professionals from working with the justice seeking agency."
He added that perhaps the biggest reason creative agencies do not pursue legal action is the notion that they will be viewed as aggressive, which is against the stereotype of a laid back media or creative agency person that just takes it on the chin without complaining. Marketers, we are told, cannot stomach the idea of working with any vendor or agency that stands up for itself, labeling them as difficult or aggressive to teach them and counterparts a lesson. The parallels to tribal feudalism is uncanny.
Article continues after this advertisement
And now, according to public domain court documents with the Intellectual Property Rights Tribunal Lahore made available to Profit, BAT, PTC, along with BAT head of marketing Ali Khan and BAT director of marketing Ali Akbar are seemingly on the losing side of allegations pertaining to violating intellectual property rights.
If Giraffe wins this case, it could send tremors through Pakistan's advertising industry, which has been historically callous in its handling of intellectual property. Marketing heads feel free to plagiarise, and not just this, but steal ideas from smaller advertisers and even hand them off to other advertising firms. Profit looks at the culture of theft in Pakistan's advertising sector, and whether we can ever get out of it. 
The Velo-Giraffe saga
In a court order from the 21st of January 2020 seen by Profit, Giraffe claims that in late July 2019, BAT marketing director Ali Akbar approached the creative agency to share ideas for a music platform – similar to Nescafe Basement and Coke Studio – to compliment the upcoming marketing campaign for the chewing tobacco product Velo. 
Giraffe claims that on the 7th of August 2019, they were invited to the Islamabad-based head office of PTC to present their ideas for creating a music platform for live and experiential performances called the Main Act, which Giraffe claims was demonstrated to be unique in nature and fundamentally different from any other corporate music platforms in Pakistan.
Giraffe claims that the Main Act pitch was well received by Akbar and his team, adding that on the 28th of August 2019, further details of the suggested campaign amplification project were shared with the prospective client via email. Giraffe claims that on the 3rd of September 2019, it met with Akbar and his team to present the idea and concept of Velo City (a play on the word velocity).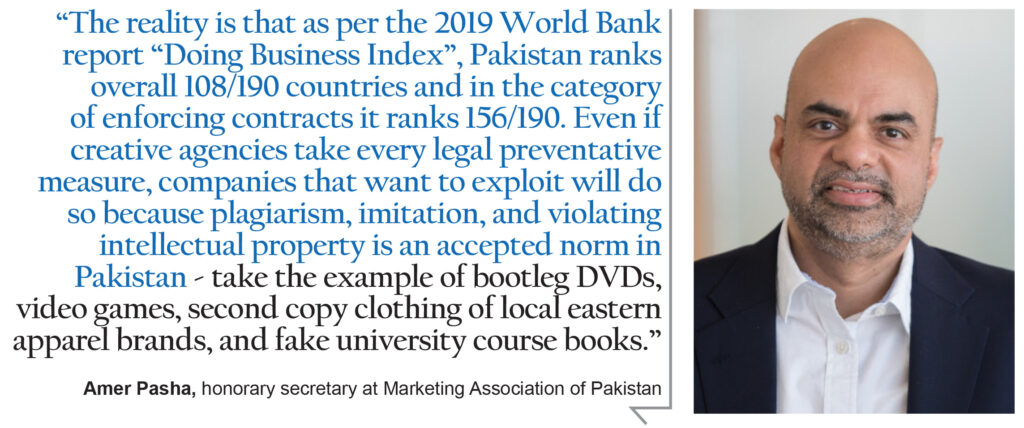 "[Velo City represented] a live experiential space for people to experience music with complementary elements such as lasers, lights, and theatrics, so as to create an unrivaled and immersive experience, never seen before in Pakistan," claims the creative agency in its suit seeking permanent injunction under The Copyright Ordinance 1962.
During this meeting, Giraffe claims to have presented the idea of The Unstoppables – the proposed list of artists that would populate the music platform of Velo City. Giraffe claims that the idea was well received and that Akbar & his marketing unequivocally agreed to move forward with the proposal. 
Giraffe claims to have attended a follow-up meeting the next day, wherein it was confirmed and formally announced that Giraffe would execute the music platform for Velo. The creative agency claims that Akbar claimed to have ceased all further communications with the other shortlisted creative agencies in Pakistan. In confidence and in good faith, Giraffe claims to have emailed the detailed presentation and definitive visuals for Velo City to Akbar per his request.
"Thank you for your cooperation during the proposal shortlisting phase," said Akbar in an email to Giraffe sent on the 17th September 2019 to share that the creative agency was on boarded as a vendor on the corporate vendors database of PTC. "Post a thorough internal assessment process, we are pleased to announce that you have been recommended as one of our preferred partners for the Velo campaign with regards to the music workstream."
Giraffe claims that it was with this email and the formal announcement by Akbar about working with the creative agency for the executing of the music platform for Velo that Giraffe shared the detailed presentation and definitive visuals for Velo City. On the 19th of September 2019, Giraffe claimed to have received individual phone calls from both Akbar and BAT head of marketing Ali Khan asking for the detailed plan regarding the execution of Giraffe's work and the Main Act.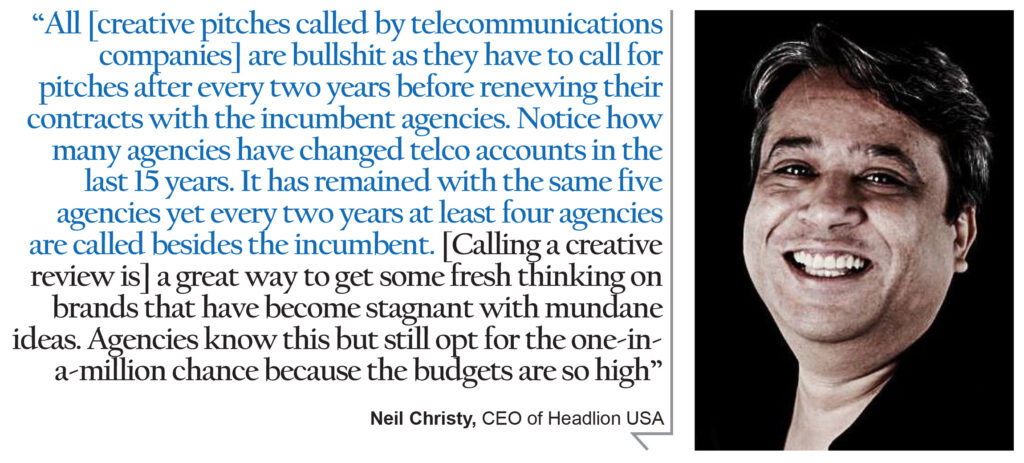 On the 28th of September 2019, Giraffe claims to have been invited to the regional offices of PTC where Khan was in attendance to present the detailed plan for the execution of the proposed music platform. In the capacity of a consultant, the former Coca-Cola marketing director Nadeem Zaman was also allegedly present.
"The detailed plan for the plaintiff's work i.e. Velo City was presented with complete particulars including the songs that would be delivered," claims the court documents. "It may be noted that in reliance of the Defendants ostensible commitment, the final work product depicting the plaintiff's work and details of all songs along with the artists to be showcased on the proposed music platform was handed over to the defendants on the 29-09-2019."
Giraffe claims that after these events transpired, all members of the PTC and BAT teams they had dealt with up to that point began to evade meetings and follow-ups. On the 4th of December 2019, a digital video commercial for Velo from PTC was aired on Facebook and YouTube, featuring digital imagery presented by Giraffe to the Pakistani tobacco manufacturing company. 
When Giraffe wrote to PTC on the 16th of December 2019 objecting over the unauthorized use and exploitation of the work done without compensation, PTC reportedly told the creative agency that all work presented were the intellectual property of the client organization. Responding twelve days later, Akbar told Ibrahim on the 28th of December 2019 in an email that the allegations and claims that Giraffe has intellectual property rights over the term Velo City are unfounded and baseless. 
"Please note that any information including but not limited to discussions (including oral), compilations, ideas, analyses, extracts, summaries, presentations are the exclusive property of PTC and hence can be used by PTC in any way it deems fit," said Akbar in his email. "Specifically referring to the term Velo City, PTC has the necessary legal rights over the term and imagery to continue using it in its Velo campaign and doesn't require any permission from your company to do so."
Giraffe believes that PTC and its marketing team are under the false assumption that all creative works disclosed in meetings and discussions become the intellectual property of the Pakistani tobacco manufacturing company. Giraffe claims to have received no compensation for its work, despite all output being used – to this day – in campaigns pertaining to Velo, Velo City, and The Unstoppables. In its suit, Giraffe has requested the court intervene and restrains PTC from violating the intellectual property rights of the creative agency.
In a written statement to the Intellectual Property Rights Tribunal Lahore, Akbar said that on the 7th of August 2019, he invited Giraffe for the first formal meeting and showed them a sample brand video from international brand consultants hired by PTC thereafter the product ritual, branding, and packaging were explained.
Akbar also said that an unnamed international creative agency had shared catchphrases which included the words unstoppable and velocity, adding that a presentation had been emailed to Giraffe which contained the aforementioned wording. Any NDA signed during the meeting, Akbar states, is meant to protect PTC not Giraffe.
"[PTC] admits that the idea for a live experiential space for people to experience music with complimentary elements such as lasers, lights, and theatrics, and the lineup of artists to be showcased in Velo City referred to as The Unstoppables are the creation of [Giraffe] and not [PTC and BAT], which admission is critical as this dispute progresses," said PTC in section 18 of a written statement to the Intellectual Property Rights Tribunal Lahore, adding that the terminology of Velo City and The Unstoppables are the creation of PTC.
On the 21st of January 2020, the Intellectual Property Rights Tribunal Lahore issued an injunctive order against BAT from using the intellectual property of Giraffe in any many whatsoever. Regardless, the company released a DVC on the 15th November 2020 for Velo Sound Station. In a petition filed on the 19th November 2020, Giraffe stated that BAT and PTC are in contempt of the court, challenging and lowering the authority of the court.
After being granted a stay order, the Velo Sound Station released seven videos between the 20th and 24th of November 2020. Giraffe believes that BAT and PTC intend to render the proceeding as suit infructuous by hastily releasing music on the infringing platform.
A history of thievery 
Here is the problem. The Velo-Giraffe story is just one example, and it is an example where it may actually seem like there may be some justice. But generally, intellectual property is treated with lazy rancour by the industry – essentially, no one cares. 

In 2014, QSR fast food corporation Wah! Brands approached the advertising agency Green Man's Ark (GMA) with a brief around a pan Asian cuisine restaurant called Tao. The team at GMA came up with a branding exercise, followed up by a presentation for Tao which included everything about what walk-in customers would see, hear, and smell, also referred to as visual systems. 
The output is the result of a visual experience audit which attempts to determine the distinctive and memorable sensory cues which will associate the eating experience with its Pan Asian value proposition. The fast food corporation went ahead and used the work to launch its sushi experience, while ghosting the creative agency of the retainer payments it owed them. The owners of GMA did not seek legal action. The architect for the experience was paid, however.
"Lifting agency ideas without due credit or compensation is very commonplace in the Industry," said Seema Jaffer, CEO of Bond Advertising. "There have been instances when entire scripts & concepts that were presented have seen the light of day through another agency. Since there is a lack of enforcement of intellectual property rights agencies often find themselves victims of this ideas theft."
In 2017, Leisure Club celebrated its 20th year in business by releasing a digital video commercial (DVC) which mirrored a concept by subscription television station TV 2. The execution by the Pakistani fashion business was poorly received and the paid online advertising for the DVC was quickly scrapped.
In 2018, Eiwan Developments released a DVC to promote its housing schemes in Gwadar. The DVC was shot for shot remake of an ad by Google India which was released in 2016 called "The Hero". Representatives from Google told Profit that the CG Holdings did not reach out to seek permission or offer compensation for using the concept.
In 2018, Maskatiya Industries aired a television commercial for their hair color product Olivia. The commercial, which ran prominently during the Pakistan Super League of that year, featured Karina Kapoor. An investigation by this scribe at Campaign Asia found that the ad was an edited version of an existing Indian ad from 2016 for a hair color product called BBLUNT. 
When asked to comment by this scribe, Pakistan Advertisers Society (PAS) and the Pakistan Advertisers Association (PAA) had declined to publicly condemn the act. Worse still, even after being informed about the plagiarism, leaders of both Pakistan Electronic Media Regulatory Authority (PEMRA) and Pakistan Broadcasters Association (PBA) decided not to take the ad off the air. 
"[PAS are] more involved in award ceremonies, glorifying clients and a few agencies, friendships and have little or no involvement in this as far as I know," said Sehar Raothar, the director of strategy and design at Markline Communications. "They should hold such actions in contempt and work towards stopping this from happening in future. This is a huge work scope for them – maybe this is why they avoid it."
Neil Christy, the CEO of Headlion USA, agreed and told Profit that PAS and PAA are useless in every regard, adding that they are just groups of old men massaging each other's egos. Jaffer said that the creative industry does need institutional support on these matters, adding that she doesn't know of any case where institutional support has been called in. She told Profit that the industry needs to frame policies and adhere to them, saying that there are ethical guidelines but enforcing them is another matter. When asked to comment on the issue of intellectual property theft and their role in rectifying disputes, representatives of PAS and PAA declined to respond despite reminders over the course of a week.
In 2020, an investigation by Campaign India revealed that the Habib Bank Ltd ads created by JWT|Grey for the Pakistan Super League 2020 were in fact carbon copies of Virgin Mobile ads for the Indian Premier League from the decade prior. The leaders of PAS, in their infinite wisdom, chose not only to ignore repeated requests to issue an open letter objecting to plagiarism but also announced that the creative team behind the plagiarised ads would be judging submitted creative work at the 2020 Effie Awards as judges.
For two years in a row, The Coca-Cola Company has had to remove content for violating intellectual property rights, removing two songs in 2019 from Coke Studio more recently being restrained by Farhad Humayun for using his music without permission nor compensation. The AdMadDude, an advertising blog, recently outed the multinational beverage corporation for using the creative direction of a recent Careem DVC for its Karachi-tributed campaign. Like the case with Eiwan, it is a debate between inspiration and imitation.
"Firstly agencies need to highlight a copyright clause when they pitch," said Jaffer. "This should not be tucked away in a small type but be clearly spelled out to the client at the time of the presentation. We always include this clause. Secondly choose how much you want to give away in your pitch. The temptation to wow the client with a detailed strategy & creative is always tempting but I would hold off on the full package. If the client is really interested they will come back."

Earlier this year, Gul Ahmed was caught using the designs of Shehzil Malik in its apparel. After sufficient backlash on its Instagram page, the eastern apparel brand issued an apology and said that action would be taken. Last week, designer Mahrukh Mansoor accused Bonanza Satrangi of using her illustrations in the product line. She said that when she confronted the business, they reverted with an offer to share the profits. After being ghosted, she learned that her designs were trademarked by the company. She is currently exploring her options for recourse, though realistically only social media backlash can help her.
"If an idea does get stolen, the agency should call it out," said Jaffer. "Here an honest face to face or some form of polite but firm communication should be a step in this direction. After all, what is there to lose? The more we start calling this practice out as unethical & unacceptable, the more chances there are of putting an end to it. Agencies need to show backbone. We will only get respect if we command it."
Speaking to Profit, professionals from creative agencies have shared that advertisers are actively party to another type of theft: assuming that every idea presented by competing creative agencies is somehow the property of the prospective client organization. And this too, without needing to compensate the teams that conceptualized the ideas in the first place.
"My own plans have been executed by another agency and my agency could not do anything about it because of the fact that there is no law protecting copyrights of especially activation ideas and even if it can fit into copyright infringement, agencies do not go through the legal hassle due to financial constraints," said Raothar.
Adding insult to injury, the thieving marketers take the ideas of one agency and hand it over to another agency which is either on retainer via a global alignment or owned by a relative or friend. This, Profit is told, has been a cost of doing business for decades. Self proclaimed 'woke' advertisers that virtue signal 'purpose' are the most commonly cited culprits of this practice. 
"This will continue because of the supply vs. demand disparity," said Christy. "Too many agencies, too little work. The top five [advertising] agencies reap roughly 80% of the ad spend in the country. The remaining agencies are desperate to get new business while trying to hang on to whatever they have. Since most advertisers know this, they make full use of this and generally treat ad agencies with very little respect."
Christy told Profit that idea stealing is especially common in telecommunications companies, with the Pakistan office of his own agency being burned twice. In both instances, he saw the incumbent creative agency, following a review, execute a campaign featuring the visuals presented by his creative shop, with minor tweaks.
"All [creative pitches called by telecommunications companies] are bullshit as they have to call for pitches after every two years before renewing their contracts with the incumbent agencies," said Christy. "Notice how many agencies have changed telco accounts in the last 15 years. It has remained with the same five agencies yet every two years at least four agencies are called besides the incumbent."
To his point, Ogilvy Pakistan was recently renewed as the creative agency for Telenor Pakistan, while IAL Saatchi & Saatchi was named the boutique creative agency for micro-projects. In 2019, The D'Hamidi Partnership was appointed as one of the creative agencies for Zong 4G by CMPak Ltd, JWT|Grey was renewed as the creative agency for Ufone, and both IAL Saatchi & Saatchi and Fishbowl have worked on campaigns for Jazz in the past 12 months.
"[Calling a creative review is] a great way to get some fresh thinking on brands that have become stagnant with mundane ideas," said Christy. "Agencies know this but still opt for the one-in-a-million chance because the budgets are so high."
Speaking to Profit, Leopards Courier head of marketing Abdul Aleem Sheikh recounted that when he worked for Orient Advertising in 2007, his creative team had pitched designs for the beautification of a Nairobi-based hospitality brand which has hotels, resorts, safari lodges and camps, palaces and forts located in East Africa and South Asia, including Pakistan.
"All our designs got rejected and another agency got the business," said Sheikh. "And exactly after a week, we all saw our designs printed and pasted all over [the Islamabad hotel]. This is a risk; agencies do have to work around with. Ethics is nowhere to be found."
He added that the situation isn't entirely dire, citing that Volta Batteries once paid a freelance designer Rs400,000 just for his creative idea, which in the end was executed by the retainer creative agency. He said that, in light of the abhorrent nature of the advertisers and their absent ethics, creative agencies that are seeking protection ought to consider presenting only after an NDA is signed, which Mind Map Communications chief Faisal Kapadia agreed with during a discussion on the topic in a Facebook group. 
It is the opinion of this scribe that the examples listed above barely scratch the surface of the extent of intellectual property theft and plagiarism in Pakistan. It is further postulated that while the establishment worries about brain drain in the form of talent leaving the country, there is little attention given to what we refer to as internal brain drain – the phenomenon wherein instances of having ideas stolen without credit or compensation, ideas shot down for being too bold – gradually diminish the fire of thinking altogether.
The person is relegated to thinking like everyone else. And so, this empty demoralised vessel of a person simply exists, without ever commenting on how something could be done better or offering any thought leadership. The next generation that follows, that has not understood the magnitude of shut up calls directed at the senior generation, cannot fathom why they would hire a workforce that cannot think for themselves. And thus the cycle perpetuates. This is internal brain drain and the decision makers in the country are the root cause of it. If the establishment cares about a competitive edge, start here.

"When we don't take care of ourselves, we all pay a price," said Arianna Huffington, the former president and editor-in-chief at The Huffington Post Media Group. "Innovation, creativity, resilience, empathy, decision-making and team-building are the first to disappear when we're burned out and depleted. And those effects then spread to our teams."
The fate of Giraffe's action
Speaking to Profit under the condition of anonymity, a senior marketing professional in the consumer goods space said that Giraffe is in the wrong with this case – without registering a copyright on any of the ideas suggested, they have no case. This person added that when a company calls for a creative pitch – be it for a campaign or a music platform – it pays an upfront fee for the creative ideation process. By doing so, ownership of the ideas presented in this case become that of the client company.
"It is a very common practice in the West," said Christy, who moved his creative agency to the US after operating in Pakistan for three years. "The biggest benefit of this is that they will think ten times before they invite an agency so fewer agencies will be on the list. Secondly, even if smaller agencies are not selected they will still end up making some money for the hard work they put into their pitches."
In this particular case, as is with the lion's share of creative pitches in Pakistan, advertisers do not offer any upfront creative fee and will delist any agency that makes the request for one. And it was the case with the aforementioned case with Giraffe, hence the suit for using suggested ideas without due credit or compensation. It should be reiterated and noted that Giraffe is not seeking monetary damages in its suit, only for rights to the suggested ideas, which has thrown off BAT, we are told.
"In the case of BAT vs Giraffe, everything boils down to the NDA which was signed by both the parties," said Amer Pasha, honorary secretary at Marketing Association of Pakistan. "Was the NDA breached by either party? Was the subsequent agreement between BAT and Giraffe breached in any way? If either of these occurred, Giraffe has a legal case. If not, they have no legal case."
Pasha said that leaders of creative agencies should not sign any NDA that they feel would potentially place them on the losing end of a similar intellectual property violation. He added that the leaders of creative agencies need to become well versed in the laws of Pakistan and consult legal experts for any creations deemed to be worthy of a patent, trademark, and registration. 
"The reality is that as per the 2019 World Bank report "Doing Business Index", Pakistan ranks overall 108/190 countries and in the category of enforcing contracts it ranks 156/190," said Pasha. "So it is in this environment that we should look at issues related to intellectual property. Even if creative agencies take every legal preventative measure, companies that want to exploit will do so because plagiarism, imitation, and violating intellectual property is an accepted norm in Pakistan – take the example of bootleg DVDs, video games, second copy clothing of local eastern apparel brands, and fake university course books."
He reiterated that Pakistan has a terrible legal system that does not serve the interest of small players, with large parties able to drag on a case for decades. The only recourse for creative agencies is to execute an idea themselves, build a platform, and monetize it through branded partnerships. 
"An invention is an idea, a technology, a patent. In and of itself, it does not generate value," said William Kenneth Aulet, managing director of the Martin Trust Center for MIT Entrepreneurship. "Innovation is something that generates value for the world. It makes something faster, better, cheaper. It gives someone some great satisfaction. So these two are not the same thing."
The point made by Pasha relates to the stance from Aulet in that leaders of creative agencies in Pakistan need to come to terms with the reality that the current laws are not and will not be in their favour – its best to self-execute ideas deemed remarkable and follow a 'build it and they will come' model. In a market where ethics are openly violated on a daily basis, not much can be expected on the enterprise side.

As for advertisers and agencies that value the creative mind and are uninterested in replicating the ideas of a fellow creator, a blockchain solution is in development to cross-check the big idea on a storyboard.
"Copycat ads are a major concern for brands and advertising industry anywhere in the world," said Maaz Khan, the co-founder of the Hapu Project. "Sometimes it's pure coincidence while the rest, it is not. [With Hapu Project] you can check if your ads are too similar to any other campaign globally is the end product. This will be an open source and not-for-profit project."
Deploying in Q1 2021, the Hapu Project is a fully-decentralized permission-based blockchain solution to protect intellectual property in the advertising industry. As a business director of MediaCom in Malaysia, with over a decade of experience in the Pakistan market, Khan expects to allow participants to check if a work in progress creative concept bears similarities to existing work anywhere in the world.
Christy suggested that if a creative agency sees that its ideas have been stolen, it should recognize that in Pakistan the only path to justice is to shame the marketers on social media, with proof of not only time stamps of idea creation and design, but also proof of having presented it or sent it to the final decision maker in question.
"Timestamps with visuals can be great evidence to make your case," he said. "Many have done it and have actually forced people to pay for their work. Just a caveat, suck it up if you don't have evidence."
Raothar suggested that when advertisers and agencies violate intellectual property rights, concept creators should take legal action through the PAA, holding marketers accountable. She added that small and medium sized creative agencies cannot afford the legal hassles of pursuing an intellectual property rights case so seeking the help of a collective like the PAA makes sense once the industry body activates a functional legal department. 
A member of the PAA, Jaffer said that the creative industry needs to develop forums among agencies where these issues are discussed. She said that by coming together as an industry, they can resolve various issues and stand up for each other.