Welcome to Banistan where an app used to make and post content in the form of short videos was until this weekend banned. If you haven't guessed it, let me explain. TikTok was banned in Pakistan, it was later unbanned, and then banned and unbanned thrice more. It has now been unbanned as of Friday night after being banned four times in 10 months. 
Need we remind you the app has 1 billion monthly subscribers as of late – sadly the number of Pakistanis on it were either overseas or using a VPN and pretending to be overseas.
What is TikTok?
Recently, TikTok has managed to take the world by storm. The app is basically a platform where users are able to record, edit, and post short videos as content. They can keep their profiles private or public – it is up to them. The content on tiktok ranges from makeup, skincare, cooking, vlogging, dancing, singing, to even educational content such as stock and crypto analysis, and an insight into other cultures. 
You don't need to know fancy editing or own hi tech equipment to use make and post content on tiktok. All you need is your smartphone. With a rise in the number of smartphone users in Pakistan and an increase in the proportion of people connected on the internet as a result of cheaper internet, TikTok managed to emerge as a mass market product.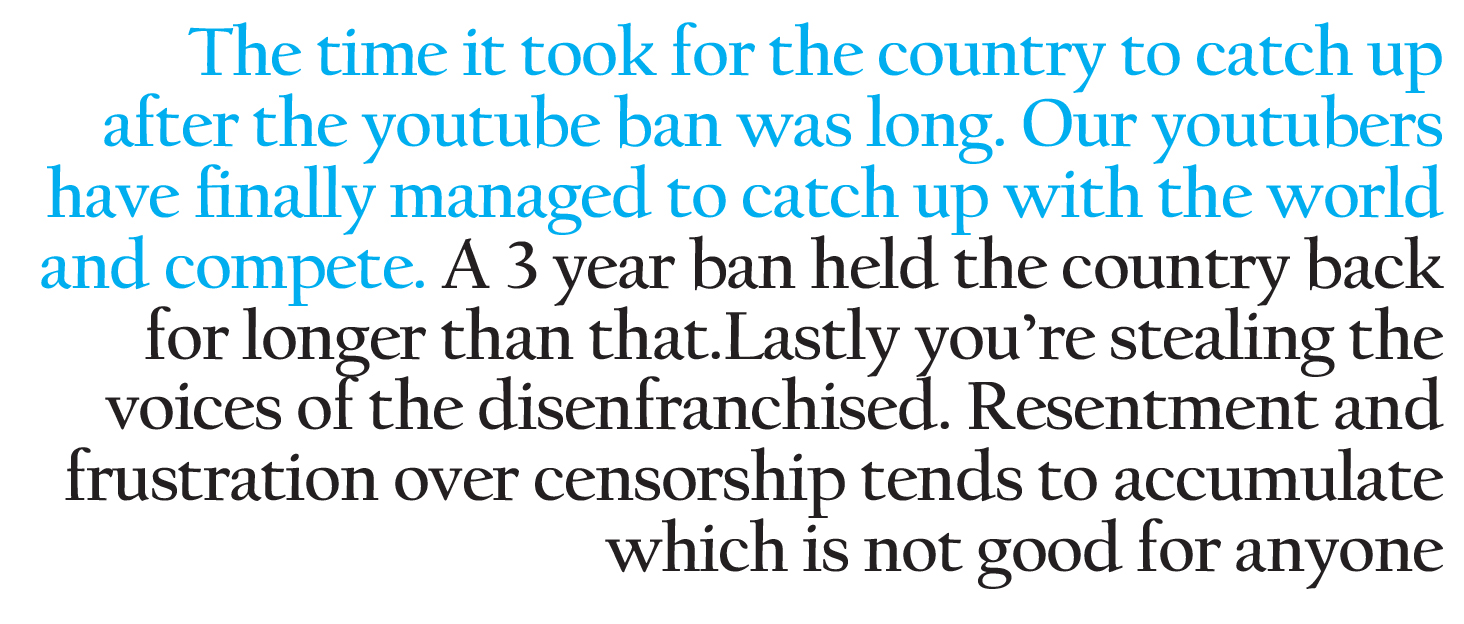 Earlier this year the Economist Intelligence Unit has said that Pakistan ranked highest in the "Affordability" pillar due to improvements in the competitive environment and a decrease in mobile phone costs. The country ranked 67th in the "Affordability" category which examines the cost of access relative to income and the level of competition in the internet marketplace.
In 2020, of the 83 million people in Pakistan with mobile internet connections, 51.4 million – or nearly 62% of them – have 4G connections. That number just two years ago was just barely over 25% of a much smaller population of mobile broadband internet users. 
Did it add any value?
I'm not going to criticize the content on the platform at this point because it's a form of expression and art and the right to express is a fundamental right I strongly believe in. Before I move on to the monetary benefits of the app, I feel it is important to mention the fact that the app has emerged as a form of entertainment for individuals who post and view content. You cannot put a price on that. 
On the other hand, the app has managed to open a lot of avenues for users. For instance, let us say you're a good cook and you post great recipes on the app. A masala company likes the reach you have and sponsors or pays for product placement. The very fact that someone at home could earn through brand collaborations, partnerships, and sponsorships is brilliant. 
Moreover, a number of TikTokers found their way to the media through their content. Media houses picked up on raw talent while individuals who would've never had the connections to enter the showbiz found themselves lucky.
You're probably wondering why I'm mentioning this considering such content and opportunities present themselves on other social media platforms too. The reason is simple. On the App Store, TikTok overtook apps created by Google, Facebook, and Zoom as the preferred video-sharing social networking service worldwide, while ranking third on Google Play Store with apps by Facebook and Snap Inc sharing the top five slot. No app comes close. 
According to a ByteDance pitch deck seen by Profit, TikTok has 25 million downloads in Pakistan of which 68% are female and 96% are Android users. User behavior data shows that the app is opened an average of five times a day, generating 14 billion views a month, and consuming an average 34 minutes of each user's day.
TikTok's meteoric rise resulted in it taking the top spot in 2020, surpassing WhatsApp, the top app in 2019. TikTok had nearly 987 million downloads in 2020, an increase of 37pc year over year. While TikTok is a gen Z application across the world, the app was first accepted and widely used by the lower income segment in Pakistan – or in other words the masses. 
Other applications, in comparison, have wealth blocks that prevent you from getting as popular as one can on TikTok. Think about it. Look at all the bloggers you follow on Instagram. Most of them spend enormous amounts on their larger than life lifestyles and then manage to hook in some brands. Facebook is dead and only used to remember birthdays or to make sure you don't offend your relatives by having them added on at least one social media platform. Twitter is primarily for the educated lot considering it uses words as a primary source of content. TikTok manages to be unique in this regard because of the simple and easy to use UX that someone who is not familiar with words could figure out. 
Why this ban was classist and ageist
TikTok empowered a segment of society that had often found it hard to have its voice heard. This segment was able to reach larger audiences and have their voices amplified. This was truly the power of social media. While people like you and me cringed at the content for being cheap, it was our classism and elitism talking. 
Moreover as TikTok usage increased around the world, GenZ hopped onto it. The ban resulted in the voices of the youth being taken away. Of course, other applications of similar models existed such as snack video. The ban proved to be unfair to individuals that had worked hard to create an account on the application. They had lost their hard work. Some even lost their livelihoods.
A history of bans
Bans are not new to Pakistan and TikTok is no exception.This gives a flashback to the ban on TV channels and press freedom during the early 2000s. When the world was integrating onto the web, spending more for research and development of the medium, Pakistani media struggled. 

That did however push more channels to eventually branch out towards digital content but not at the pace one would expect. The reason was simple. In the early 2010s, YouTube was banned. At a time when a number of YouTube channels popped up and pushed out content, Pakistan was yet again left behind.
What good do these bans do?
Since we're a business magazine we're going to talk numbers first. The ban resulted in a lack of confidence by platforms in Pakistan. Why would any platform invest in a country where they can be banned any moment? It just doesn't make any business or commercial sense. 
Moreover, the way the app was banned a day after the president of Pakistan joined leaves a lot to question. It shows the haphazard ways decisions are made in the country and how even people at the top do not have control of what is happening. Of course, we know the 18th amendment exists and these were court decisions, but the political messaging of this for any investor or platform is bad which would further make them want to avoid the country. 
In the past, TikTok has worked directly with a handful of local businesses for the hashtag challenge offering – for which the company charges a flat $50,000 fee – such as Tecno Mobile Pakistan, Haier Pakistan, OPPO Pakistan, and Honor Mobile. Considering the reach, a number of marketeers found it to be underpriced. 
In addition, in a world where bloggers and influencers are virtual ambassadors of the country, you're missing out on the gains one could have. With the government trying to push tourism and a positive global image, banning twitter or other platforms just won't help. In fact they make you seem archaic. 
The time it took for the country to catch up after the youtube ban was long. Our youtubers have finally managed to catch up with the world and compete. A 3 year ban held the country back for longer than that.Lastly you're stealing the voices of the disenfranchised. Resentment and frustration over censorship tends to accumulate which is not good for anyone.