Karachi took the number one spot followed by Lahore on the morning of the 18th according to IQAir that measures air quality. It must be noted though that these rankings are constantly changing and vary based upon different factors. 
The two cities from Pakistan took the top two spots in the category of the worst air quality globally, that is the amount of pollution or particulate matter in the air you breathe. 
The fact that air quality in Pakistan is poor is not a huge secret; when huge levels of pollution are coupled with zero regulation it becomes a recipe for disaster. As of January 19, 2023, Lahore ranks number six and Karachi ranks at number 10 on the "air quality and pollution city ranking," of IQAir. 
All of us encounter thick clouds of smoke and piles of garbage around our cities. We've grown up with it, but it is absolutely hazardous to one's health especially over long periods of time. 
What is air quality? 
Air quality can practically be determined visually, when the air is clean, it is clear and includes only trace amounts of solid particles and chemical contaminants. Poor air quality, with high levels of pollutants, is frequently foggy and hazardous to health and the environment.
Article continues after this advertisement
If one has ever seen the city from a vantage point, it is normal to mistake the grey haze for clouds. This is actually air pollution hovering above. But after a spell of rain, the air looks cleaner, significantly improving visibility.

The Air Quality Index (AQI) is used to describe air quality because it is based on the concentration of pollutants in the air at a certain location. The AQI is broken into six categories with 50-point increments. Each category represents a distinct level of public health concern.
Consider the AQI to be a yardstick with a scale of 0 to 500. The higher the AQI value, the worse the air pollution and the greater the health risk. For example, an AQI value of 50 or less indicates healthy air quality, but an AQI number more than 300 indicates hazardous air quality.
For reference, according to IQAir Karachi as of January 19 has an AQI value of 158 whereas Lahore stands at 161. These values fall in the category of being unhealthy for everyone and not just a particular segment of the population suffering from any complications related to breathing. 
How is it measured? 
Air quality databases compile measurements from official, crowd-sourced, and satellite-derived air quality monitors to determine the AQI. Based on the accuracy and type of pollution measured, these databases may weigh data differently.
In 2021, the United Nations Environment Program and IQAir collaborated to create the first real-time air pollution exposure calculator, which integrates worldwide measurements from certified air quality monitors in 6,475 locations across 117 nations, territories, and regions.
The database prioritises specific readings and uses artificial intelligence to compute the hourly exposure of nearly every country's population to air pollution.
Variations and changes
The measurements and accuracy of the air quality changes from hour to hour and day to day due to multiple factors. The primary influencing factor of air quality is the human element, that is how many pollutants are entering the air due to human activities. Other factors include temperature, wind speeds and geographical features that directly impact the overall air quality. 
Geographic factors such as mountain ranges, coastlines, and human-modified land can influence air pollutants to concentrate or diffuse in a given location. However, the types and quantities of contaminants in the air have a far greater impact on air quality.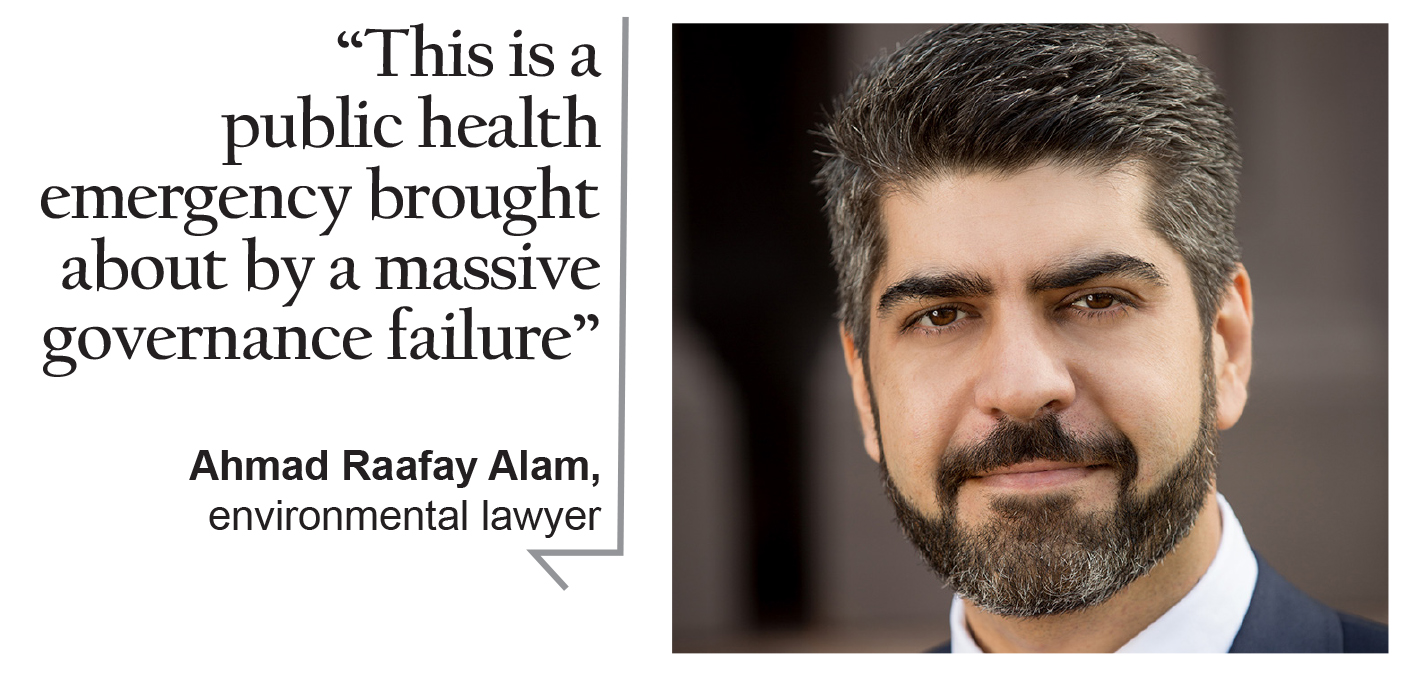 Some pollutants are added to the air by natural causes such as volcanic activity and dust storms, but the majority of pollutants are caused by human activities. Man-made air pollution includes vehicle exhaust, smoke from thermal power plants, and hazardous gases from industries.
Wind patterns also affect air quality because they transport pollution around. A coastal area with an inland mountain range, for example, may have more air pollution during the day as sea breezes carry pollutants over the land, and lower air pollution in the nights as the direction of the breeze reverses and pushes air pollution out over the ocean.
Temperature can also have an impact on air quality. In urban locations, air quality is frequently worse in the winter. Exhaust emissions can be confined close to the surface beneath a layer of thick, cold air when the air temperature is colder. Heat rises and disperses contaminants from the Earth's surface through the upper troposphere throughout the summer months.
Why is air quality so poor in Pakistan?
According to the IQAir Air Quality Report 2021, Pakistan is the world's third-most polluted country. Every Pakistani city included in this analysis had yearly average "particulate matter" levels at least eight times higher than the WHO's recommended limit.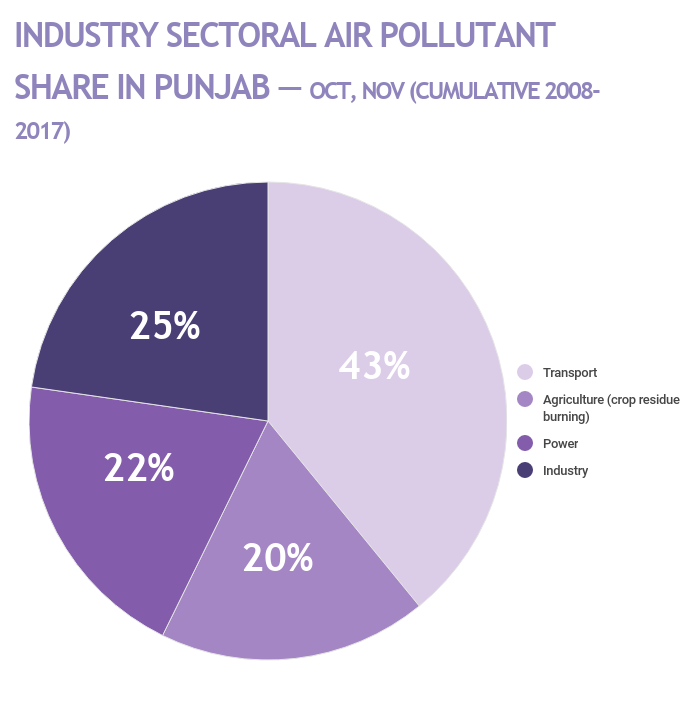 The same report highlights the fact that Pakistan's air quality remains bad as a result of traffic, the country's main source of pollution. In Punjab, Pakistan's second largest province, transportation accounts for 43% of air pollution emissions, industrial sites account for 25%, and agriculture accounts for 20%. Pakistan is similarly affected by seasonal air quality challenges.
While talking to Profit, Rafay Alam an environmental lawyer also mentions that there are a number of contributing factors to the poor air quality in Pakistan. One of the biggest issues is the poor quality fuel which is a huge cause of concern, although Pakistan had earlier taken actions for the implementation of "Euro 5" standard fuel which has a lower sulphur content resulting in lower air pollution, the uniform implementation of this standard is still lacking. 
He highlights that, even though the policy is in place, the distribution of the fuel to all major consumption centres is still lacking and is primarily restricted to Karachi where the fuel arrives via ships. Compounding this problem is the fact that most of the refineries in Pakistan are not configured to produce this higher quality fuel and, therefore, has to be imported. 
The driving factor for high air pollution is the transportation sector of Pakistan, multiplying this is the fact that the roads of Pakistan are dominated by older vehicles which are naturally less fuel efficient.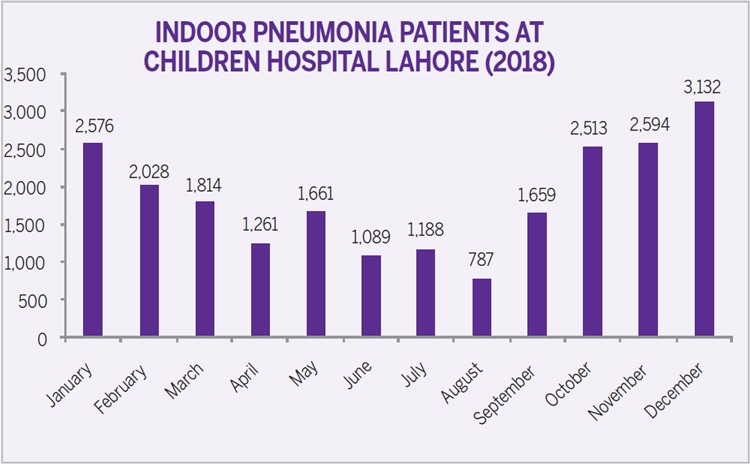 "The smog in Lahore is caused by a confluence of metrological and anthropogenic factors," said Saleem Ali, a member of the United Nations' International Resource Panel. Namely, temperature inversion traps pollution in the atmosphere, which — alongside seasonal crop burning on the Indian-Pakistani border — combines with other sources of year-round pollution and fog to cause a spike in pollution and winter smog. 
The reasons why air quality has been steadily declining in cities like Lahore are numerous. Vehicular emissions, industrial pollution, fossil fuel-fired power plants, the burning of waste materials, and coal being burned by thousands of brick kilns spattered across the province are all part of the problem. Even these reasons, however, have been politicised. 
Many government ministers during the administration of different parties have claimed that a big reason for the Lahore smog is Indian farmers burning crops across the border. The reality is that crop burning seasons take place from late October to early November while the smog hits its peak in December and January.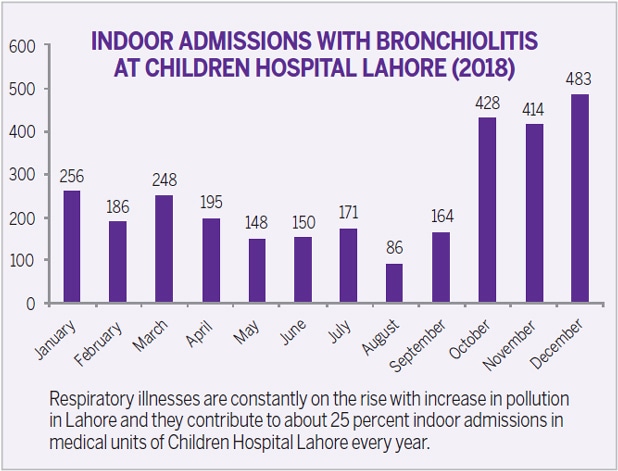 The real reasons are the emissions from vehicles and industries. In fact, agriculture related crop burning only accounts for around 20% of all pollutants while transport accounts for around 43% — with the rest coming from power and industry. Not only is Lahore a sprawling mess with no walkability and an insane dependence on cars and bikes for mobility, these vehicles use cheap fuel that does not comply with international standards and is horrible for air. 
The lack of vehicular fitness and emissions testing, alongside use of poor-quality fuel, have compounded the city's air pollution problem. Federal plans to switch to Euro 5-compliant fuel have faltered due to lingering economic troubles, including rising inflation.
According to Dr Aqdas Afzal, a senior economist at Habib University, Karachi, "in the absence of auto emissions standards, old dilapidated cars, rickety diesel buses and smoke-spewing two-stroke motorcycles thrive. In the absence of a regulatory framework, this ends up destroying the air quality."
This means that more fuel is required per vehicle which leads to more harmful pollutants entering the air we breathe. Furthermore, the lack of railway networks to accommodate industrial transportation leads to reliance on old and inefficient trucks which have a bad economy in terms of fuel consumption contributing to more particulate matter in the air. 
To put it simply, if a train uses 10 litres of diesel to transport 100 tonnes of material from point A to point B, using trucks would increase consumption of diesel to 100 litres for the same material travelling the same distance. 
A significant reliance on vehicular transport in place of public transport and pedestrian walkways is another contributing factor. According to some urban planners our cities have been designed to favour vehicular transport.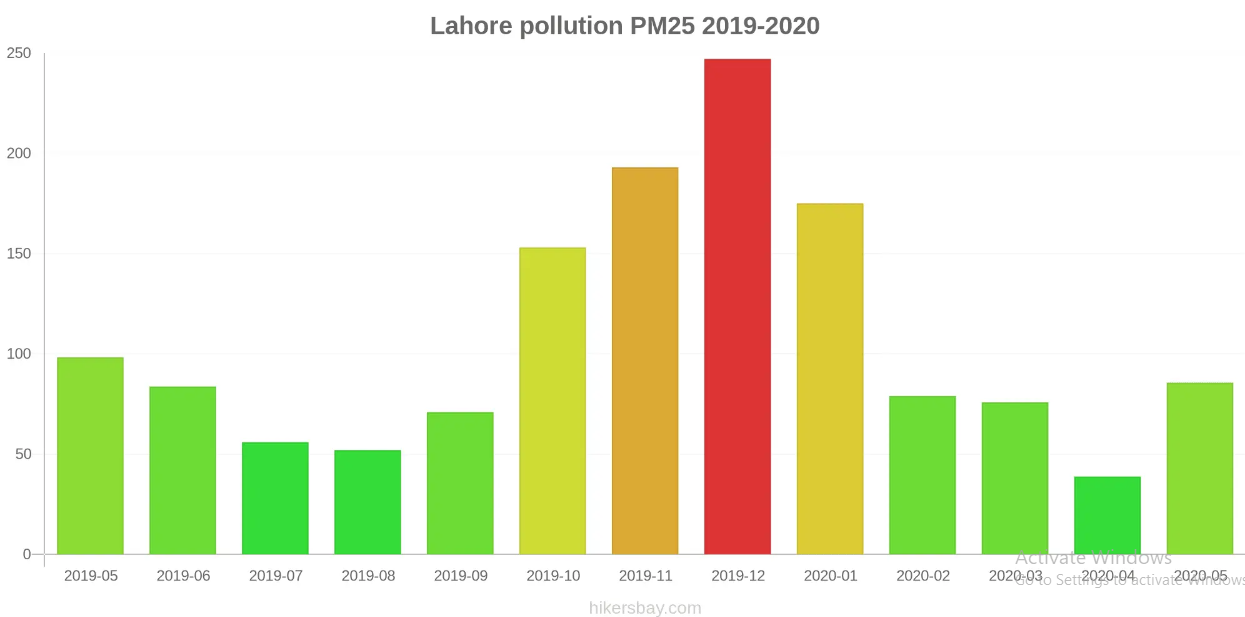 While talking to Profit, Afzal also says that, "seasonal factors such as crop burning and winter weather patterns additionally contribute to higher levels of pollution in the air." Given the fact that Pakistan is an agrarian economy the scale and impact of these seasonal fires in farmlands is huge.
Despite the hazards and safety concerns, agricultural residue burning is an exceedingly frequent and largely accepted practice in Pakistan, particularly in the country's rice-wheat belt. According to some reports, between October and January each year, at least 3.6 to 5 million tonnes of rice residue is burned to clear the fields for wheat sowing.
Afzal explains that, "crop burning fires, together with thermal inversion – a meteorological phenomena in which particulate matter and other pollutants trapped in the air mix with condensed water vapour to generate smog are to blame for the sudden spike in air pollution."
Is air quality really important ? 
Every day, an adult breathes 15,000 litres of air. Pollutants enter our lungs when we breathe dirty air; they can then enter the bloodstream and be detrimental to our internal organs such as the brain. 
According to the University of Chicago's Air Quality Life Index, air pollution reduces the typical Pakistani's life expectancy by 4.3 years compared to what it would have been if the WHO guidelines were implemented.
This can lead to serious health problems such as asthma, cardiovascular disease, and even cancer, as well as a reduction in the quality and number of years lived.Polluted air also causes eutrophication and acidification of our ecosystems, which results in the loss of agricultural productivity, irreversible damage to ecosystems and the loss of biodiversity.
Already some of the data indicates serious health problems hitting our population. Prolonged or heavy exposure to hazardous air causes varied health complications, including asthma, lung damage, bronchial infections, strokes, heart problems, and shortened life expectancy. A report in Dawn from back in 2019 points out how a 2019 analysis by the Air Quality Life Index produced by the Energy Policy Institute of the University of Chicago showed that long-term exposure to particulate matter air pollution was reducing the average Pakistani's life by "more than two years." And a 2018 study commissioned by Air Quality Asia, and carried out by Dr Junaid Rashid and Dr Shazia Manzur of Lahore's Children's Hospital, shows a spike in admissions for lung-related ailments during the smog season. 
The 'Global Alliance on Health and Pollution' estimated in 2019 that 128,000 Pakistanis die annually due to air pollution-related illnesses. What is more alarming is that the statistics for the long-term damage that these prolonged years of smog will have on the health and lifespan of the city's population are yet to even materialise.
It seems then that if we want to bring about change, the answer is simple enough: Reduce the usage of motor vehicles and create awareness regarding the standing issue as it not only affects us but generations to come. 
Alam believes the current issue is a "public health emergency brought about by a massive governance failure." He states that change can only be brought about by a collective social and political effort to address the issues. Afzal points out a more pragmatic approach to address the growing issue of air quality, which is to disincentive the use of motor vehicles and encourage consumption of public transport.