On January 11, 2023, a headline made it to the major news publications of Pakistan: Funds meant for low-income students ended up being used to purchase memberships for the elite Islamabad Club. 
Two executive members of the National Endowment Scholarship for Talent (NEST) are dismissed for splurging at least Rs 25 million on the club's membership. NEST is an autonomous programme for eligible and deserving students, headed by the Additional Secretary of the ministry of education.
According to a report by Dawn, in November 2021 the board of directors of NEST approved corporate membership in the club for the whole organisation and nominated the names of four top bureaucrats. The list included Athar Hussain Zaidi, Faysal Qasim, Qamar Safdar and Quratulain Talha; with monthly subscription charges to be paid by NEST. 
Months later, the CFO forwarded this request to the then CEO Mohiyuddin Wani and the approval was granted accordingly. Mr Wani was later posted to Gilgit-Baltistan as the chief secretary. However, Wani's successor Asim Iqbal, released the amount to Islamabad Club before being posted to Cabinet Division as Additional Secretary. 

This incident did not occur in isolation. Time and again, senior bureaucrats land themselves in hot waters for similar reasons. Last year in May 2022, Irrigation Secretary Sohail Qureshi and former chief secretary Mumtaz Shah were charged for contempt of court related to non-payment of dues to private companies in a contract with the irrigation department. 
Article continues after this advertisement
Similarly, in November 2022, National Accountability Bureau (NAB) opened an embezzlement case of Rs 2 billion in the M-6 project against Deputy Commissioner (DC) Naushahro Feroze, Tashfeen Alam. However, Alam had flown out of Pakistan just a couple days earlier. 
Postings, a long chain of hierarchy, access to easy international travel with a dash of donor-funded projects is a quick recipe for fortune – or misfortune, on the few occasions that these high-flying bureaucrats are caught.
A deep-rooted problem
The problem does not even represent the tip of the iceberg. Bribes and corrupt practices in the bureaucracy of Pakistan is a widely discussed issue, a problem prevalent in other developing countries also. Pakistan lies abysmally low at 140 out of 180 in the Corruption Perception Index (CPI). The CPI countries and territories by their perceived levels of public sector corruption on a scale of zero (highly corrupt) to 100 (very clean). The CPI global average remains unchanged at 43. 
To understand the root cause of the problem, Profit reached out to Ahsan Rana, a development professional, and an ex-civil servant, "Bureaucrats are part of the society. Because they hold so much discretion, it is easy for them to take up the opportunity and make themselves rich. The system is complicated, with many layers of accountability such as the courts, NAB, Inter-Services Intelligence (ISI). This complicates the system, and ends up distorting the process of accountability," said Rana. "First and foremost, government officials' business and personal activities should not be classified information. There should be transparency in what they and their families do and transact on a daily basis," he continued. 
The education sector 
The education sector, particularly, falls vulnerable to corrupt practices. Since the 18th amendment the education sector has faced major administrative reforms also. "Previously the top officials were advisors, experts of the field. But after the legislation, the education ministry has a joint secretary, deputy secretary who comes due to postings and lacks professional training in the particular field. Because they know they are going to be shifted elsewhere within a couple of years, they are more likely to be involved in corrupt practices," said a government official from the ministry of education, who wishes to stay anonymous. 
In conversation with the same source, Profit learned that training such as National Management Course (NMC) and Middle-Management Class (MMC) does not involve financial management. This creates a lot of loopholes in auditing and a lot of times those officials get involved in embezzlement practices who don't even know how and when their name was used. "The subordinates sign files due to the pressure from their seniors who get posted for a particular assignment. These people often get caught due to their lack of knowledge of the financial system. You know many times, a lot of government officials altogether avoid working on a new education project simply because they are afraid of what might catch them during the audit," he explained. 

The Auditor General of Pakistan (AGP), a government organisation that ensures public accountability and fiscal transparency reveals the discrepancies for district Rawalpindi's education.  
As shown in the chart, the biggest figure is in the irregularity related to employees. The AGP report explains, "officials were regularised but their pay was neither fixed on initial pay stage nor Social Security Benefit allowance was deducted. This resulted in overpayment of Rs 10.155 million." 
Above is an example of the loopholes that usually occur in the payment of District Education Employees (DEA) employees since there is no set system of fixed pay for these officials. 
In a conversation with Dr Mariam Chughtai, Director National Curriculum Council (NCC), Profit learned that most of the time such irregularities are created by the junior level staff. In government offices, every payment invoice has to be signed by the department head. "Just recently the lock to our office door was broken. I received a document to sign the invoice of Rs 50,000 just for a new lock. You see now the staff members who generated that invoice, and those who circulated it to reach my desk were all aware of the financial discrepancy, no matter how big or small it is. But only I would be held responsible if I had signed it," she said. Chughtai further elaborated that such discrepancies occur all the time in government offices, not just in the education sector. Given there's not a proper transparent financial system, she has to take extra measures herself. 
"There are three desks under me which are responsible for signing financial matters, so at least one of them catches the irregularity and contests the payments. I also keep the ministry closely updated with relevant financial documents and processes to keep internal checks going. The Office of the Accountant General Pakistan Revenues (AGPR) thoroughly ensures that there is no financial discrepancy or missing documentation before payments are issued," she elaborated.  
NCC is although a fully government body under the ministry of education, it deals with private consultants and international donor agencies for some of their projects and is headed by a bureaucrat with experience in the field. This brings NCC under a somewhat different working culture than a typical government office, Chughtai confirmed. Therefore, the hiring is performance based and not on a permanent contract, which brings a sense of responsibility and accountability among the employees. "Even I can be fired if my performance is not up to the mark," said Chughtai, who works as a bureaucrat under the Management Position Scale (MPS).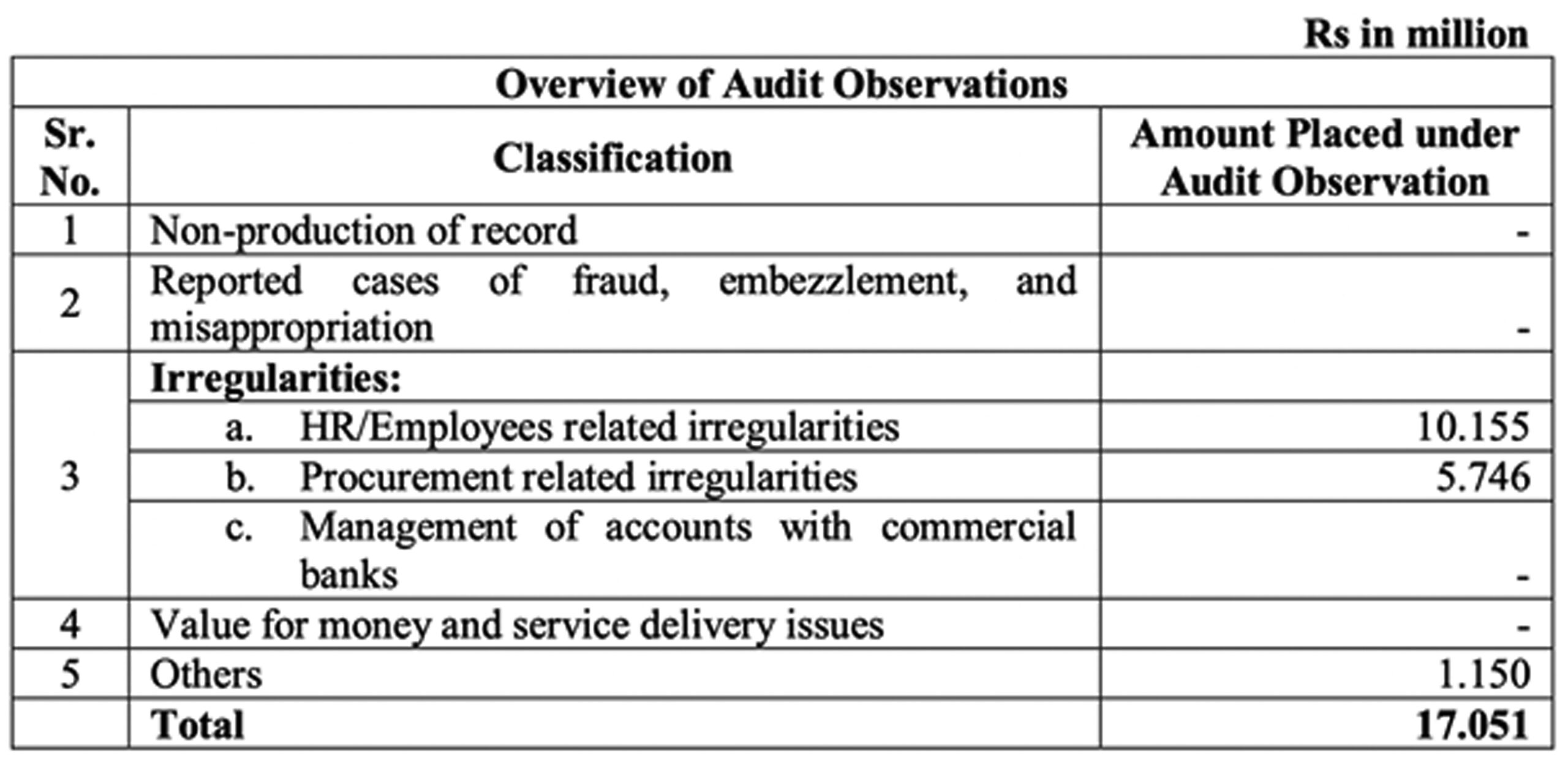 In such a department, irregularities are not too often by the government-hired bureaucrats. But it deals with a multi-layered organisational structure. "Don't be mistaken that financial discrepancies occur only in the government," she remarked. "You know when international donor agencies send their funds, they also send a long list of conditions. For example, I work with many international development organisations. They can be truly helpful. But in another case, I was put in partnership with a donor agency which had committed to providing salaries for 20 experts as per the curriculum reforms project needs. However, when the grant was released, the donor agencies pre-hired the twenty consultants who were not exactly experts in the relevant project. One of them was earning Rs 250,000 per day – the same amount which the highest paid government officer in my department earns in a month!" she expressed, rather furiously. Upon asking about the criteria of such hirings, she said there's no transparency and no one knows who they will get to work with. These consultants will draw diagrams and deliver presentations, but are way too detached from the on-ground realities," she continued. 
Such a process, therefore, slows down the project, doesn't achieve the target and creates massive financial losses. 
Systemic inequality 
This doesn't end here. Although not always, many times these middle-persons are civil servants from the District Management Group (DMG) who take up the roles of advisors and consultants to lead and implement the donor-funded projects. Economist Dr Nadeem ul Haque, who has a vast experience of working as the IMF representative and deputy chairman of planning commission said that, "Donors come here for their foreign policy and lending needs. They don't come here to help us. The donors recognise that everything goes through high-ranking civil servants so they cultivate them by giving scholarships, training abroad and long-term contracts which go on even after their retirement. Donors take very good care of government officials." 
It is not to say these heavy cheques are bribes, or any illegal means or earning. The position of bureaucracy puts certain cadres within the bureaucracy in positions of influence and power, which makes it possible for them to earn a lot more than what is set by the government salary. 
Such selections, and projects, create inequality in a system which is theoretically linear and meant to serve the people with a set career paths and increment. "It's not a justification, but when government officials see their batchmates earning a lot more because of being in different cadres and offices, it creates resentment and convinces them to go for institutionalised means," said the source from the education ministry.