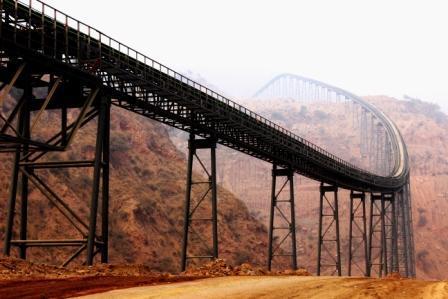 Downhill Conveyor belt project, an initiative of  Gharibwal Cement Limited (GCL) has become operational, it was informed in a notice sent to the Pakistan Stock Exchange (PSX).
The 3.15 km long downhill conveyor belt can transport 1200 tons/hr of raw material (i.e crushed limestone, clay silica etc) from the quarry to the pre-blending yard.
This Downhill conveyor belt is first of its kind in Pakistan because apart from transporting raw material, it can generate electricity up to 1.1MW  thus making it self-sufficient in energy consumption during its operation. Additionally, the conveyor belt transfers excess electricity to the main plant to be used to meet its operational needs.
The completion of the project will help the company to reduce its raw material cost resulting in lower cost/ ton of transport compared to the previous transport of raw materials through dump trucks.