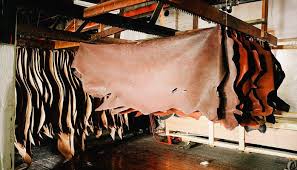 The Pakistan Tanners Association (PTA) has called for removal of customs duty on the imports of basic raw material in the upcoming financial year 2017-18 budget.  As per the tanner's association, not only will this decrease the cost of production but also help them become more competitive.
The PTA Regional Chairman Azam Malik said "PTA wants a level playing field for exporters in world markets as the country's exports are on a constant decline. The high value-added sector has been providing millions of jobs to skilled and unskilled workers." He also put the PTA proposals forward to the government, asking them to allow duty free import of tanning machinery especially the stamping foils used in upgrading leather and other items etc.  He mentioned that the sales tax zero-rating facility for the leather export industry should remain intact which includes all inputs like fuel and packaging material.
Malik said that in line with the Economic Coordination Committee's decision taken last month, the government should proclaim the remaining HS codes for finished tanned leather as qualified for 5pc Drawback of Local Taxes and Levies. He urged the disbursement of duty drawbacks claims under the PM's Rs180b export to be hastened and suggested the government should implement this system in the upcoming budget in its truest sense.  And he added that over Rs300m were lying pending at Collectorate of Customs (Preventive) Lahore in regard to duty drawback which is payable for air-lifting leather consignments from the Lahore airport. Malik also reminded the government to honour its commitment of clearing pending refunds of exporters as quickly as possible.