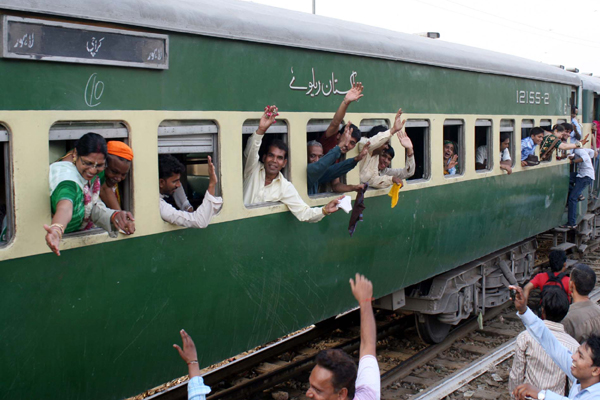 Islamabad: Due to untiring efforts of the management of Pakistan Railways, the revenue of passenger trains has jumped 55 percent and income from freight increased by 31 percent.
"In June 2013, 80 percent of revenue came from passenger and 11 percent from freight," an official in the Ministry of Railway told APP.
Pakistan Railways took several steps during the last four years to make the organization a profitable entity and focus has been shifted towards freight sector which is a profitable venture, as a result of which the distorted product mix of Pakistan Railways has been rectified to some extent.
He said that fuel transportation agreement was signed with Pakistan State Oil for transportation of two million tons of fuel in a year.
Freight Deposit Account based agreements were signed with Maple Leaf Cement and MoUs with Awan Trading Co, the Chishtian Logistics, Jam and Sons, Agro Trade and Best Way cement for transportation of coal, he added.
"Freight sector is being accorded priority in allocation of operational resources. For the first time 55 new freight specific locomotives of 4,000 to 4,500 horse power have been added to the existing fleet that will further improve the share of freight earnings and decrease deficit," the official said.
He said 1,405 high capacity/high speed Hopper Trucks were added for swift transportation of coal.
Pakistan freight transportation Company (PRFTC) was established which singed Inland Coal, transportation agreement (ICTA) with M/s Rui Shandong for transportation of 4.4 million tons of coal from Port Qasim to Yousafwala, he added.
He said that commercial management of Cargo Express train between Karachi Badami Bagh/Lahore was outsourced on daily basis under public private partnership.
The commercial management of Cargo Express train (503 UP/ 504 Dn) between Karachi – Faisalabad via Multan City was also outsourced, he added.
The official said that efforts are underway to re-introduce international ECO Container train on Islamabad -Zahedan-Istanbul route.
He said that terminal facilities are being improved by introducing modern loading and unloading facilities to curtail loading and unloading time.
"Existing track on main corridor (ML-I) is being upgraded under China-Pak Economic Corridor (CPEC) to increase speed of passenger and freight trains and to improve better turnaround of wagons and locomotives," he added.
He said that because of these initiatives 12 freight trains are now originating from Karachi Port beside high availability of about 100 locomotives on Freight Port every day.
Earlier, only eight locomotives were available in freight pool, with less than one train per day coming from port in 2013.