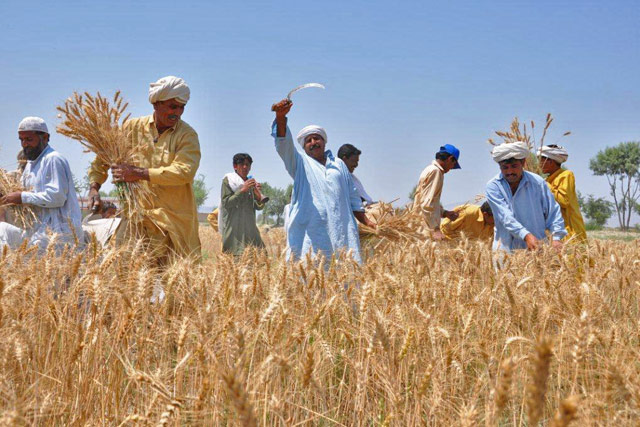 KARACHI: Pakistan Microfinance Investment Company (PMIC) and Alfalah Insurance Company have signed a MoU to collaborate towards the development of need-based innovative crop and livestock insurance products for subsistence farmers.
The MoU was signed by PMIC Chief Executive Officer Yasir Ashfaq and Alfalah Insurance Company Chief Executive Officer Nasar-us-Samad Qureshi at a ceremony held in Karachi.
Chief executives of 4 Sindh based microfinance institutions; Safco Support Foundation, AMRDO Foundation, Shah Sachal Sami Foundation and Thardeep Microfinance Foundation were also present at the occasion.
The MoU identifies areas of development of yield-based crop and livestock insurance products to be rolled out in Tharparkar, Nawabshah, Sanghar, Tando Allah Yar districts of Sindh and Gujranwala, Nankana Sahib, Narowal and Sheikhupura districts of Punjab province. The aim is to mitigate risk and protect the livelihoods of the vulnerable small-scale farmers who often have to deal with a series of risks related to changing weather patterns, market fluctuations, and disease outbreak among others.
PMIC through its borrowing institutions will work with a number of insurance companies to develop livestock and crop insurance products that are expected to serve as a safety net for thousands of subsistence farmers benefitting millions of household members.
Speaking on the occasion, Ashfaq said, "PMIC, as a double bottom line Microfinance Sector Developer, is keen to promote the development of several innovative products with various stakeholders and index-based crop and livestock micro-insurance is one such initiative. Insurance provides an effective risk mitigation tool to protect the livelihoods of vulnerable subsistence farmers, promotes investments in agriculture which enhance yields and accelerates financial inclusion."
Qureshi commented "Alfalah Insurance is actively involved in developing the micro-insurance segment for the past many years. We are proud to be associated with this great initiative and look forward to scaling it up across the country in collaboration with PMIC"
PMIC is set up jointly by, Pakistan Poverty Alleviation Fund (PPAF), Department for International Development (DFID) through Karandaaz Pakistan and the German Development Bank (KFW) to catalyse and lead the next phase of growth in the microfinance sector of Pakistan.