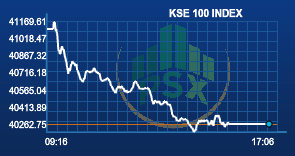 LAHORE: The Pakistan Stock Exchange (PSX) bleed as indices struggled to keep up despite earning reports. Volumes remained low extremely low as the country faces an uncertain future amid the political tug-a-war. Investors played it safe and kept their distance from the market.
Profit reported last week that the political uncertainty has erased $ 18.5 billion from PSX since May this year and KSE 100 has not been able to cross its high of 52,876.46 points on May 24, since.
While talking to Profit a senior market analyst said "The government needs to get its act together if the market is to recover. Since the removal of former prime minister Nawaz Sharif, the market has struggled as investors are scared to invest and this is extremely unhealthy for the market. The market has lost billions in value and it is about time we put an end to this political chaos."
The KSE 100 index broke below the psychological barrier of 41,000 and dropped to an intraday low of 40,258.58 with a loss of 846.83. It settled 781.09 points below its previous close at 40,324.32. The KMI 30 index depreciated to intraday low of 68,530.28 with a 2.21 per cent depreciation. It closed down 1,344.71  points or 1.96 per cent at 68,639.91. The KSE All Share Index was 430.74 points in the red at the time of close. The advancers to decliners ratio stood at 71 to 254.
The market volumes remained thin. Total trade volume stood at 98.71 million out of which 53.19 million shares were traded in the KSE 100 index scripts. Nishat (Chunian) Limited (NCL -4.99 per cent) dominated the volume chart with 6.88 million shares exchanged.
All sectors got hammered. The Cable and Electrical Goods Sector depreciated 3.57 per cent with Singer Pakistan (SING -4.99 per cent) and Pak Elektron Limited (PAEL -4.99 per cent) at lower lock.
Cement sector gave off 3.25 per cent of its cumulative market capitalisation. Lucky Cement Limited (LUCK -5.00 per cent), Fecto Cement Limited (FECTC -4.72 per cent), Gharibwal Cement Limited (GWLC -4.99 per cent), Kohat Cement Company Limited (KOHC -4.90 per cent) and more were all seen floored.
Among the major results announced were Lucky Cement Limited (LUCK -5.00 per cent). The scrip closed at the days minimum possible price of Rs 510.26. It posted a quarter-on-quarter contraction of 7 per cent in sales which amounted to Rs 11.20 billion. This is a little above Rs 10.57 billion declared in the same period last year. Net profit stood at Rs 3.02 billion with per share earnings of Rs 9.33 less than Rs 10.01 in the same period a year back.