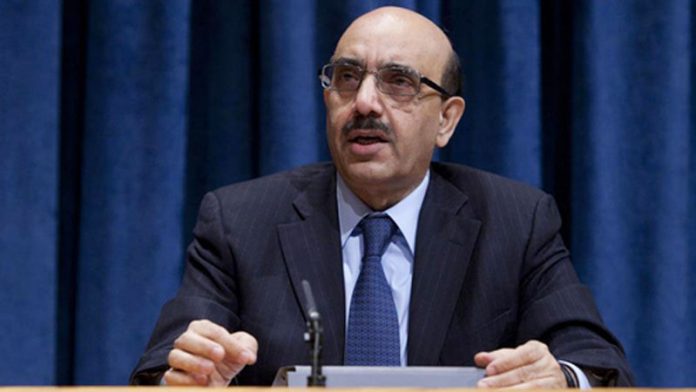 ISLAMABAD: Azad Jammu and Kashmir (AJK) President Sardar Masood Khan said that there is a huge construction boom taking place all over Azad Kashmir, providing great opportunities for local and foreign investment.
The president made these remarks while interacting with a Chinese delegation that called on him here on Sunday.  The delegation comprised of China Nantong Sanjian Construction Group (CNTC) Vice President Jiang Bing, CNTC Business Manager Ding Nan and other CNTC officials.
Masood Khan warmly welcomed the delegation and invited them to visit Azad Kashmir and explore new avenues of investment.  "We will be producing skilled graduates to cater to the dynamically growing job market of AJK and the region," he said.
He assured delegation members that AJK amid its political stability, peace and strengthening the economy, would provide a conducive environment for foreign investors along with opportunities of forming public-private partnerships.
The president said that AJK, owing to its huge youth bulge, an 85 per cent literacy rate, growing middle class, trained workforce, and availability of raw materials, has a huge potential for investment, especially in the construction sector.
Masood Khan informed the delegation that the Chinese government has been actively investing in AJK for the past three decades. He added that with the formal inclusion of Azad Kashmir in the China Pakistan Economic Corridor (CPEC), four projects have exclusively been earmarked for this region which includes Karot (720 MW) and Kohala (1,124 MW) hydropower projects, Special Industrial Zone in Mirpur and the Mansehra-Mirpur expressway.
He said, "After the 2005 earthquake, China had assisted in the reconstruction of Muzaffarabad, Rawalakot and Bagh in AJK, which is an affirmation of the brotherly relationship enjoyed by the people of the two countries."
Jiang Bing briefed the president about the working of CNTC. He said that CNTC was initially established in 1958 as a state-owned enterprise, and is currently one of the largest private sector construction conglomerates working in all provinces of China and in over 20 countries around the world.