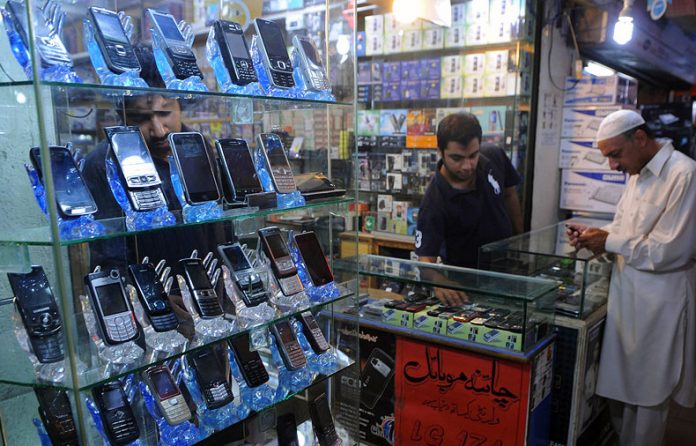 KARACHI: Major price increases have been witnessed in the price of mobile phones, as rupee's recent depreciation and governments decision to crackdown on smuggling has led to a decrease in imports of cellphones.
Prices of feature phones are said to have increased by around 70 percent in November, reported Express Tribune.
Mobile phone imports fell $7m to touch $58 million in November compared to $65 million in same period last year, according to figures released by Pakistan Bureau of Statistics (PBS).
Smuggling of cellphones has been a bone of contention for the authorities and significant steps in this regard have been taken to restrict it. As per market sources, over $10 million worth of mobile handsets are smuggled into the country annually, causing a major loss to the national exchequer.
The Federal Board of Revenue in mid-October levied a duty of Rs250 on mobile phones costing Rs15,000 or more, while Rs300 duty was imposed on handsets costing Rs6,000 or more.
Karachi Electronic Dealers Association (KEDA), ex-general secretary Rasheed Noorani said extra taxes has dissuaded importers from brining mobile phones. But the government's enforcement drive to control smuggling has come at the expense of customers, who now are being forced to pay higher prices for mobile phones.
For example, VGO Tel i700 originally cost Rs2,200 but increase in import duty has caused its price to rise to Rs2,700. And Q-Mobile's E4 originally cost Rs2,500, but levying of import duty has caused the price now to jump to Rs3,300, a Rs700 premium.
SBP's decision to depreciate the rupee may come as a boon for exporters, but importers are facing the crunch as it becomes expensive for them to import mobile phones. Ironically, mobile phone imports in Pakistan were 14 percent higher in first five months of financial year 2017-18, compared to same period last year (SPLY).
Imports in November were 6.49 percent higher compared to SPLY. Telecom imports increased 14 percent or $564 million during first five months of FY 2017-18 compared to SPLY when they stood at $494 million.
Telecom group imports declined 2.31 percent in November 2017, while on a monthly comparative basis it decreased 2.71 percent.