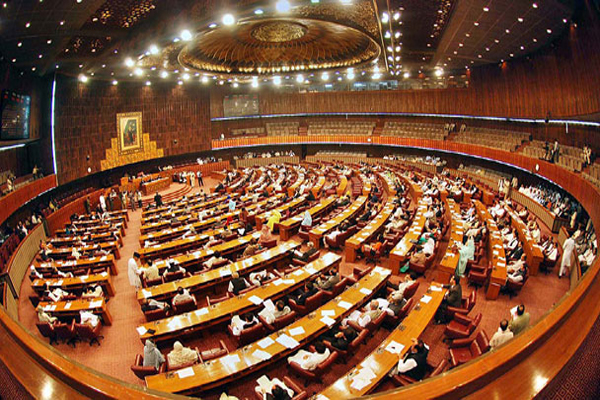 ISLAMABAD: Economic Affairs Division Secretary Arif Ahmed while briefing National Assembly's Standing Committee on Finance, Revenue and Economic Affairs here on Friday disclosed that Pakistan has obtained at least $ 36.80 billion as foreign loans during the past five years and the government has received $ 7.20 billion loans from commercial banks
Under the chairmanship of MNA Qaiser Ahmad Sheikh, Arif Ahmed Khan briefed the committee about overall debt and said that the government has received $ 5.80 billion from World Bank in the past five years, while it has obtained $ 4.40 billion from Asian Development Bank in the same period. The government has also issued bonds worth $ 4.53 billion during the past five years.
The committee, however, showed extreme displeasure on the absence of the finance minister, finance secretary and finance advisor.
Moreover, the committee shared its concerns over the absence of NBP president while considering matters pertaining to promotion policy for National Bank of Pakistan's employees and details of recently promoted officials and criteria adopted.
The committee members told the committee that they had received numerous complaints regarding the recent promotions by NBP under its new promotion policy. However, after a thread bear discussion, the committee unanimously recommended State Bank of Pakistan Governor to thoroughly probe the alleged misappropriations in the promotions of the NBP and report about its findings to this committee in writing within 15 days.
Interestingly, the chairman of the committee, Qaiser Ahmad Sheikh, a PMLN MNA, said that the corruption of Rs 4000 billion is still ongoing in the country, apart from insider trading and smuggling etc.
The Securities and Exchange Commission of Pakistan (SECP) acting chairman briefed the committee on insider trading in the stock exchange. The committee showed concerns and questioned why the SECP had not filed a single insider trading case since 2015. The acting chairman told the committee that SECP has taken cognizance on the offence of insider trading and accordingly has filled 4 criminal complaints before the Court of Sessions.
Later the committee deferred pertaining to "An Eradication of Riba Bill, 2015" (moved by MNA Sher Akbar Khan) and "The Controller General of Accounts (Appointments, Functions and Powers) (Amendment) Bill, 2017" (moved by MNA Asad Umar).
The meeting was attended by Saeed Ahmed Khan Manais, Khalid Mansoor, Dr Shezra Mansab Ali Khan Kharral, Syed Naveed Qamar, Syed Mustafa Mehmud, Asad Umar and Abdul Rashid Godil, Muhammad Ali Rashid and Sher Akbar Khan, MNAs, besides the senior officers from Ministry of Finance and Revenue, EAD, SECP, NBP and Ministry of Law and Justice.