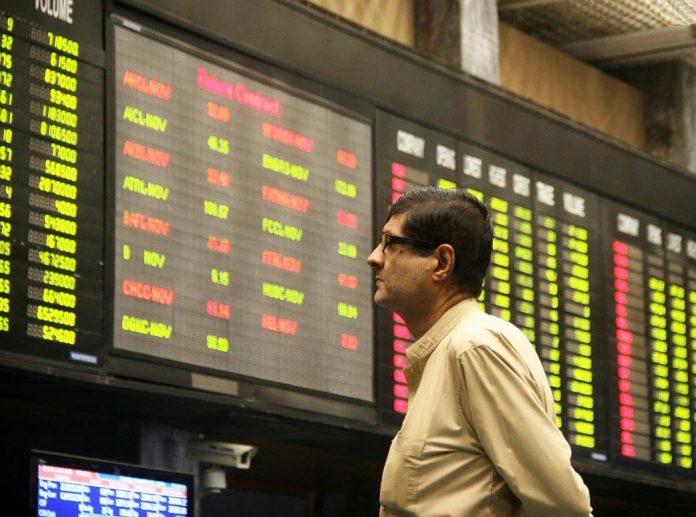 LAHORE: The Pakistan Stock Exchange (PSX) ended a jittery week almost flat. With no major development on the political front and absence of any trigger, the KSE 100 index which opened the week at 44,178.83 ended it at 44,551.13. The interest of foreign investors had been mixed, unlike the past week where they had been net buyers all week long.
The KSE 100 index shed 265.58 points during the day lifting up from intraday low whereby it was down 620.14. The KMI 30 index ended 62.61 points in the red while the KSE All Share Index depreciated by 95.60 points. The advancers to decliners ratio stood at 146 to 175.
The market volumes moved up from 245.73 million in the last session to 270.76 million on Friday. K-Electric Limited (KEL +1.62 per cent) led the volume chart a long way. It garnered volume of 39.16 million. The Bank of Punjab (BOP +0.91 per cent) followed with 19.44 million shares exchanged. Azgard Nine Limited (ANL +3.20 per cent) was next with a volume of 19.25 million shares exchanged.
Lucky Cement Limited (LUCK -1.22 per cent) declared financials for the period ended December 31, 2017. The company registered 7.55 per cent growth in sales compared to the previous quarter. This coupled with increased other income resulted in a net profit of Rs 3.53 billion. Earnings per share clocked at Rs 10.92 higher than Rs 9.33 in the last quarter and lower than Rs 11.75 of the same period last year.
Fauji Fertilizer Bin Qasim Limited (FFBL -3.30 per cent) reported financials for the year 2017. Sales extended by 17.15 per cent in the year which resulted in a gross profit margin of 11.43 per cent. The earnings per share of Rs 1.08 stood 25 per cent lower than that of 2016.
The Monetary Policy Committee decided to raise the policy rate of 25 basis points to 6 per cent, as predicted earlier.