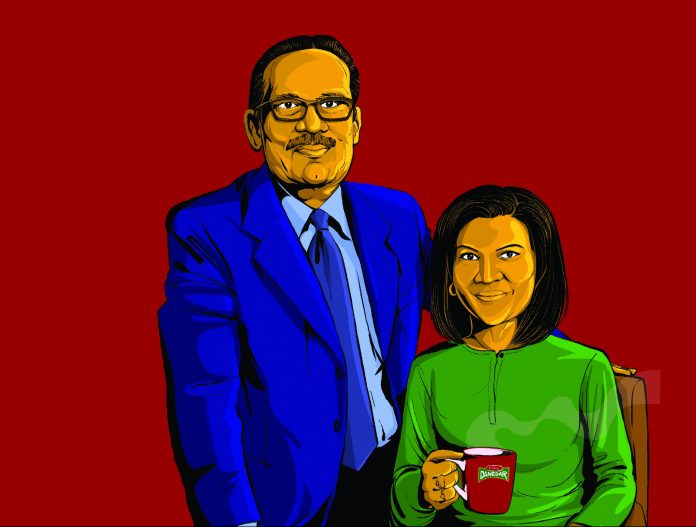 "You can keep wealth in the family only for three generations," asserts an ancient Chinese proverb. Similar aphorisms exist elsewhere. "From the cowshed to the stars and back to the cowshed", and "Shirtsleeves to shirtsleeves in three generations" are deductions made by the wise in Italy and the US.
By the time the third-generation takes over, most family businesses go bust, or close to tanking out, so the sages say. And available data backs this hunch.
"Despite the extraordinary longevity of some individual family firms, the average life-span across family businesses is three generations," one of the world's largest professional services firms PricewaterhouseCoopers (PwC) says in its global family business survey 2016, noting: "typically, only 12% make it that far".
Given the odds of failure being high due to succession, Aftab Tapal is an archetype showcasing how to take a family enterprise so painstakingly built by the pioneer to another, far higher plane.
"Tapal has celebrated 70 years of operating as a business this year. As you can imagine, we have evolved over the years as an institution and successfully adapted to changes that have kept us at the top of the class. This has included one generation handing over the reins to the next in the past as well," said Aftab Tapal while speaking to Profit for this feature.
One of the most revered, and celebrated, figures inheriting a business, Aftab Tapal took Tapal Tea to unprecedented heights in his four decades at the helm. Joining the firm in 1977, he eventually took the baton from his founding grandfather Adam Ali Tapal, who had started it in 1947. The company's annual turnover at the time was 500,000 kilograms.
The junior Tapal expanded his family business 100 times to over 50 million kgs now. No small feat that, particularly if you look at it in the context that it made him the world's largest individual tea importer – as one official with insight into the Tapal business put it.
Uncertainty after decades of growth:
While the last four decades of Tapal's growth certainly belong to Aftab Tapal, the 63-year-old's role in the business has gradually diminished,owing partially to some health issues. He is still the group chief executive and otherwise active, but mostly it is his daughter Mehvish Tapal who calls the shots.
Since Aftab's father and the founder's son Faizullah Tapal never really ran the venture, though in lineage Mehvish maybe fourth, she actually is the third generation to lead the company.
Post her honors degree in Business Management from London's prestigious Imperial College, she was in her mid 20s at the time when she joined the firm in September 2006. Her LinkedIn profile details various job rotations, covering human resource, marketing and supply chain departments before assuming the important role of Director, Sales, Marketing, Operations, Administration and Human Resources.
Though she became a Director much later, in 2010 to be precise, one company official told Profit, she had the chutzpah to make important management decisions from the word go. She had to be put on a fast track for the top job because her siblings had settled abroad.
To some a complete transition to the next generation has already transpired, for almost all day-to-day decisions are being taken by Mehvish; she is also directly supervising important departments.
New era coinciding with Vital threat:
It is quite obvious that the hugely successful family enterprise has entered a new era, one that is likely to test the company overall, as well as the acumen, insight and perseverance of the 34-year-old Tapal scion.
Within two years of her joining, about half a dozen senior executives chose to exit, citing as reasons the new incumbent's 'lack of experience' and 'management style'. An integral part of Aftab Tapal's core team built in the mid-1980s, the departing executives were said to be sick to the core about the needless everyday scrutiny, and instead of getting into too-frequent arguments chose to part company.
The Imperial College alumnus' management style may have been too overbearing for the quitting executives, those who have replaced them assert that questioning and accountability by the business head is par for the course. Be that as it may, human resource remains an area that she has found difficult to tackle – or so her detractors claim.
Having cornered glory, post the parting of key members of the Team Tapal, Mehvish kept on hunting for fresh talent. The tougher part though was retaining the new inductions.
To coincide with Mehvish coming on-board, as if on cue the Haroonabad, South Punjab-based, Vital Group decided to expand its operations to Karachi. But even before Mehvish had entered her family business, as the fastest growing brand in recent years,  the ascendance of Vital tea was giving jitters to both Tapal and Unilever – owners of Lipton and Supreme brands in Pakistan.
Transition:
As they transition from one generation to another, it is typical of family businesses to encounter challenges that might even lead to failure, the PwC study says.
"The most obvious potential 'failure factor' for the family firm is the succession process. The transition from one generation to the next is the faultline in this business model," the PwC says of family-managed businesses.
Change in leadership certainly brings changes to the business, but it works both ways, Arif Iqbal Rana, associate professor at the Suleman Dawood School of Business at LUMS and head of the university's Family Business Initiative said, implying the next generation can make the business even more successful, and not necessarily destroy it.
Though some experts we spoke to say the international studies like the one by PwC hold true in the Pakistani context, Rana says it is difficult to come up with a percentage because there is no local study available on the succession process of Pakistani family businesses.
Even if there was one, Aftab Tapal would still be an exception in the sense that he defied all odds when having stepped into his grandfather's shoes, he thrived like it was nobody's business. But the big question is: Can the daughter pull a similar feat?
Apart from Aftab Tapal, It was deemed appropriate to take views from people familiar with the apparently contrasting father-daughter management style, industry experts and market sources to get a better picture of how the company fared under the younger Tapal and how big a threat the Vital Group was. To understand why it matters and what is at stake, it is important to dig into the history and find out why Tapal is so well-regarded.
The rise and rise of Tapal:
Often touted as a source of national pride, Tapal Tea's legend is rather well documented – stuff of a decent case study for those vying for a postgraduate degree.
In Pakistan's recent history, it won't be far off to say, the Tapal surname is synonymous with the spectacular flourishing of a family venture – a small tea-selling shop in Karachi's Jodia Bazar, the city's oldest and largest wholesale grocery market to a corporate behemoth.
The founder, Adam Ali Tapal introduced a new blend of leaf and dust in the 1960s. The multinational companies (MNCs) scoffed at the initiative back then, but it was the proverbial idea whose time had come. And the rest, as they say, is history.
Aftab Tapal could have continued on the template already in place but his entrepreneurial nous helped him carve his own marketing methods – its cornerstones in the main being product innovation and employing contemporary management. He went into distribution, branding and packaging right after joining. The purpose was to bypass the system of sales depots – a tactic followed by other brands – and go where the customer was – a big relief to the latter who had to make it to Jodia Bazar from all parts of the metropolis and then queue up at the shop to procure their favourite blend.
Soon after taking over Aftab was adamant to create a brand image for Tapal, which at the time was selling its quality product in loose thelis. Tapal's logo as a sticker first appeared on the little bags. That evolved into the tea being properly packaged and branded which led to increase in sales, brand recognition and customer loyalty. Eventually, the process was mechanised and streamlined all under Aftab's leadership.
It is not all about the packaging though, it was the substance that made Tapal so successful. Aftab interacted with tea connoisseurs from across the world to introduce new blends. Tapal's 'Chenak' in 1984 pretty much ended Unilever's 'Red Rose' in Thar district. In 1988, 'Mezban' was launched to cater to the taste of interior Sindh that defeated Unilever's 'Pearl Dust' to emerge as the top brand in the region.
But perhaps Aftab's first major highpoint was the introduction of the 'Danedar', a granular tea that became an instant hit. Other brands followed suit, but the word 'Danedar' is still identified with Tapal.
"Aftab desired to have the distinction of being the largest tea-seller in the country, and he accomplished that," narrated an official with firsthand knowledge of Tapal.
At the time Tapal was working on very narrow margins as the tea it was importing from Kenya cost much more than the Ceylon teas that its competitors were importing. But the strategy of providing higher quality tea at competitive prices paid off in the long term.
Under Aftab's stewardship, the company took the formidable MNCs head-on and became the largest tea seller in the country between 2004 and 2005, surpassing the Anglo-Dutch foods and consumer goods giant Unilever. Within two years, the 21st Century Business and Economic Club launched his autobiography, 'Transforming a vision into reality', documenting his and Tapal's rise for aspiring entrepreneurs.
"His [Aftab's] main strength was he would always hire people who were more qualified and had greater knowledge of the business than him," said the official. A down-to-earth, humble person, Aftab would not mind reaching out to those well below top management for their opinion on critical decisions. Potent advertising campaigns, a robust nationwide distribution network, and innovation have been some of the company's major strengths. Over the years, the brand Tapal has earned a customer loyalty that even direct comparative advertisement by the competition failed to create any dent in its leadership position.
Unilever's Lipton began a direct comparative campaign in 2016 which failed to make any dent in Tapal's market share. Such campaigns rarely do work and data suggests it actually makes customers more loyal to their preferred brand rather than encouraging them to shift to a competing brand. Ironically in the early 2000's Lipton almost took Tetley to court for showing a blurred out image of the former's tea in a TV advert.
In Pakistan, the strength of any tea brand is based on geography. Each region has its own preferences in terms of how their tea should taste and look. In the North, a lighter coloured less strong flavour is preferred buy as you move towards the South the colour becomes darker and the taste stronger. Knowing this Tapal with its portfolio of 20 variants attempts to cater to tea drinkers across Pakistan.
According to a survey by Euromonitor, for the branded tea segment Tapal accounts for 35% or Rs51 billion – the entire pie being Rs147 billion as of December 2016 – of retail value sales. Tapal was among the 100 top tax-paying companies in fiscal year 2013, contributing more than Rs1 billion in taxes, according to the details of Taxpayers' Privilege and Honour Card Scheme, a part of Prime Minister's Tax Incentive Package. Presently, it is the largest fully-owned Pakistani tea business, also marketing its brands in various parts of the world. A shining 'born in Pakistan' example, indeed.
With pride oozing from his assertion, Aftab Tapal said: "Tapal Tea (Pvt.) Limited is the largest tea company in Pakistan both volumetrically and by value, this is according to syndicated third party data."
Enter the younger Tapal:
An article in the Harvard Business Review, Jan-Feb 2012 issue, points out that many family businesses have the same leaders for extended tenures, stretching up to 25 years, increasing the difficulties of coping with shifts in technology, business models, and consumer behavior. "Today family firms in developing markets face new threats from globalization. In many ways, leading a family-owned business has never been harder."
Tapal seems no different as Aftab led the company for well over three decades before the heir apparent could be ready. Besides the privilege – simultaneously a challenge – of managing the country's largest tea brand, Mehvish by default has also inherited the issues that were to emerge. From coping with the unstructured (undocumented) sector, to recruiting and retaining the tried and tested workforce, and facing off an aggressive local competitor, she has been juggling too many balls all at the same time. In carving her own path, little surprise that not all her decisions sat well with the senior lot, some of them preferred desertion over sticking it out with her.
"One of her first major decisions was to reduce the size of Tapal's sales team, but the people she chose to sack were the work-horses. It didn't make sense at all," claimed one in the know with dismay.
To another insider, the younger Tapal wanted to build a new team consisting of MBAs of top universities for sales and marketing functions. That's when the old and experienced employees, who did not have business degrees and specialization, started to leave. This would mean, Tapal had to deal with the unstructured or unbranded loose tea, seriously impinging the growth of the formal sector, without the luxury of an experienced team.
With a market size of 280 to 300 million kilogram (based on customs estimate), Pakistan is the second largest importer of tea after Russia, and one of the largest consumers in the world on a per capita basis, which stands at more than 1 kilogram.
"As a private limited company, we do not disclose these figures as is normal practise", said Aftab Tapal while refusing point blank to disclose turnover and growth rates, however, he informed: "We have outstripped category growth consistently over the last decade or so."
The numbers sound mouth-watering, but the formal sector hasn't been able to tap into it fully. Up from one-third of the market a few years ago, the volume of unbranded loose tea is said to be between 40 to 50 percent of the total tea consumption – according to Aftab Tapal, it is 40%. "The tea category is about 220 thousand tonnes with about 40% of the market being loose and unbranded," says the elder Tapal.
The unbranded sector largely remains undocumented (evades duties and taxes), making their tea cheaper compared to the legitimate players. Their network is spread across the country, and is hurting the growth of the entire industry, and not just Tapal.
Aftab Tapal agreed that the smuggled tea is one of the greatest challenges.
Detering that threat would require a larger and experienced workforce, but our sources say the size of Tapal's human resource has reduced in the recent years.
 "The senior employees who left, didn't like a 24-year-old questioning them because the old guard had made it an ego issue," said an official who was part of the younger lot recruited under Mehvish's stewardship. Explaining, he said these employees, mostly in their 50s, had played with her when she was a child and saw her grow up in front of them. This transition, he went on to say, was normal for most family businesses.
Aftab Tapal's take is diametrically different: "Mehvish entered the company when most of the staff were reaching their retirement age as per Pakistan law. With regards to senior executives leaving, we have had many employees who have spent the better part of 30 years with us and have left because the Pakistan laws stipulate 62 years as retirement age, so they have parted with handsome retirement packages."
"A fresh brain always brings in new ideas and a lot of changes so it was obvious she would do things differently," the young official said referring to the changes the younger Tapal made during last six to eight years.
Aftab Tapal, concurs with the aforementioned assertion in his talk with Profit, giving his daughter a thumping vote of confidence: "As part of the ongoing move to make the management structure more professional and capable, the induction of the next generation has been done with Mehvish at the helm.
"Tapal is the outright volume leader in the tea category and we have outstripped category growth for the last five years.
"This has happened because of our commitment to unwavering quality as well as innovations. So that tells me we are on the right track. Tapal did not enter tea bags and green tea for higher margins. We are trying to lead the future global trends and these teas do not come cheap."
For the uninitiated, these initiatives were Mehvish's brainchild.
That said, based on the input Profit garnered from officials familiar with the management styles of both the Tapals – the two are polls apart in their approach.
Aftab Tapal was the old school who would consider employees as family members. He was of the opinion that employees should share the profits, as evident from bonuses he would shower on them every quarter. At times, bonuses would be higher than salaries, one official said. For important management decisions, he would go to several employees and reach out to the concerned teams and seek their opinion beforehand.
Mehvish, on the other hand, is more of a 21st-century style leader, the official claimed She thinks employees should be treated as employees and they can be questioned about their performance. She also reduced the number of bonuses from four (one each quarter) to only one performance-based bonus per year. Similarly, she thought important decisions should be taken by top management, and not employees – Tapal's Strategic Management Committee comprises almost entirely of Tapals with only one member from outside.
However, there is one constant in their respective leaderships: both hunted for top talent. "Though a visionary leader himself, Aftab used to hire people more qualified than him," said an official. Mehvish, too, wants the country's top business graduates in her team. But in her case, it hasn't been easy.
The company is finding it increasingly challenging to retain talent, especially in the marketing department.
According to an industry expert, who provides consultancy services to fast moving consumer goods companies (FMCGs), Tapal is unable to recruit top talent because it is offering lower salaries compared with what is paid by other FMCGs for similar jobs.
The Tapal Chairman offers a strong rejoinder. Dispelling doubts, he stated: "Our current management mainly includes top professionals with long-term MNC experience, both local and international. It is a reflection of the competitive pay structure and environment that we offer. We are market benchmarked using Mercer's survey in order to offer competitive compensation and this is part of the progress and evolution of the company under Mehvish's management along with a competitive, performance-based culture."
The Vital threat
Since overtaking Unilever over a decade ago as the top tea brand in the country, Tapal has mostly kept competition at a distant south, but that equation seems to be changing because of Vital Tea, the fastest growing brand in recent years.
Since both Tapal and Vital are private companies, they don't publicly release financial data. Unilever too doesn't publish these figures. It is, therefore, hard to measure the exact market share of any of these players. But by all estimates, Tapal is the market leader. Unilever is the second largest brand by most accounts. Vital, on the other hand, became the third-largest company after surpassing Tetley a couple of years ago.
Vital is a serious business threat to the entire industry, not just Tapal and Unilever, insisted an importer and member of Pakistan Tea Association, an importer-body comprising 146 members. "Several small companies are enhancing their share, but Vital has become a big player – obviously a concern to the status quo," he said.
Refusing to be drawn into a discussion about his competitors, "It would not be correct of me to comment on the workings of our competitors", responding to another question, though not directly naming Vital for indulging in underhand tactics, Aftab Tapal still obliquely hinted at it while speaking of the threat from that quarter and why it was difficult to counter: "For all legitimate corporate citizens, the main challenges are smuggled goods, competitors that evade taxes and duties and offer inferior products at low prices."
Vital Tea, the signature product of Group, has been operating since 1991 under Eastern Products Private Limited, but it was mostly catering to rural Punjab and Sindh, thus remaining lesser known.
When it launched in Karachi some eight years ago, it was selling 500,000 kgs per year across Pakistan and wasn't even 5% of the market. But based on latest estimates, it is selling 1.5 million to 2 million kgs per year, which translates to a growth of 200-300%, highest by any brand in the review period. The company now enjoys 15 to 17% share in the market based on industry estimates.
Vital Group didn't entertain Profit's request for an interview with its chairman, Haji Muhammad Yasin. But industry sources say, this former distributor of Unilever always had business acumen; all he needed was to find a big investor, which he eventually did.
Vital's chief indeed is a smart cookie. At Vital's launch, he did not directly confront Tapal or Unilever. Instead, he went to the hinterland, where the two giants had limited outreach. Even when entering Karachi, he first went to the outskirts like Gulbai, Surjani, Landhi, Korangi and Malir etc. Having captured the market there, he stepped into the mainstream wholesale market, ventured into urban centres, to take on the big guys. Vital is the only company that first went to the rural areas and then to the urban centres – the exact opposite of the traditional approach.
Yasin's philosophy was to offer credit to retailers. He would give tea on credit as opposed to Tapal and Unilever who would sell it for cash, one of the reasons why retailers would prefer selling his products, said an industry expert.
"Many people have switched to Vital recently because of its aggressive free sampling," an official said giving an example of the promotion campaign the company ran at all airports a couple of years ago. The airport campaigns were meant to lure the middle and elite classes.
It is so aggressive in free sampling that it even goes to small events (with 15 to 20 people in attendance) like a kabbadi match in a small off the beaten track rural town in Punjab and offer free tea to the crowd. The onground free samples are complemented with a strong electronic media campaign. For example, from initial commercials that would target labor class, the ads have changed and now includes all income groups in a single commercial.
That said, experts and even Vital's competition agrees the company offers a good blend of tea as marketing and advertising alone can't make people switch brands that easily.
Though Vital has eaten mainly into the market of Unilever, which has lost volumes in recent years, market sources say it is catching up very fast and is now threatening Tapal's dominance. In fact, the two are even fighting for exports as Vital has expanded into all the international destinations where Tapal has a strong presence.
"I think Tapal is now more focussed on high margin, value-added section as opposed to economy of scales," the expert said, which is exactly what Unilever is doing for some years. "Vital, on the other hand, seems to be doing what Tapal did many years ago, playing on volumes," he said recalling Aftab Tapal who was 'definitely a volumes guy'. "In FMCGs, you can't be complacent, if you give space to competition, they will jump on the opportunity," he said referring to examples of PepsiCo and Haleeb, which lost significant share to rivals Coca-Cola and Engro Foods respectively. And he was not the only expert with this view.
"Tapal's philosophy has changed, they seem to be moving to high margin items like tea bags and green tea," said another official – under Mehvish's leadership, the company has introduced four flavors of green tea and also launched an instant tea mix. By contrast, Aftab Tapal's dream was to be the largest tea seller in the country, which is why he always focused on volumes. "Tetley wound up, Meezan Tea came but it could not fit in either. Tapal, on the other hand, shifted its strategy and it left a gap that Vital has cashed in on," he said.
Moreover, the change in company culture seems to have a role too, the official said. "Unlike old employees who served the better part of their lives at Tapal, latest recruits switch jobs frequently and there is no loyalty or employee commitment. Some of these people lack knowledge of the job and market," he added.
In the meantime, Vital has been adopting strategies that were once Tapal's: a strong marketing campaign, large distribution network and a good blend. However, an official with insights to Tapal, says the local tea giant is apprehensive of the way Vital operates.
For example, he said the south Punjab-based tea maker has political connections, which earned them favours. Vital got the permission for the airport campaign, but Tapal was turned down, he said. Since Vital didn't entertain Profit's multiple requests for an interview, we could not get their comment. However, it is pertinent to mention here that in the past Tapal has received the same permission and also did a successful promotional campaign at all airports.
Though the official agreed Vital is the fastest growing company, which has worried Tapal, he added the latter didn't lose any share. "Tapal Tea is continuously growing under Mehvish," he said adding the industry overall grew by 5% in 2016, but the company witnessed 10% growth in the same period.
Giving other examples, the official said Mehvish introduced four new flavors of green tea, which resulted in higher sales in that category. Her other venture, Instea, an instant tea mix, didn't do well when first launched in 2009. To this, he said the market wasn't ready then, but she relaunched it in December 2015 and it clicked.
When comparing growth figures it is important to note that Tapal is already a very big company and has a large base, therefore, the growth figure may look small in terms of `percentage when compared to Vital, which is much smaller brand, the official said. For example, if Tapal raises volumes from 50 million kgs to 55 million kgs, it translates to a 10% growth. But, if Vital raises volumes by the same 5 million, that is from 15 million to 20 million, it will be a growth of 33%.
The market share of all these brands varies depending upon which data one quotes. For example, Euromonitor estimates Tapal's share to be 35% of the retail value sale, not counting exports and Unilever at 21%.
Interestingly, the global research firm doesn't count Vital in the top three and instead estimates Tata Global Beverages (Tetley) to be the third-largest player with a 10% share in retail value sale in 2016 – Tetley had wrapped up operations in Pakistan two years ago and is currently not available in the market with the exception of smuggled quantities.
"The report was published in Jan 2017, the analysts researched the market details and dynamics upto that date and publish their findings," the research firm said responding to a query by Profit. "Vital Tea is currently documented under our "Others" section. We are aware of the fact that it is a conspicuous player in the market and we will cover it as a separate entity in our next edition (due in 2018)."
Nielsen is another global research firm that has studied market shares of all tea brands, but both Tapal and Unilever discontinued its service after they found a notable difference in its findings and their own sales data – we could not obtain the copy of Nielsen's report.
Then there is the Pakistan Tea Association, which relies on customs data, and estimates that the market size is between 280 million kgs and 300 million kgs, of which 50% is unbranded tea. Of the remaining half, Tapal imports around 50 million kgs, Unilever's share ranges from 30 to 35 million Kg while Vital imports up to 15 million kgs a year.
The legal import figures are authentic but most estimates including those by global research firms do not include export data. Secondly, a large quantity of tea is smuggled into the country, therefore, it is almost impossible to get the accurate data unless all the brands share their figures.
However, in a surprising revelation, an official from Vital, who requested anonymity since he is not authorized to comment, said Vital has already crossed Unilever. "We import 3 million Kg per month (36 million Kg per year)," he said – and Tapal is much higher than 50 million Kg, he said.
Responding to a question, the Vital employee said they sell 500,000 kgs per month just in Sindh, where they are number three. "If you add Punjab, where we are 80% of the market and rest of the country because collectively we we sell 3 million kgs every month."
The Vital figures are almost double of what industry estimates indicate. However, if the numbers are accurate, Tapal should be worried. "When Unilever was all over the country, it did not give much thought to losing most of that market to Tapal," the official said adding, "If Tapal can beat a global giant, we too can be the market leader."
An IPO on the cards?
"Mehvish is still young. Maybe, going forward, she can prove to be a good leader," said an official. However, he added that the company may go for an initial public offering, which will be a logical step – a view widely endorsed by almost every source we spoke to for this article.
"Empirically, non-public family businesses perform worse than publicly listed professionally run companies, but those professionally run companies are outperformed by publicly listed companies that still have a family as their major shareholder," says Professor Rana of LUMS family business initiative – and others seem to agree.
"Maybe an IPO will help solve their problems because once they move to corporate governance led by a board and have professionals running the company, they can grow further," said another official. Aftab Tapal is a shy person and did not like the idea of facing shareholders, but Mehvish is likely to go for it, say sources.
In fact, an official with insights to the company said as per his knowledge Tapal Tea has already sold about 20 to 22% stakes to an investor in Dubai in 2015 or before. (This information, however, was categorically denied by Tapal).An IPO is in their long-term plan because the overseas investor is a little worried and would obviously like to monetize his investment. If listed within a year or two, Tapal's IPO will be oversubscribed and the stock will sell like a hot cake, he said – and the sector's forecast explains that optimism.
"Tapal is a professionally run company that constitutes a non-executive board that includes family members as well as external representation. Most of the largest companies in the world today were at one point small family run business. This holds true for Walmart, BMW, P&G etc. Each company will find its own path and its own timing to evolve. There is no direct formula for success, each has to find its own," said Aftab Tapal, staying non-committal on the issue.
The off-trade tea sales rose by 6% in terms of volume and 11% in terms of value in 2016, according to Euromonitor. Tapal Tea led the market with 35% share in value. The research giant says tea consumption was fuelled by population growth and the shift from loose unbranded tea to branded alternatives. The share of unbranded tea is gradually declining due to the increasing affordability of branded products as a result of rising disposable incomes, it said.
"Tea is expected to post an off-trade value compound annual growth rate of 8% (at constant 2016 prices) over the forecast period that ends in 2021," it said.
The Euromonitor forecast is optimistic about the growth of tea in Pakistan and identifies Tapal as a strong brand well placed to cash in on the opportunity – the PwC study, on the other side, is not too optimistic about third-generation leaders of a family business.
"Only 3% [of family businesses] survive till four generations," the PwC says. How Tapal's new Czar leads her legacy will determine which side of the equation the company ends up at.
Aftab Tapal, though, for his part, remains optimistic: "The local market is still vibrant, we are a heavy tea consuming nation so opportunities will always exist for companies that provide specialized offerings to our varied taste palette. We export to over 30 countries where our blends are sought after and we plan on widening that footprint. Additionally, Tapal has always taken the lead in various SKU's to compete with the competitors."
Last updated 8th Feb 2018–
With assistance from Aisha Arshad
---