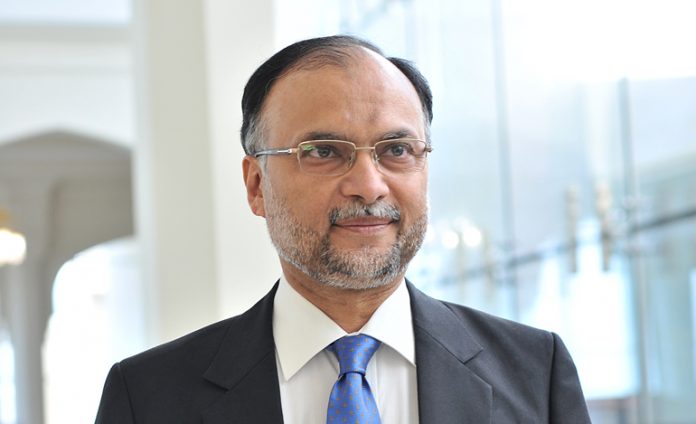 ISLAMABAD: While speaking about the global economy, Federal Minister for Planning, Development and Reform, Ahsan Iqbal said that undermined economies in the world can only overcome their issues if they can create new demand for trade in the world economy.
While addressing the International Monetary Fund's (IMF) conference on macroeconomic and financial frameworks for successful implementation of the belt and road initiative, he stated that new demand comes from new markets and new markets only come through new and better connectivity.
The spirit behind the Belt and Road Initiative (BRI) is to connect the dots by improving connectivity and open new markets. The new markets would then create new demand and would lead us towards growth, maintained the minister.
He said that Pakistan has witnessed noteworthy progress in the energy sector. Where we used to have power shortages for 16 to 17 hours, we now have power available for 16 to 17 hours.
He said that Pakistan's industrial production has increased considerably. In the current fiscal year Pakistan has achieved 5.8 per cent of GDP growth rate, whereas we were stuck at 3 per cent average growth rate from the years 2008 to 2013.
Federal Minister said that in Pakistan, the construction industry itself has witnessed a great boom and its related industries inclusive of steel, cement, services and logistics have generated robust growth.
While talking about Special Economic Zones (SEZ's), the minster said that beyond infrastructure, Pakistan is going to establish 7 special economic zones to promote industrial cooperation. The end objective of developing the industrial infrastructure is to foster industrialization in the country.
He said that Pakistan is aligning its national, regional, and bilateral programs with CPEC. We feel that there has to be a positive synergy between the investments we have in other multilateral arrangements with the Belt and Road Initiative so that that all could be integrated to create more value.
Pakistan has setup a parliamentary committee to carry out the oversight of all Belt and Road and CPEC projects in order to ensure all parties are on board and result in inclusive development.
The minister said that Pakistan makes sure that all projects are based on prudent analysis. There is a joint working group of both Pakistan and China that thoroughly examines every project for its financial viability and for its fitness to be in the portfolio.
He said that we ensure that all projects meet the process of planning, process of feasibility, and overall reserves.
Ahsan Iqbal added that we feel that there is a big knowledge gap that exists between our private sector business and the Chinese economy. He said that traditionally, Pakistan's business setup was aligned with North America and Europe. We are now trying to create linkages and have recently established a consortium of business tools of China and business tools of Pakistan to promote more business-to-business linkages.
Pakistan is also working on the capacity building of its chambers so that in this infrastructure it could build a more robust business-to-business partnership between the two countries.