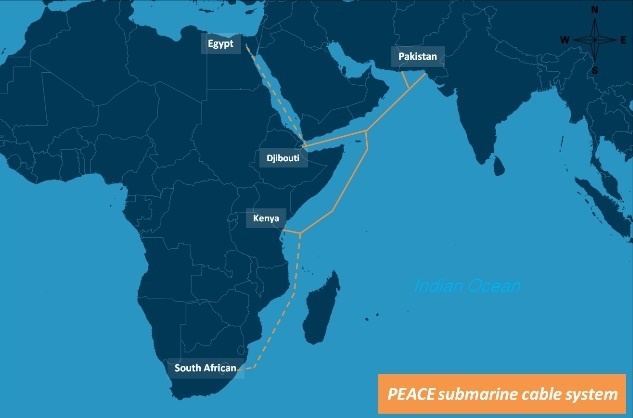 LAHORE: Pakistan internet backhaul is expected to receive a significant boost with the addition of an upcoming submarine cable called PEACE cable with landing routes in Karachi and Gwadar.
This submarine cable which is expected to be active by end of 2019 will have over 60 Tb capacity and is expected to stretch to Africa and Europe.
It is named PEACE (Pakistan East Africa Cable Express) and is a joint venture between Huawei Technologies and Global Marine Systems Limited, Huawei Marine Networks.
In its first phase, PEACE will comprise a 6,200km network connecting Pakistan (in Gwadar and Karachi), Djibouti, Somalia, and Kenya. It will eventually span 13,000km, reaching South Africa and Egypt.
According to sources, Pakistan's leading cellular provider Jazz and internet service provider (ISP) Cybernet have been shortlisted as the intended landing parties for the PEACE cable in Pakistan.
Recently a high-level conference organized by PCCW Global, PEACE and Huawei Marine held in Dubai was attended by all the leading international landing parties, which was said to be a major success.
ICT expert Parvez Iftikhar tweeting about the PEACE submarine cable said:
This system, designed by Chinese company Tropic Science, depends on 200G dense wavelength division multiplexing (DWDM) technology – used to increase bandwidth on fibre networks by transmitting multiple signals at once, at different wavelengths but on the same fibre.
The system was designed to deliver a capacity of up to 60Tbps.
Currently, Pakistan is served by six submarine cables and has suffered frequent internet outages which have left services crippled across the country in the recent past.
In July and August 2017, the severing of two leading submarine cables which form the backbone of Pakistan's internet bandwidth led to a major slowdown of services across the country.
With the PEACE cable expected to come online by end of 2019, the country's internet connectivity and backup will receive a major boost, leading to less frequent outages and disruption of services.
Not only will the addition of PEACE cable overhaul the country's internet infrastructure, but the reliability of services and will also reduce dependence on other submarine cables in case of their severance.