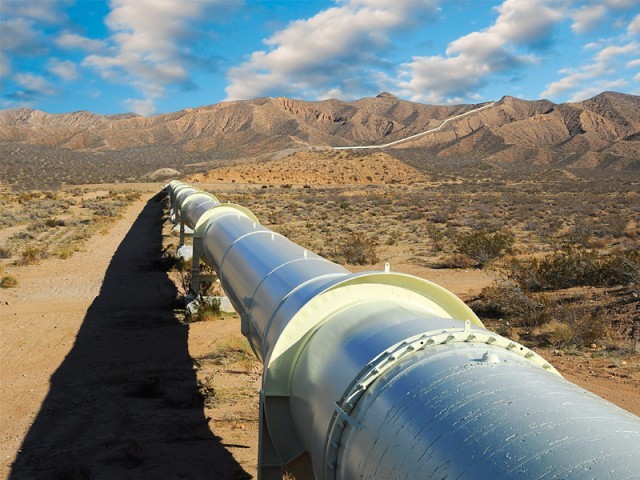 ISLAMABAD: The Petroleum and Natural Resources Division has planned to review implementation on Iran-Pakistan gas pipeline project with its Iranian counterpart aims at finalizing all outstanding issues, especially in the wake of international sanctions on the commodity supplier.
In the next fiscal year, the division will review the implementation on IP project in consultation with the Iranian counterpart to discuss and finalise all outstanding issues, including amendments in the Gas Sale Purchase Agreement (GSPA) for preparing revised implementation framework for completion of the project, sources told APP on Friday.
They said the petroleum division is planning to negotiate amendment in the GSPA with Iran to execute the much-delayed gas pipeline project. Pakistan is committed to the execution of the project.
Due to international sanctions on Iran, Pakistan issued force majeure notice to Iran in March 2014 and proposed an amendment in the GSPA, enabling the parties to complete their respective sections of the pipeline within the extended period, the sources added.
There were multilateral and unilateral sanctions imposed on Iran, they said, adding that the multilateral sanctions are imposed by the United Nations, while the unilateral sanctions are slapped by the United States, United Kingdom, Canada and European Union, the sources said.
The sources said the Iran-Pakistan gas pipeline project had come under discussion during the visit of Iranian President to Pakistan in March 2016 and both the sides had agreed to resolve all outstanding issues.
The 56-inch pipeline would start from the onshore gas processing facility at Assaluyeh in Iran to transverse a distance of 1,150km up to the Iran-Pakistan border, which would be built and operated by Iran, the sources said, adding that the Pakistan section of the pipeline, around 781km, is to be laid near to the Makran coastal highway from Iran-Pakistan border up to Pakistan off-take point at Nawabshah.
The gas volume is 750 million cubic feet/day (mmcfd), they said. The sources said Inter-Governmental Framework Declaration was signed between the two countries on May 24, 2009, while GSPA had been agreed on June 2009.
Subsequently, Pakistan issued sovereign guarantee on May 28, 2010. The project consultant was appointed on April 11, 2011, while the design, feasibility, route survey and other formalities of the project were completed on September 8, 2012.