LAHORE: A new entrant into Pakistan's auto sector, South Korean auto manufacturer KIA Motors, in collaboration with its local partner Yunus Brothers Group – Lucky Cement, has launched two new vehicles, the Grand Carnival an 11-seater family passenger car and a one-tonne pickup, in the form of completely built units (CBUs).
Profit earlier reported that KIA had launched its first passenger car, the Grand Carnival after 9 years in Pakistan since its comeback to the Pakistani market after 9 years, shortly followed by Frontier K2700.
The cost of the Grand Carnival starts from Rs3.9 million, while price tag for the one-tonne pick-up stands at Rs1.9 million.
After signing an agreement with the Ministry of Industries and Production last year for the production of light commercial and passenger vehicles, the company has now opened its first dealership in Karachi with plans to open more across the country.
Article continues after this advertisement
KIA Motors is launching its vehicles through a joint venture with Lucky Cement. It has partnered with Yunus Brother Group to form Kia-Lucky Motors and in order to set up an auto assembly plant in Pakistan, KIA has invested $150 million.
Speaking on the occasion, KIA-Lucky Motors CEO Asif Rizvi said, "We are very pleased at the opening of the first KIA dealership with the launch of Grand Carnival, which is a multi-purpose passenger vehicle for families. In a short time, more KIA dealerships will be opening up across Pakistan."
He revealed that the company was also building assembly plants and working on transfer of technology and vendor base expansion that would generate enormous job opportunities and investment, thus creating a healthy competition in Pakistan market.
Frontier K2700 pickup
The Frontier K2700 pickup is available with 2,665cc diesel engine mated to a 5-speed manual transmission. It produces 80 horsepower at 4,000 rpm and 165Nm of torque at 2,400 rpm.
The length of the deck is 2180mm, 1630mm, and 844mm with 3 way opening access, with a 60-litre fuel tank capacity.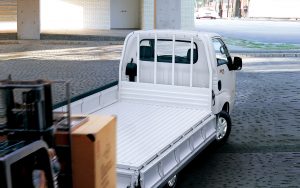 Other features of the pickup include power steering and windows, central locking system, fog lamps, 3-way opening rear deck, disc brakes, radio, USB and AUX option, and heater.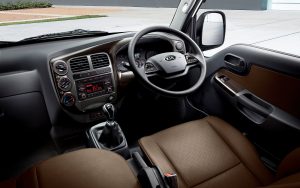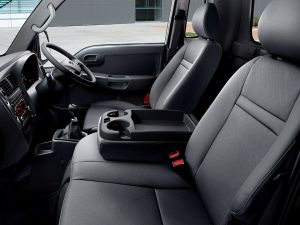 The pickup has been launched in two trims, standard, and XL. The XL along with standard features has 6-wheel configuration and boasts a longer loading deck.
The standard variant would sell for Rs1.99 million, meanwhile, Frontier XL K2700 pickup is priced at 2.04 million. KIA-Lucky Motors will offer 4 years or 100,000km warranty with all vehicles.
In Pakistan, the Frontier K2700 pickup directly competes with Ghandhara's JAC X200 and Dewan's Daehan Shehzore.
A booming auto industry
For over two decades now, Pakistan's passenger car sector has been dominated by three major players; Honda, Toyota and Suzuki. However, in a bid to improve competitiveness and discourage imports, the government announced the Auto Development Policy 2016-21, attracting many local and international players to the passenger car sector.
Apart from Kia, South Korean companies Hyundai and SsangYong Motor, Germany's Volkswagen, France's Renault and Japan's Nissan have also announced plans and formed partnerships to enter Pakistan's auto market, most probably in the next one year.
Local importers like United Motors and Sazgar, the manufacturers of two-wheel and three-wheel vehicles, have also made plans to enter the country's lucrative four-wheel industry.
The government's Auto Development Policy 2016-21 has been credited with paving the way for new entrants and subsequently breaking the monopoly of three Japanese manufacturers in Pakistan's auto market.