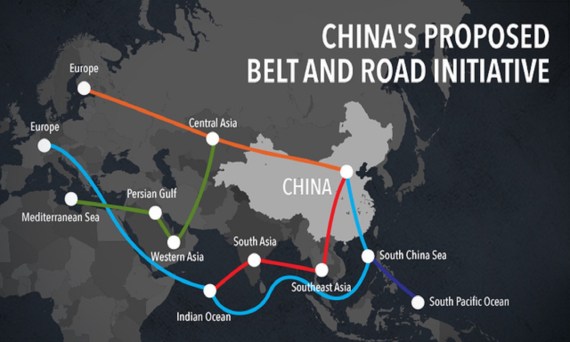 LAHORE: A report says the Belt and Road Initiative (BRI) could help in halving trade costs for countries involved in the project and increase world trade by 12 percent.
A report prepared by ING Economic and Financial Analysis says BRI is growing transport connections between Asia and Europe. It said trade between the countries involved accounts for more than a quarter of world trade, so improved connectivity and lesser trade costs which come with it would have a significant global impact.
ING's report says countries in Central Asia and Eastern Europe would gain the most from BRI, however, benefits would be contingent upon where trade costs decrease.
It adds "other parts of the Trans-Asian rail network do not yet support international freight services to the same degree. Gaps in the network require around 12,400km of the track to be laid (some 10% of the network). 3 Routes through Iran and Turkey (designated as the BRI's China-Central Asia-West Asia "economic corridor") could offer an alternative route between China and Europe, as well as connecting China, the Middle East and North Africa by rail. However, this will only be feasible with more investment to construct and upgrade the network and its supporting infrastructure."
Furthermore, ING says "The majority of goods traded between China and the EU are transported by ship through the Suez Canal. The Road element of the BRI involves China – through its liner and terminal operator Cosco – developing a portfolio of ports with highly efficient terminal operations (loading and unloading container ships) and connections to overland transport networks. Ports along the Road may increasingly function as gateways inland rather than just handling the trans-shipment of containers to be unloaded elsewhere. Key ports along the Road are Piraeus (Greece), as an access point to and from the EU, and Gwadar (Pakistan), as a link between the Belt and the Road."
It warns "trade facilitation is a barrier to trade for many countries involved in the BRI. Customs checks are part of the issue, although there are schemes which help to smooth the passage of goods between China and Europe. The 'Smart and Secure Trade Lanes' project operating in 16 ports aims to streamline customs processes and other checks. The use of standardised consignment notes on the block trains performs a similar function, helping to bridge the different legal requirements on goods transport in the EU and Asia."
ING's report shares that opportunities already exist for transportation of goods using rail between China and Europe, which could attract a wide range of industries with time-sensitive inputs and products.
And it said impacts of the BRI could take years to be seen since several projects were ongoing and the scheme was open-ended.