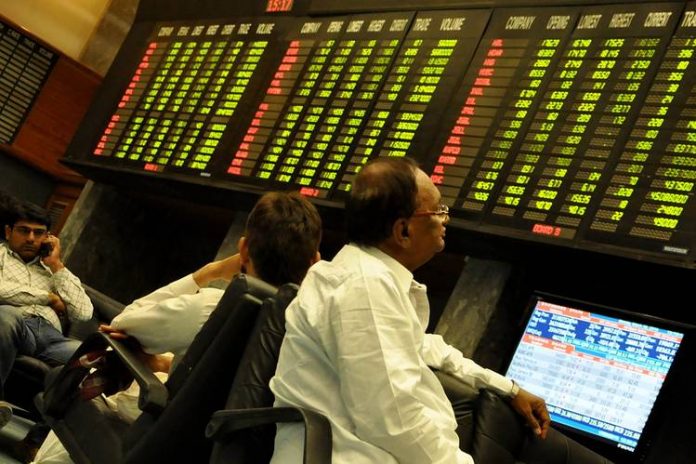 LAHORE: After racking gains for last 3-weeks, indices at Pakistan Stock Exchange (PSX) lost 0.6 per cent WoW as investors remained concerned over external account issues faced by the country and opted for profit taking. Furthermore, concerns over the likely impact of rupee devaluation on select sector kept automobile, cement and engineering under pressure.
In Thursday session, the KSE 100 index marked an intraday high of 43,431.13 with a rise of 223.63 points and ended higher by 173.18 points at 43,680.68. The KMI 30 index jumped 450.26 points after the oil and gas exploration sector swelled up its market capitalisation by 1.19 per cent. The KSE All Share Index gained 138.37 points with 177 advancers and 119 decliners.
The market volumes inched up from previous sessions 111.90 million to 117.54 million. Banks dominated the volume chart taking up all three top spots.
The Bank of Punjab (BOP +1.14 per cent) led by miles. The script had 15.73 million shares exchanged. Next on the chart, Summit Bank Limited (SMBL -5.93 per cent) saw investors exchange 5.15 million shares. Bank Alfalah Limited (BAFL -0.41 per cent) followed with volume of 5.04 million.
The chemical sector largest gainer which added 2.54 per cent to its cumulative market capitalization. Biafo Industries Limited (BIFO +5.00 per cent) and Colgate – Palmolive (Pakistan) Limited (COLG +5.00 per cent) both traded at the day's maximum possible price.
The pharmaceutical sector also closed with decent gains, sectors market capitalisation increased by 1.50 per cent. GlaxoSmithKline Consumer Healthcare Limited (GSKCH +2.65 per cent) was the top gainer here.
The oil and gas exploration sector topped up its market capitalisation by 1.19 per cent. Pakistan Petroleum Limited (PPL +1.81 per cent) and Pakistan Oilfields Limited (POL +1.12 per cent) had noticeable increase.
Resultantly, engineering, cements and automobile sectors were down 5-6 per cent during the week on fear of margin dilution owing to rupee devaluation. In contrast, oil and gas exploration (E&Ps) rose 3 per cent on the back of higher oil prices (up 2 per cent WoW to $66/bbl.
Market participation during the week showed a slowdown, where volumes and value both went down by 48 per cent and 28 per cent, respectively.
Foreigners remained net seller for the six consecutive weeks amounting to $4.4 million against net selling of $29.5 million last week. On the other hand, amongst local investors, companies were net buyers of $10.6 million and mutual funds were net buyer of $2.1 million.
The State Bank of Pakistan reported its foreign exchange reserves of $10.07 billion for the week ending June 8, 2018, up $24 million over the previous week. The foreign exchange reserves held with banks was reported at $6.4 billion, taking total country's reserves to $16.5 billion.
Atlas Honda Pakistan (ATLH) has increased prices of its motorcycles for the third time during the last six months by Rs900-2000 (1.5 per cent-3 per cent) with immediate effect. This has been done to pass on the impact of currency devaluation where the Pak Rupee devalued by 3 per cent on Monday.
As per the material information sent to PSX, Millat Tractors (MTL) has achieved production and sales target of 42,500 plus tractors for the year ending June 30, 2018, which is the highest ever volume in the history of the company.
Moreover, Board of Directors of Ghani Gasses (GGL) in its meeting held on Thursday has approved the corporate restructuring of certain Ghani Global Group Companies subject to obtaining all regulatory approvals. Manufacturing undertaking of the company shall be demerged from the company and shall be merged and amalgamated with and into Ghani Chemical Industries against the issue of 100 million shares of Rs10 per share of Ghani Chemical Industries in favour of the company at a premium based on valuation/swap ratio to be decided. Ghani Chemical Industries is a subsidiary of Ghani Gases with 95 per cent interest.
In another notice, Ghani Global Glass (GGGL) approved a scheme of arrangement which envisages transfer of shares of Ghani Global Glass held by its sponsors to Ghani Gasses against issuance of shares of Ghani Gases to the sponsors to make Ghani Global Glass a subsidiary of Ghani Gases and the transfer of loans payable to sponsors of Ghani Global Glass to Ghani Gasses.