When other nations were making inroads into business process outsourcing, poor broadband infrastructure, inadequate human resource, and deteriorating security situation were wiping out the industry in Pakistan, resulting in two decades of lost opportunity. With most of these hurdles now removed and a business-friendly IT policy in place, can we grab a slice of the $180 billion BPO market?
Strategically located, just a 20-minute drive from the heart of Karachi's business and banking district, Centre Point – the 29-storey office tower, making it one of the tallest amongst skyscrapers in the country –  is a state-of-the-art corporate tower, offering prestige and comfort. In close vicinity of I.I Chundrigar Road, Saddar, Clifton, Defence, Shahra e Faisal and Korangi Industrial estate, the Rs650 million skyscraper boasts of every conceivable amenity a modern corporate office would demand to boot: high-end IT infrastructure with fibre-optic connectivity, rooftop swimming pool, gymnasium, restaurant, centralised security system and dedicated parking for executives and visitors.
From the 18th floor operates The Resource Group (TRG), Pakistan's largest business process outsourcing (BPO) services exporter to the world.
It really doesn't really matter who is the second or third largest, as IT-BPO companies with net revenue exceeding $10 million are few enough to count on the fingers of one hand. To put things in perspective, given that at a minuscule $45 million, even TRG's revenue is nothing much to write home about – just a 0.1% blip in the $180 billion global market.
Unlike similar setups in Bengaluru or Manila, TRG might look minuscule, even insignificant. But in the broader local context, it assumes a significance all its own. With the country's IT-BPO industry having withered away almost in its entirety nearly a decade ago, TRG was in the vanguard of companies that ventured out in the absence of critical resources, with poor infrastructure, inadequate human resource, regressive tax regime and deteriorating security environment making the situation daunting.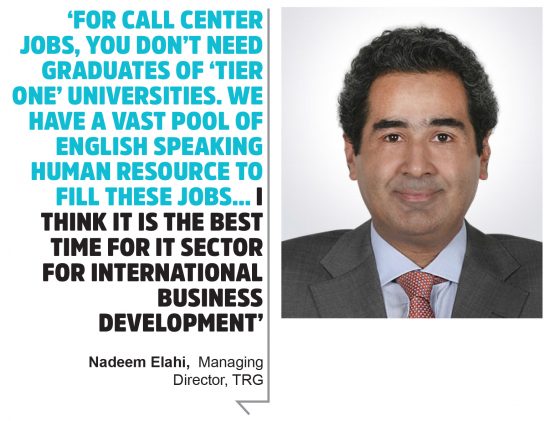 India, the pioneer
The industry veterans say IT-BPO scene was pioneered by India about 25 to 30 years ago when the US and the British companies shifted businesses there. So, by the time Pakistan became an offshore destination for similar services, in the late 1990s, India was already riding the wave with top entities like the American Express and General Electric setting up outsourcing centers in the country.
Over the years, India went on to develop its IT sector significantly, establishing its global standing as the powerhouse for outsourcing services like call centers, back-office services, finance and accounting, human resource and other vertical-specific processes.
No wonder, it raked in more than $125 billion in IT-BPO exports last year.
Meanwhile, what about Pakistan? It didn't even touch a billion dollars!

One might argue India had the first-mover advantage and a competitive edge over Pakistan, which is a much smaller economy, therefore, it is not a fair comparison, even though there is a wide array of similarities between the two South Asian nations. However, another country started its BPO journey simultaneously with Pakistan: the Philippines.
Pakistan and the Philippines both being former colonies of an English-speaking nation thus possess a vast pool of English-speaking human resource – a key requirement in the call center business accounting for half of the global BPO services market. Both the economies were about the same size and started their BPO journey simultaneously, but now stand polls apart from the global IT-BPO services exports.
When call center business was still an emerging phenomenon in Karachi, about 5,000 kilometres east, Manila had already welcomed Sykes Asia, the first multinational BPO company in the country. In the next two decades, the Philippines went on to become one of the world's most sought-after offshore destinations for outsourcing – No 2 by some accounts (No prizes for guessing who the No 1 is!).
Philippines' BPO exports alone have surpassed $30 billion – surpassing by nearly one-fourth Pakistan's entire exports. It is the Philippines their fastest growing industries, employs more than a million Filipinos and accounting for approximately one-tenth of the country's GDP growth.
On the other hand, Pakistan has singularly failed to make any impact on the global BPO market. Pick any international BPO ranking and you would find Pakistan excluded. It is not listed even amongst the top 20.
Pakistan's entire IT and IT-enabled Services (ITeS) sector is $3 billion, with BPO barely 15% of it, employing just 20,000 to 30,000 people.
Where did the Filipinos succeed and the Pakistanis failed? What policies of the western Pacific nation helped its IT-BPO sector emerge as a strong contender in the global BPO market and why Pakistan fell short despite having a much larger pool of young population than the Philippines?
And most importantly, can we still pull it off, are some of the questions Profit is attempting to answer in this report.
The beginning
Despite a late entry into the BPO segment, Pakistan got off to a decent start as IT and ITeS industry grossed $300 million in revenues by 2004. The exports were only 11% or $33 million of the sector's revenue but the country was said to be catching up with its international counterparts.
According to a 2005-report by BusinessWeek, the IT and ITeS sector employed 75,000 professionals that year. As many as 120 call centers had opened shop between 2003 and 2005, employing 3500 people. Companies like Arwen Tech (Karachi), Techlogix (Lahore), and Netsol (Lahore) were each looking at $10 million in revenues. Arwen was even aiming to expand its 600-seat call centre to a 1500-strong facility and had set sights on a $100 million revenue target for the next five years.
Still, in its infancy, Pakistan's BPO industry was seen as an emerging source to boost employment and reduce the country's dependence on textiles, which was then 65% of its exports and a major source of increasing forex reserves. However, just when things started to pick up, a major fault developed in Southeast Asia, Middle East and Western Europe-3 (SMW3), then the lone internet gateway point connecting the country with the cyber world.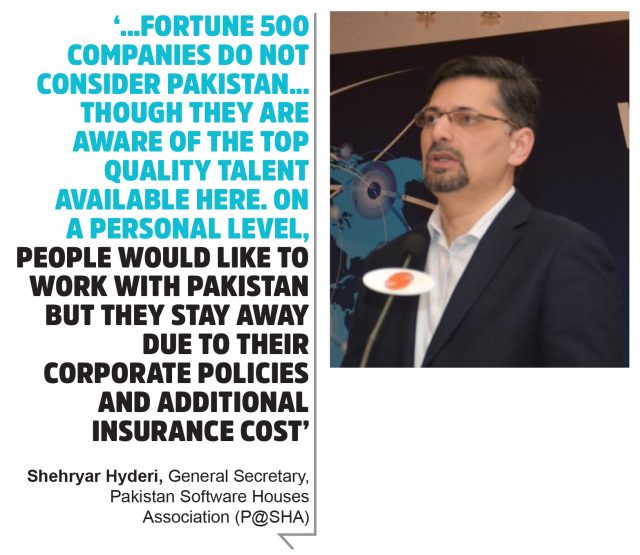 The Titanic moment
"That incident alone finished 50% of our BPO industry," TRG's Managing Director, Nadeem Elahi told Profit while referring to the sub-sea cable fault of 2005.
The-2005 internet blackout persisted for two weeks and turned into a catastrophe, causing massive financial damage to the call center industry after it cut Pakistan's telecommunication links with the outside world. According to media reports, about 3,000 employees were laid off from 30 international call centers, which didn't have any backup capacity and suffered financial losses as a direct result of the cable fault.
"We had issues with our infrastructure, which was not the case in the Philippines," Elahi said. Explaining, he said BPO business has two parts, voice-based services like call centers and non-voice services like email, chat or back office work. Voice-based services or call centers need reliable broadband connectivity, which is the lifeblood of this business. But Pakistan had only one internet cable at the gateway level and when that was cut off, there was no backup.
Pakistan was barely making any investment on broadband infrastructure, even the rollout of 3G technology took 8 years since it was first discussed in 2006. The Universal Services Fund, a government fund meant for development of information and communications technology (ICT) infrastructure, remained untouched for years and later used to pay the power sector circular debt. The Philippines, on the other hand, was constantly developing its IT infrastructure and making policies that supported the BPO sector.

When call centers were shutting down in Pakistan due to cable faults and lack of backup capacity, the Philippines had already gained 3% of the global BPO market, thanks to the farsightedness of their government, which saw this sector's potential for exports, employment generation and GDP growth.
Take the example of Mar Roxas, secretary of the Department of Trade and Industry (2000-2003), who reached out to important leaders in the country to promote foreign investment and helped shape the landscape of BPO in the Philippines to its present form. Roxas lobbied in the Congress to revise Republic Act 7916 so that buildings or floors in buildings could register as an ecozone and BPO startups, which require big spaces to operate could get exemption from national and local taxes, one of his key contributions and a major enabler for the industry during that time – the BPO companies only had to pay 5% tax on their gross income.
"Pakistan never really had a BPO industry as there were only a handful of companies that offered these services," says Afaque Ahmed, co-founder of Cloud BPO, a Karachi-based IT company.
Catering to the telecom sector, his company moved from low-end outsourcing services to high-end software development because of the problems the sector was facing. "The internet backbone faults always hurt this sector. If you can't do backend processing for three weeks, you can't survive."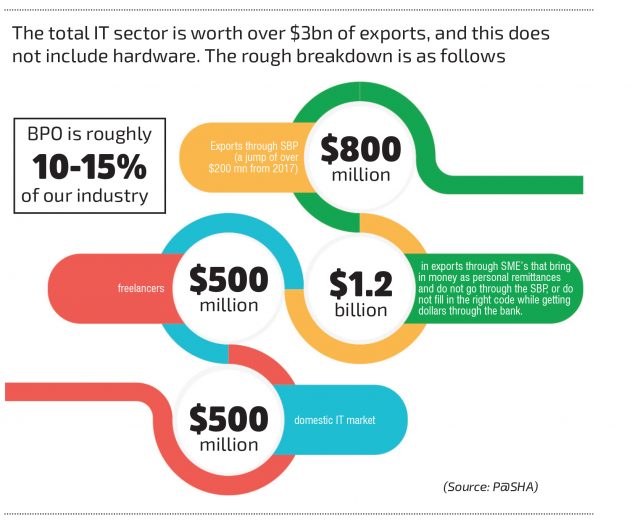 Ahmed, who also runs Karachi Institute of Technology and Entrepreneurship (KITE), says the challenges BPO sector faced in Pakistan were not limited to cable faults.
"For the BPO industry, you need to be educated and low-cost human resource," Ahmed says, adding, "Those who were educated and skilled either moved abroad or picked up high-end software development jobs. So from a long-term perspective, BPO companies always faced choking on the HR front."                                                                                                                                                                                                                The main reasons for BPO's failure in Pakistan were lack of low-cost human resource, internet faults that occurred frequently between 2005 and 2015, fewer internet landing points, and government taxes, especially those in Sindh, says the KITE president. "For BPO, you need solid regulatory framework, a stable tax structure, reliable quality of workforce and in sufficient quantity. We can never compete internationally unless we do these things," he says.

IT exports (both software and services) were long exempt from taxes, but the federal government, in Finance Act 2015, had imposed an 8% minimum tax liability on services sector on domestic sales regardless of whether a company makes profit or loss. This tax was a severe hindrance in the growth of the local IT-BPO sector, which operates on razor-thin margin but holds key importance for export-oriented services companies.
It is also pertinent to mention that ITeS are also charged 14% to 16% services tax by provincial governments. In fact, Sindh has also levied a 3% tax on exports of IT services, which hurt Karachi-based BPO companies.
Speaking to Profit on this subject, Chairman Sindh Revenue Board, Khalid Mahmood said they have reduced taxes on call center business from 15% as of fiscal year ending June 2015 to 13% now, which is the lowest rate charged by any province on call center services – the rate in Punjab and the federal territory is 19.5% and 18.5% respectively.
Asked if they planned to abolish that 3% tax on exports of IT services, the chairman said, "The latest budget had no new tax measures, but this option can be considered in the future."
The cost of terrorism
Services tax on call centers hurt the local players but that was in recent years. There were a host of other issues that hampered the country's journey as an outsourcing destination to the Western world, the largest market of IT-BPO services.
Political turmoil, terrorism, and poor law and order halted movement of foreigners to Pakistan. "Foreigners like to come to the offshore locations for training people. When they don't come, it is a big disadvantage," says Elahi of TRG.
According to South Asia Terrorism Portal (SAPT), 58,642 casualties were reported between 2005 and 2015 in terrorist violence in Pakistan, this translates to an average 444 people dying in terrorist violence every month.
When it comes to IT-BPO, uptime, that is how long the service is available, is a major factor but problems like bomb blasts, strikes, violence and political turmoil disrupted availability of services, productivity and employee turnout, Elahi says. Shehryar Hyderi, General Secretary of Pakistan Software Houses Association (P@SHA), seems to agree.
"The BPO market depends on the country's image and that is the biggest hindrance to its growth, more so than the rest of the software and tech sector," says GS P@SHA, the private sector's representative body for IT and ITeS companies.
Hyderi says, the large BPO companies could easily double or triple in size if the country risk and negative image around Pakistan would improve. "Due to this country risk, travel advisories etc, Fortune 500 companies do not consider Pakistan as a top outsourcing destination, even though they are aware of the top quality talent available here. On a personal level, people would like to work with Pakistan but they stay away due to their corporate policies and additional insurance cost."
TRG survived because of its business model, which was different than other companies.
"We knew we could not compete with India or the Philippines based on conventional model amid all these challenges," says the MD – this also explains why TRG had the highest proportion of its employees based in the Philippines. "We decided to acquire American companies, which needed BPO services so we could get business from our own companies abroad."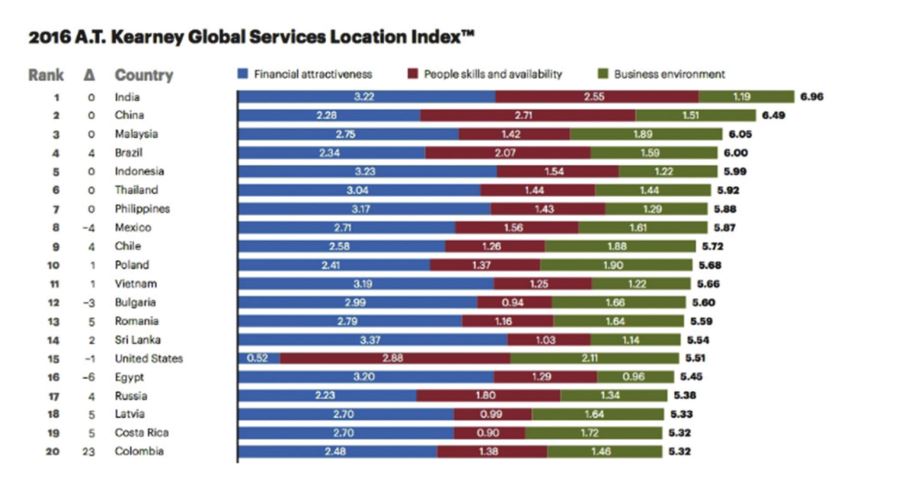 Instead of chasing Fortune 100 firms, which require big commitments and large-size call centres, TRG started its voice-based BPO operations with 40 to 50 employees to cater to about five small companies it had acquired overseas.   
Today, TRG has 5,000 people working for Ibex, the company's BPO business, not counting another 1,000 associated with its artificial intelligence and high-end software development arm: Afiniti. The company exports $50 million worth of services of which 90% comes from the BPO business.
TRG can be considered an outlier in the sense that it defied all these challenges and excelled. But, it knows the importance of the so-called country image. This was evident from the fact that its founder Zia Chishti brought a group of international investors from over a dozen countries for a skiing tour to Karakoram mountains in northern Pakistan last year. His mission? To convince these high-valued investors the country was safe for business.
The country's security situation improved significantly in the last three years after the army carried out a combing operation in the northern areas following a deadly terrorist attack on an army-run school in December 2014. This was complemented by another operation in the port city where paramilitary forces contained political and gang violence – the terrorist violence fatalities average has now come down to 48 per month for the first five months of 2018, according to SATP.
As a result of an improved security situation, tourism to northern areas has increased manifold, and international cricket, which was banned in the country in 2009 following a terrorist attack on Sri Lankan cricket team, is back in the country.
The rising Chinese investment in the country has also helped improve the country's image, but to Ahmed of KITE, the country's perception was not the main issue.
"Country's image is a tertiary issue, not even secondary or primary," Ahmed says. "BPO contracts are won by connections as the outsourcing industry works this way, but problems like load-shedding, internet outages, security, regressive taxation and lack of incentives hurt the BPO sector."
The reawakening
Call center operations or IT-BPO companies are considered low-end jobs in the IT sector for it pays nearly half of what one can earn in software development, but they hold a lot of significance because they generate employment at large scale, increase forex reserves through exports, and contribute to GDP growth.
"You need a strong domestic industry to support exports and international business development of local companies," Elahi says backing his statement with the following example: when there was little to no foreign work, telecom sector provided 12,000 call centre jobs to absorb those people who would have otherwise become jobless.
Many local companies moved to exports after they grew big, but regressive taxation of ITeS in the domestic market only hamper their growth towards becoming export-oriented companies, experts say.
The IT and ITeS sector provides employment to 300,000 people including 200,000 freelancers and 30,000 call center employees and has a huge economic potential, but it received little to no attention from the government, which relies heavily on textile exports. As a result, Pakistan missed the BPO bus in last decade. However, there seems to be a reawakening on that front as the country has overcome nearly all the obstacles that hindered its growth in the first place and seems to be pursuing policies similar to those of the Philippines.
Just before the end of his term, the prime minister announced to extend tax holiday on IT exports from 2019 till 2025. The federal areas are planning to reduce their GST on IT services down to 5% and this was announced in the recent IT policy, already approved, on May 23, by the cabinet.

The IT policy, which has a heavy input from the private sector, is being hailed as a game changer for the IT and ITeS sector.
"P@SHA has worked with IT ministry to ease the registration process of BPOs with Pakistan Software Export Board and extend their registration from one year to five years so that they can operate without unnecessary paperwork and hassle," said Hyderi of P@SHA.
Sharing details of the industry's input in the upcoming IT policy, Hyderi said they have advised the government to incorporate the concept of Tech Special Economic Zones (SEZs), which are IT ready plug and play clusters where companies can operate under a one-window structure with the government.
The BPO sector employs people on a large scale and needs big and cheap space, ranging between 20,000 to 50,000 square feet or even 100,000 square feet. The SEZs and IT Parks are the most critical support needed for the BPO sector. They provide affordable plug and play office space that can be used for existing and new companies to scale up their operations as quickly and as reliably as possible.
"The best case study of this [SEZs] is the Philippines market, which has become the BPO hub of the world and taken a lot of the Indian business due to their positive policies and infrastructure," Hyderi said, adding, "Pakistan's current IT policy is inspired by success stories of the Philippines."
Currently, a lot of people don't remit their earnings back to the country, they just transfer costs. This is a big problem because entire industry's money is parked outside Pakistan, say industry sources. However, P@SHA has also demanded a 5% cash reward on exports similar to that given to other traditional sectors like textile and leather. This has been included in the IT policy as well and this will prove to be a major incentive for companies to think of the export markets and to bring in their earning through the SBP to earn this reward.
Besides taking right policy measures, the country has also increased its backbone broadband capacity. Unlike pre-2005 Pakistan, which had one subsea cable, the country now has six gateway landing points and, at least, two more are in the pipeline. The government has just completed a nation-wide network of National Incubation Centers – one apiece in Karachi, Lahore, Peshawar, Quetta and Islamabad. This is in addition to the government of Punjab's Plan 9 and P@SHA's Nest i/o and at least 15 IT parks as of 2015.
Ten years ago, there were barely three to four universities producing graduates that would fit BPO jobs, but dozens more have opened up, producing 20,000 IT graduates every year. Presently only 10% of these IT grads go to the BPO market. Despite an ample supply, the quality still remains an issue. However, Elahi believes the situation on the human resource front is much better today.
"For call center jobs, you don't need graduates of 'tier one' universities. We have a vast pool of English speaking human resource to fill these jobs," the MD says. "I think it is the best time for IT sector for international business development."
Can we catch the BPO bus this time and become the next outsourcing hub, we ask him. "I think the opportunity is here because like in India, the Philippines is also becoming an expensive BPO destination. Even if it is a small window, but the opportunity is there," an optimistic Elahi said.
And, perhaps, there are signs of it already.
Last year, an American firm moved 125 BPO jobs to Pakistan after it shut down its operations in Noida, India, leading to talks of IT jobs shifting to Pakistan, which is experiencing a resurgence as startup culture develops in the country's conducive environment.
The government, too, is upbeat about prospects of IT exports, and the optimism is driven by the recent growth in IT remittances. Pakistan's IT and ITeS exports grew 71% between 2013 and 2016, the highest rate in South Asia, claims Pakistan Software Export Board (PSEB). The government is now targeting to take IT exports to $10 billion by 2025.
"With 3G and 4G service, over 85% of telecommunication infrastructure on fiber-optic cables and internet access in over 2,000 cities and towns across Pakistan, now is the right time for foreign and local investors to consider investing in the lucrative IT and ITeS-BPO sector of Pakistan to generate high ROIs," reads a statement on the PSEB's website.